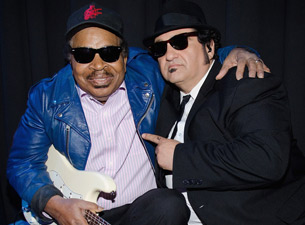 Although he was best known for his involvement with the Blues Brothers, Matt "Guitar" Murphy had already been a professional musician for some three decades by the time that phenomenon came about in the late 1970s. Murphy died today (June 15) of unreported causes. The place of death was also not divulged. He was 88.
A post on the Original Blues Brothers Band's Facebook page reads, "Bad news, everyone. One of the greatest, and our Brother Matt 'Guitar' Murphy just left us. From James Cotton to Memphis Slim, from Howlin' Wolf to us, he provided a fine tone on blues music and a warm friendship that lasts forever. Rest In Peace."
Born Dec. 29, 1929, in Sunflower, Miss., Matthew Tyler Murphy learned to play guitar as a child and was working in the business by his late teens. He moved north to Chicago in the late 1940s, joining the band of Howlin' Wolf, and also played with such blues greats as Little Junior Parker, Memphis Slim, Bobby "Blue" Bland, Ike Turner, Muddy Waters, James Cotton, Otis Rush, Etta James, Sonny Boy Williamson II, Chuck Berry and Joe Louis Walker.
Related: The Original Blues Brothers Band released an album in 2017
Murphy received wider recognition during the so-called folk boom of the early '60s and performed on the American Folk Blues Festival of Europe. His signature tune, "Matt's Guitar Boogie," became a staple of blues bands and influenced many other guitarists. Watch him play it below.
Murphy was chosen by John Belushi and Dan Aykroyd to become a part of their backing band for the Blues Brothers on screen and in concert. Murphy was also cast in the 1980 film The Blues Brothers as Aretha Franklin's husband. In the film he is convinced to come out of retirement by Belushi and Aykroyd's characters. Murphy returned in 1998's sequel, Blues Brothers 2000. He performed with the Blues Brothers Band until the early 2000s but was forced to quit when he suffered a stroke in 2002. (He returned to playing a few years later.)
Murphy was not prolific as a solo artist. He released four albums as a bandleader: Way Down South (1990), The Blues Don't Bother Me (1996), Lucky Charm (2000) and Last Call (2010). In 2013 he appeared on Eric Clapton's Crossroads Guitar Festival in New York City.
Watch Matt "Guitar" Murphy as Aretha Franklin's spouse in The Blues Brothers

Latest posts by Best Classic Bands Staff
(see all)