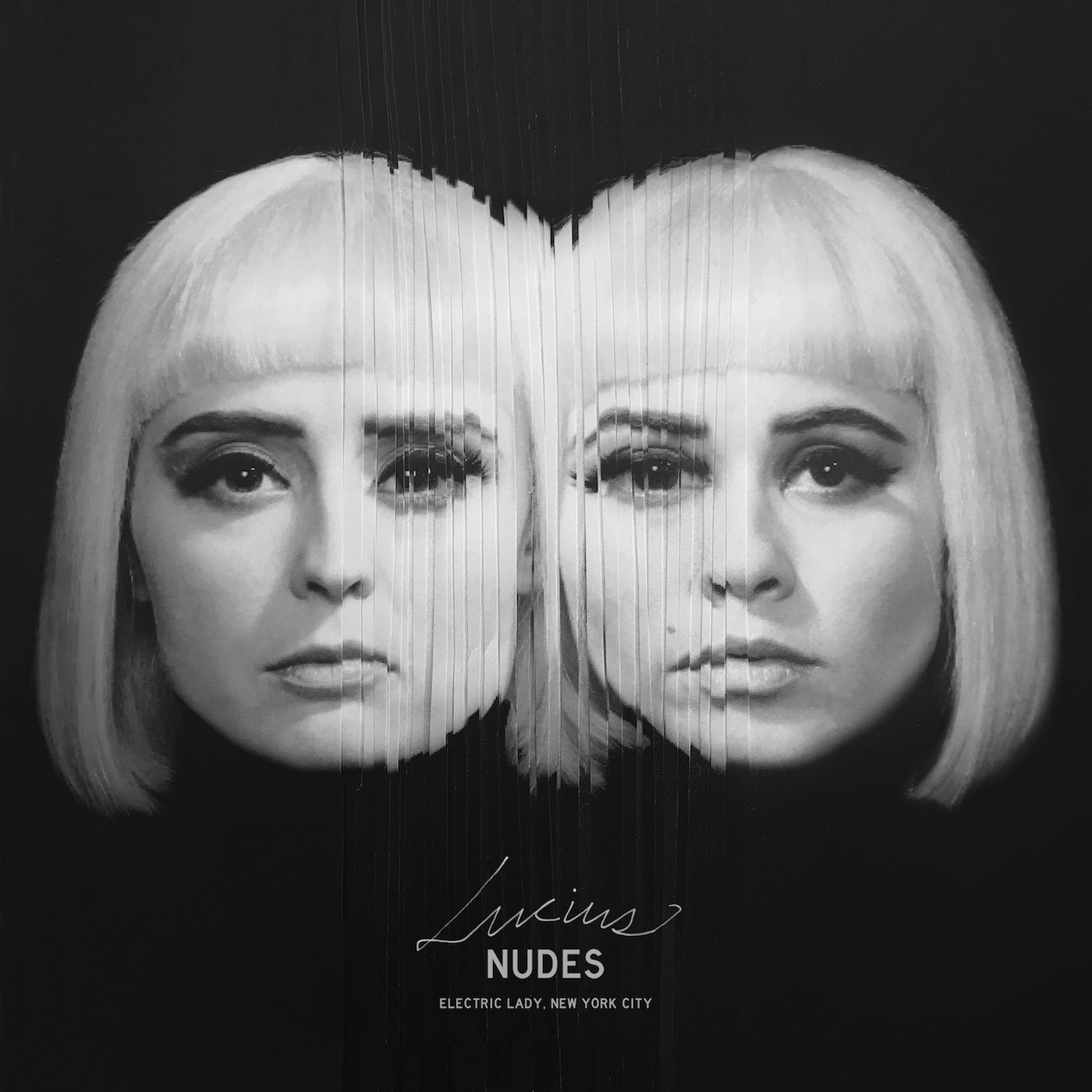 The look-a-like soul sisters Jess Wolfe and Holly Laessig, who record and perform as Lucius, released a new album on March 2. Nudes is 10 acoustic tracks, featuring guest performances from Roger Waters and Wilco's Nels Cline, on Mom + Pop Music. The release coincides with a highly anticipated month-long acoustic tour which kicked off Saturday night (March 3) with three sold-out nights at Los Angeles' Largo Theater. The intimate Nudes tour then makes its way around the country before ending at Big Ears Festival in Knoxville, TN.
(A second tour has been added for September. See dates below.)
Wolfe and Laessig spent much of 2017 (and the early part of 2018) performing on Roger Waters' North American "Us + Them" tour, which resumes later this year in Europe and Central and South America.
Watch Wolfe and Laessig harmonize during a Waters concert in 2017
Related: Our review of the dress rehearsal of Waters' "Us + Them" tour
Nudes is a collection of songs chosen specifically to showcase their soulful voices and gorgeous harmonies, and includes three brand new songs, four compositions from the band's back catalog, and three covers. The album features a cover of Gerry Rafferty's "Right Down the Line." Waters joins the duo on the folk standard, "Goodnight Irene." The album was recorded over two days at New York's legendary Electric Lady Studios.
Waters explained his involvement with the song on a Facebook post: Got a call from, Jess and Holly, "Let's record 'Goodnight Irene'", Me, "Ok where and when?" Jess and Holly, "Electric Lady 45 rpm phone booth, tomorrow" Me, "Ok". The next day, Me,"Here I is!" Jess and Holly, "Lets do it", Me "Who's playing guitar?" Jess and Holly "You are" Me "I haven't got a guitar" Jess and Holly "we'll lend you one." Me "what key's it in?" Jess and Holly, E major, Me "lets do it, paste the words on the back of the phone booth", Jess and Holly, "You can't remember the words?", Me,"Get in that fucking booth, young lady". And here 'tis, one take, a track off the new Lucius Album NUDES, with love for my gorgeous girls and great respect and deference to Huddie Ledbetter!
Watch their recording video of "Goodnight Irene" with Waters
Nudes follows Lucius' previous albums Wildewoman (2013) and Good Grief (2016), which built the band a solid fanbase. In 2017, the band scored the soundtrack to the film Band Aid. Lucius has drawn acclaim for powerful songs showcasing taut hooks, along with their mesmerizing stage presence and visual aesthetics. Besides Waters, the band have collaborated with musicians such as Mavis Staples, Jeff Tweedy, Nathaniel Rateliff, Lukas Nelson and David Byrne.
Listen to their cover of "Right Down the Line"
Nudes Tracklist
Woman
Right Down the Line (Gerry Rafferty cover)
Tempest
Something About You
Neighbors
Eventually (Tame Impala cover)
Until We Get There
Million Dollar Secret #
Feels Like a Curse
Goodnight, Irene (traditional) *
# featuring Nels Cline
* featuring Roger Waters
Lucius 2018 Tour Dates (Tickets are available here and here)
3/4 – Los Angeles, CA – Largo at the Coronet Theatre
3/5 – Los Angeles, CA – Largo at the Coronet Theatre
3/7 – Bozeman, MT – The Rialto
3/8 – Salt Lake City, UT – Utah State Capitol Rotunda
3/8 – Salt Lake City, UT – The State Room
3/9 – Fort Collins, CO – Washington's
3/10 – Boulder, CO – Boulder Theatre
3/12 – Milwaukee, WI – Pabst Theater
3/13 – Chicago, IL – Thalia Hall
3/15 – Burlington, VT – First Unitarian Church
3/16 – Portland, ME – State Theatre
3/17 – Providence, RI – Columbus Theatre
3/18 – Woodstock, NY – Levon Helm Studios
3/20 – Philadelphia, PA – First Unitarian Church
3/22 – New York, NY – The Town Hall
3/23 – Washington, DC – Lincoln Theatre
3/24 – Greensboro, NC – Carolina Theatre
3/25 – Knoxville, TN – Bijou Theatre/ Big Ears Festival
9/3 – Amsterdam, NL – Zonnehuis
9/4 – Paris, FR – Les Etoiles
9/6 – London, UK – Union Chapel
9/8 – Dublin, IE – St. Patrick's Cathedral
9/11 – Portland, OR – Aladdin Theater
9/12 – Seattle, WA – The Moore Theatre
9/14 – Austin, TX – Paramount Theatre
9/15 – Dallas, TX – The Texas Theatre
9/18 – Atlanta, GA – Variety Playhouse
9/20 – Richmond, VA – Classic Amphitheater*
9/22 – Queens, NY – Forest Hills Tennis Stadium
9/20 – Richmond, VA – Classic Amphitheater
9/22 – Queens, NY – Forest Hills Tennis Stadium

Latest posts by Best Classic Bands Staff
(see all)