Lucinda Williams' Effusive 'Stories from a Rock n Roll Heart': Review
by Jeff Burger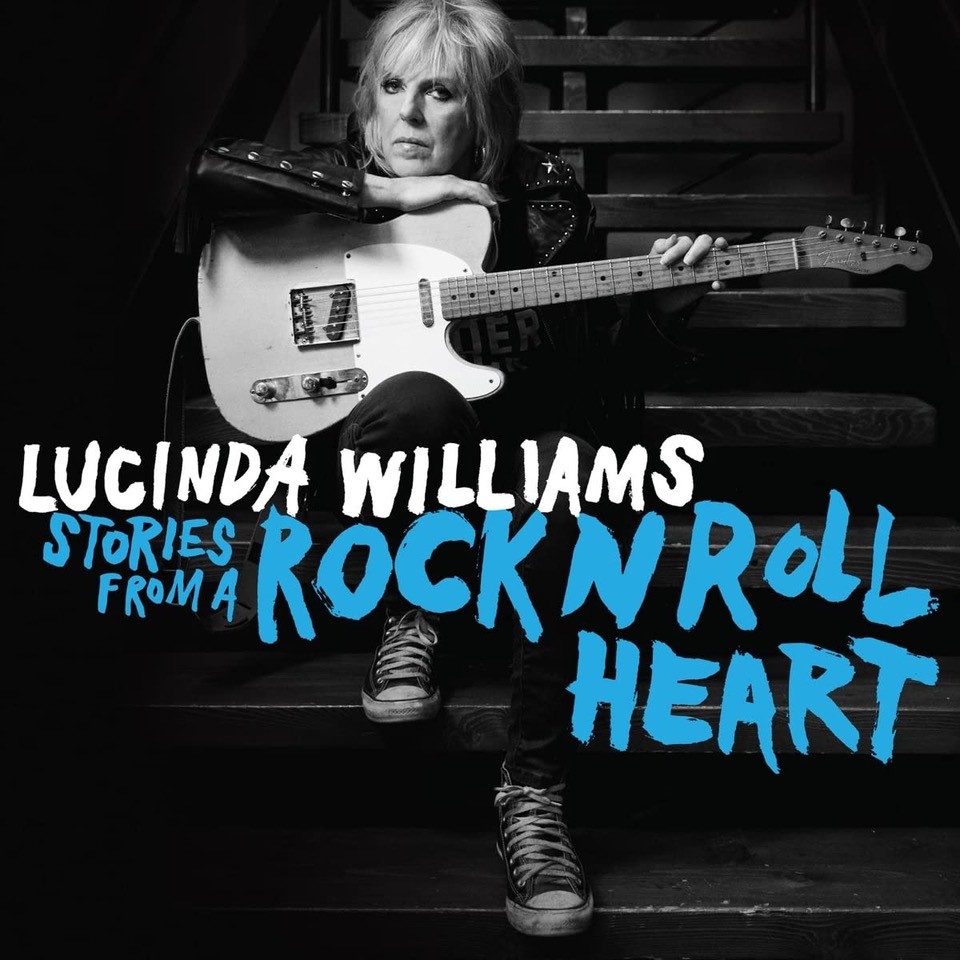 Lucinda Williams has recorded lots of country- and soul-flavored music over her four-decade career, but her heart has always been in rock, a fact she reaffirms on her effusive latest CD, her first collection of new material since 2020's Good Souls Better Angels. Like that album, the just-released Stories from a Rock n Roll Heart was co-produced by the singer, her husband Tom Overby and country artist Ray Kennedy. Williams and Overby co-wrote all the songs on the new record, in most cases with help from singer/songwriter Jesse Malin and/or guitarist and songwriter Travis Stephens, her longtime road manager.
The album arrived June 30, 2023, six months after Williams' 70th birthday and shortly after the release of her memoir, Don't Tell Anybody the Secrets I Told You, which has garnered positive reviews. It also follows some challenging times for Williams and the U.S.: a tornado damaged her house in 2020, the same year that a stroke required her to relearn how to walk and made it impossible for her to play guitar. Meanwhile, Covid hit the country and an insurrection hit Washington.
You can hear apparent echoes of those experiences in some of the songs on Stories from a Rock n Roll Heart, which is at times nostalgic and melancholy and seems to make note of mortality. In the reflective "Last Call for the Truth," for example, Williams asks, "Have I given away my better days?" before pleading for "one more taste of my lost youth." In the poignant "Jukebox," meanwhile, she sings, "I've been sitting home every night…These days my world seems so small, I'm a prisoner inside these four walls." Williams also seems to comment on the country's political divide in "This Is Not My Town," where she sings about how "they're sending in all the clowns…to play on all your fears."
Related: Williams' Good Souls Better Angels made our list of 2020's best albums
Williams' primary lyrical focus, however, is how much music means to her. The record opens with "Let's Get the Band Back Together," whose lyrics convey her love of touring and performing. "My New York Comeback," which features backing vocals by Bruce Springsteen and Patti Scialfa, also nods to rock and roll, as does "Where the Song Will Find Me," in which she sings that music "can save me." In "Jukebox," meanwhile, she confides that, "I know how to ease my lonely heart—with Patsy Cline and Muddy Waters." Then there's "Rock n Roll Heart," which also features Springsteen and Scialfa and echoes Lou Reed's "Rock & Roll," with lines about a "working-class kid in a dead-end town" who "turns on the radio and hears a sound, now he knows that he's been found…Playing that guitar is all he needs."
There are even songs about other musicians. "Hum's Liquor" concerns the late Replacements co-founder Bob Stinson, to whom Stories from a Rock n Roll Heart is dedicated, and features backing vocals by Stinson's half-brother and Replacements bandmate, Tommy Stinson. "Stolen Moments," which appears in a different version alongside a dozen Tom Petty covers on a 2021 tribute album by Williams, directly addresses that singer.
Stories from a Rock n Roll Heart is just slightly short of perfect. "Let's Get the Band Back Together," for example, is musically undistinguished and doesn't adequately showcase the nuanced vocals and vulnerability that help to make Williams so special. But that track is an anomaly on a melodic and indelible set that radiates everything from anger, sadness and longing to optimism and joy. It offers a rich listening experience while also conveying Williams' affection for music-making. Clearly, she has no plan to hang up her rock and roll shoes anytime soon, which is good news indeed.
Latest posts by Jeff Burger
(see all)