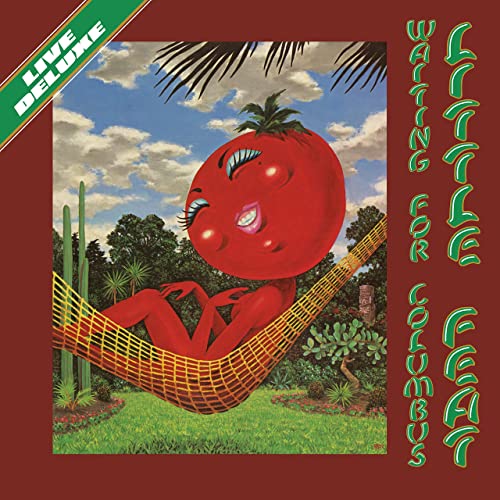 Little Feat's classic live album, 1978's Waiting For Columbus, has received a Super Deluxe Edition. The significantly expanded collection arrived July 29, 2022, as a 8-CD box set (and other configurations) via Rhino with many previously unreleased concerts. The band is on the road this summer celebrating the upcoming 45th anniversary of the original two-LP set, considered by many to be one of the greatest live albums ever made.
Released on Feb. 10, 1978, the live double album featured memorable performances of songs like "Dixie Chicken," "Willin'" and "Time Loves a Hero" that spanned the group's career.
Listen to an acoustic-based version of Lowell George's classic "Willin'," with a gorgeous acoustic piano solo from Bill Payne
In its Album Rewind of the original release, Best Classic Bands noted it "continues to exert a big influence, especially on country, bluegrass, blues and jam bands."
To make the album, Little Feat (backed by the Tower of Power horn section) recorded several shows in the U.K. and U.S. during the band's 1977 summer tour. Rhino will include three of those performances, which have never been released, in a new boxed set for the album's 45th anniversary. The unreleased concerts were recorded in Manchester at Manchester Free Trade Hall (7/29/77), London at the Rainbow (8/2/77), and Washington D.C. at Lisner Auditorium (8/10/77).
Listen to a previously unreleased live version of "Willin'/Don't Bogart That Joint"
Waiting For Columbus: Super Deluxe Edition includes a newly remastered version of the original double album on CD and three unreleased concerts.
The Platinum-certified double album cemented the band's reputation as one of the premier live bands of the 1970s. When it was recorded, the group included: Lowell George (vocals, guitar), Paul Barrere (guitar, vocals), Bill Payne (keyboard, vocals), Richie Hayward (drums, vocals), Sam Clayton (percussion, vocals), and Kenny Gradney (bass). An ad for the album from Warner Bros. Records blared "A whole double album's worth of raw goods! Performed on stage, in front of wild, screaming partisans!"
Waiting For Columbus touches on songs from all six studio albums Little Feat released between 1971 and 1977. The dynamic performances showcase the sextet's inimitable fusion of blues, country, jazz, and New Orleans R&B on signature tracks like "Fat Man in the Bathtub," "Oh Atlanta," and "Sailin' Shoes."
Watch the new official video for "Fat Man in the Bathtub"
Little Feat is celebrating the album on tour. Tickets are available here and here.
Watch them perform "Oh Atlanta" in 2022
See the complete track listing below the links.
Waiting For Columbus: Super Deluxe Edition Track Listing
CD/LP One: Original Album
1. "Join The Band"
2. "Fat Man In The Bathtub"
3. "All That You Dream"
4. "Oh Atlanta"
5. "Old Folks Boogie"
6. "Time Loves A Hero"
7. "Day Or Night"
8. "Mercenary Territory"
9. "Spanish Moon"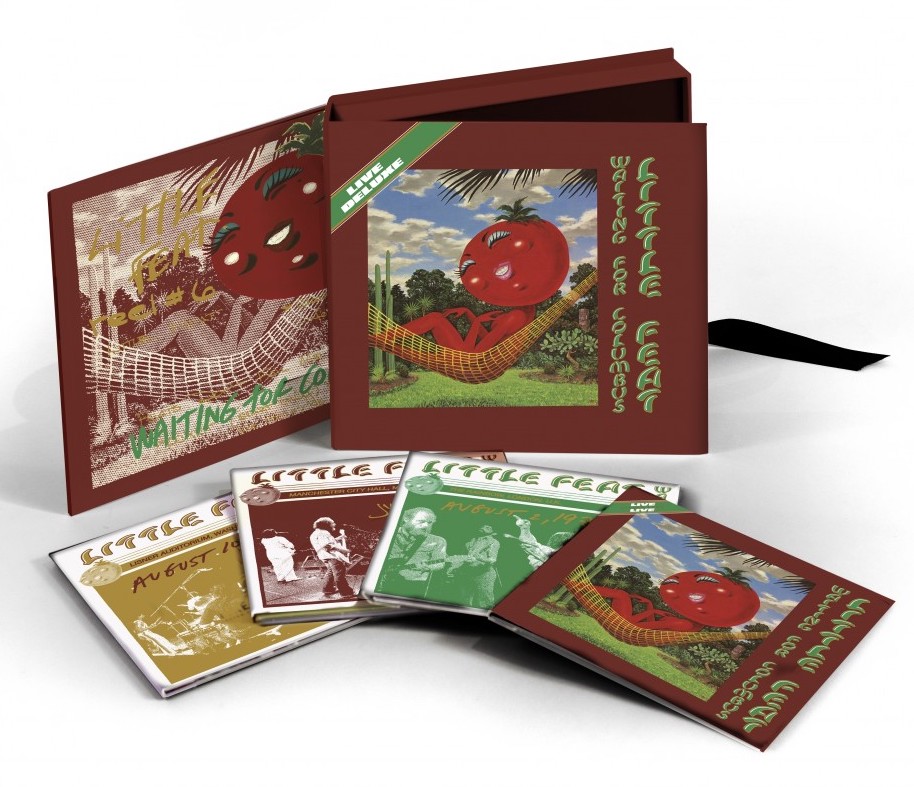 CD/LP Two: Original Album
1. "Dixie Chicken"
2. "Tripe Face Boogie"
3. "Rocket In My Pocket"
4. "Willin'"
5. "Don't Bogart That Joint"
6. "A Apolitical Blues"
7. "Sailin' Shoes"
8. "Feats Don't Fail Me Now"
CD Three: Live at Manchester Free Trade Hall (7/29/77)
1. "Walkin' All Night" *
2. "Skin It Back" *
3. "Fat Man In The Bathtub" *
4. "Red Streamliner" *
5. "Oh Atlanta" *
6. "Day At The Dog Races" *
7. "All That You Dream" *
8. "On Your Way Down" *
9. "Time Loves A Hero" *
10. "Day Or Night" *
CD Four: Live at Manchester Free Trade Hall (7/29/77)
1. "Rock And Roll Doctor" *
2. "Old Folks Boogie" *
3. "Dixie Chicken" *
4. "Tripe Face Boogie" *
5. "Willin'/Don't Bogart That Joint" *
6. "Feats Don't Fail Me Now" *
7. "Rocket In My Pocket" *
8. "Sailin' Shoes" *
9. "Teenage Nervous Breakdown" *
CD Five: Live at The Rainbow, London, (8/2/77)
1. "Walkin' All Night" *
2. "Fat Man In The Bathtub" *
3. "Red Streamliner" *
4. "Oh Atlanta" *
5. "Day At The Dog Races" *
6. "All That You Dream" *
7. "Mercenary Territory"
8. "On Your Way Down" *
9. "Skin It Back"
10. "Old Folks Boogie" *
CD Six: Live at The Rainbow, London, (8/2/77)
1. "Rock And Roll Doctor" *
2. "Cold Cold Cold" *
3. "Dixie Chicken" *
4. "Tripe Face Boogie" *
5. "Willin'/Don't Bogart That Joint" *
6. "Feats Don't Fail Me Now" *
7. "Rocket In My Pocket"
8. "Spanish Moon" *
9. "A Apolitical Blues" *
10. "Teenage Nervous Breakdown" *
CD Seven: Live at Lisner Auditorium, Washington, D.C. (8/10/77)
1. "Walkin' All Night" *
2. "Red Streamliner" *
3. "Fat Man In The Bathtub" *
4. "Day At The Dog Races" *
5. "All That You Dream" *
6. "On Your Way Down"
7. "Time Loves A Hero" *
8. "Day Or Night" *
9. "Skin It Back" *
CD Eight: Live at Lisner Auditorium, Washington, D.C. (8/10/77)
1. "Oh Atlanta" *
2. "Old Folks Boogie" *
3. "Dixie Chicken" *
4. "Tripe Face Boogie" *
5. "Feats Don't Fail Me Now" *
6. "Rocket In My Pocket" *
7. "Sailin' Shoes" *
8. "Teenage Nervous Breakdown" *
* Previously Unreleased

Latest posts by Best Classic Bands Staff
(see all)