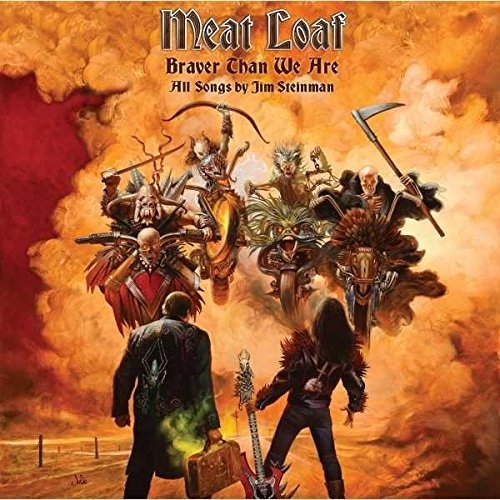 Meat Loaf's Braver Than We Are album arrived September 16 on 429 Records (order here). Working closely again with his Bat Out Of Hell collaborator Jim Steinman, the standard release includes ten songs. However, as an exclusive for Target Stores, Meat Loaf covered the Buffalo Springfield classic, "For What It's Worth," featuring a guest performance by its writer, Stephen Stills. Listen to the new version below.
The album release continues a busy, headline-grabbing year for the classic rock star. To support the new release, Meat made a slew of TV and radio appearances, including The Today Show, Fox & Friends, Access Hollywood, Entertainment Tonight, The Big Interview with Dan Rather, SiriusXM, and many more.
On his September 13 appearance on The Today Show, Meat revealed: "This is my last record." When the Today interviewers pressed him for more, he said: "Yeah, I'm positive. I had knee surgery. I used to run onstage and can't run anymore and it drive me nuts." The interview ended abruptly when the show credits ran. Whether it means he's retiring from music altogether was unclear.
The singer had previously touted the long-delayed album in 2014.
The tracks on Braver Than We Are were written by Steinman. While Paul Crook produced the album, Steinman acted as creative consultant throughout the recording process working alongside Crook and Meat Loaf sending suggestions, adding verses and contributing opinions on every aspect.
The album features the Neverland Express which includes John Miceli (drums), Crook (guitars, loops, synths), Randy Flowers (guitars, vocals), David Luther (sax, B3 organ, strings, horn arrangements), Justin Avery (piano, synths, strings, backing vocal arrangements), Danny Miranda (bass), Stacy Michelle (vocals) and Cian Coey (vocals).  Guest musician Ricky Medlocke provided the slide guitar solo on "Train of Love."
Here's the "For What It's Worth" cover…
To purchase the Target exclusive, featuring "For What It's Worth," click here.
You may recall, at a concert performance on June 16, 2016 in Edmonton, Canada, the performer collapsed onstage in the middle of his show-stopping song "I'd Do Anything for Love."
Related: Meat Loaf collapses onstage
U.S. and European tour dates will be announced soon.
If you're a new Best Classic Bands reader, we'd be grateful if you would Like our Facebook page and/or bookmark our Home page.

Latest posts by Best Classic Bands Staff
(see all)