Lisa Marie Presley Was 'Lights Out' On Her Recording Debut
by Mark Brown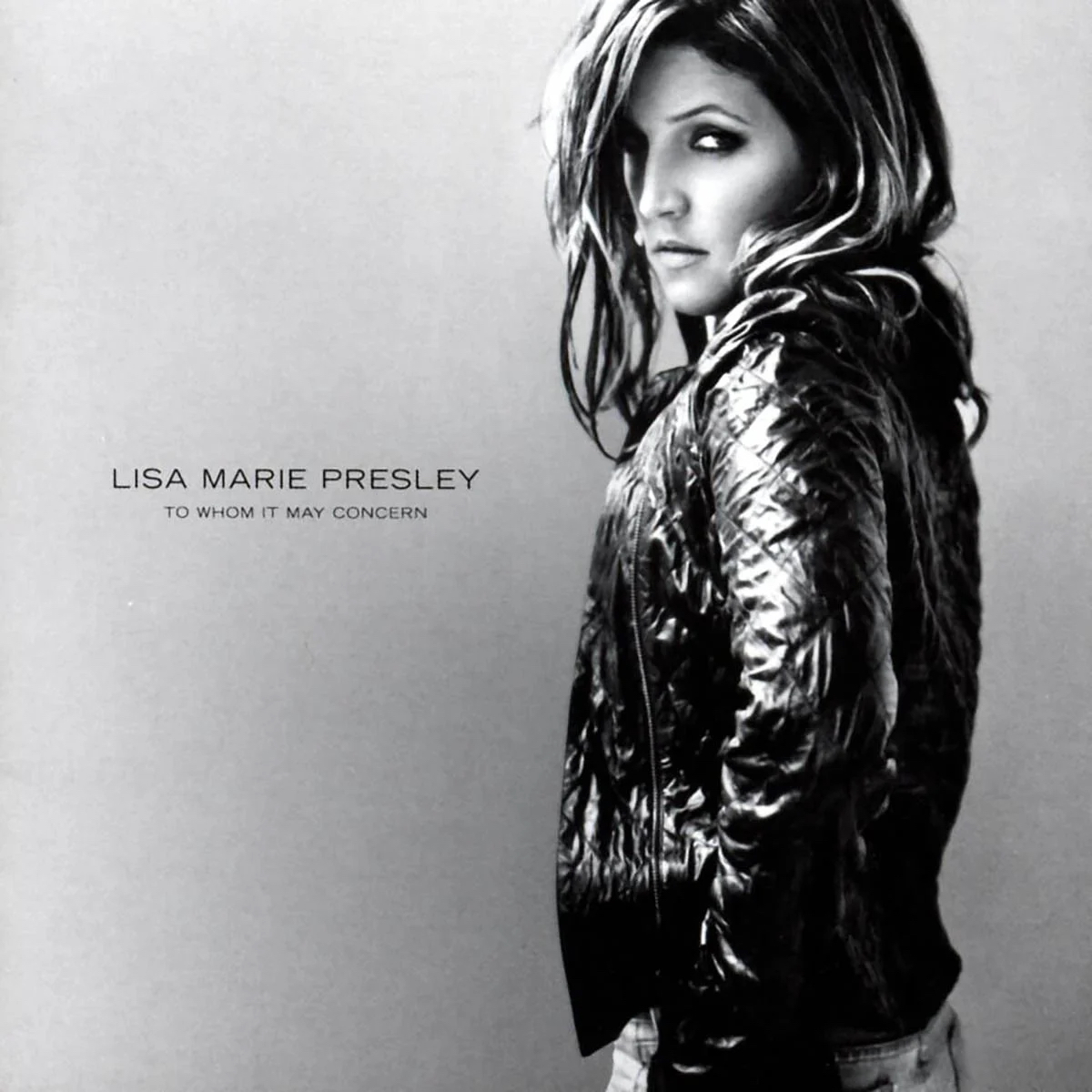 This interview with Lisa Marie Presley, who died on Jan. 12, 2023, originally appeared in 2003 in the Rocky Mountain News. Its author was a longtime music critic for the Denver newspaper, until it closed shop in 2009.
It's easy to get bogged down in the gossip of her life, but one fact is unavoidable: Lisa Marie Presley was the only child of Elvis Presley. No matter what happened, she was going to have a different life than any of the rest of us.
What's surprising is that she didn't exploit it–she didn't become a fake celebrity, she didn't take off her clothes for attention, she didn't become a Latoya.
She didn't speak of her life until she had something to say. When word got out that her debut album, To Whom It May Concern, was on the way earlier this year, many chuckled and thought it would be a pop-princess vanity project.
What we got instead was a brutally personal record with some great songwriting.
We also got Lisa Marie herself. After years of refusing to let the outside world in, she came out, talking as brutally honest as her music.
"My personality is all I have," she says by phone from the freeways of Los Angeles. "I wasn't going to put out some honest record and be full of (baloney) in an interview or have some public persona. I'm just who I am."
She understands the skepticism that might have greeted To Whom It May Concern.
"I guess I would assume that people would think it was some sort of celebrity kid trying to do something weird. Nobody knew anything about me," Presley says.
Instead, it debuted at #5 on the Billboard chart and was roundly praised by music critics as well. The disc had its roots years ago. She met writer/producer Glen Ballard through her attorney, and the two quickly began writing together.
"I felt like he wasn't going to sell me out or make me a cheeseball," Presley says. "He's amazing to write with. He's like a chameleon. He signed me and let me have a long time to figure out my way. He let me have the freedom to do that. That was amazing." Even though Presley was signed in 1998, five years passed before the album was released. "He gave me the freedom to find my way quietly."
He also knew when to push; "Lights Out" is the album's first single and most compelling song, because Ballard pushed her to write something blatantly autobiographical. Presley responded with a song about Memphis and the dead relatives she has buried there. She embraces her past and simultaneously leaves it behind, with one creepy twist. She sings of walking through Graceland and seeing her own future grave: "I noticed a space left/next to them there in Memphis/in the damn back lawn."
"I wrote that in about 30 minutes. He wanted me to write a song like that and I was annoyed. I very sarcastically and annoyingly wrote the lyrics out," she says. "I didn't want to be capitalizing on anything."
Then again, she's made a life out of not capitalizing. Predictably, there were cheesy movie offers, book deals, TV–Presley could have had the high-profile that the likes of J-Lo or Paris Hilton have sold their souls for.
"It's not in my soul," she says. The offers came because producers and agents "didn't know anything about me, assuming I'd be one of those people who would do that type of thing. Thank God it's just not in my soul."
She finally released this album at age 35 for "just my love of music. I'm not going to stick my (rear) in the frying pan and burn it just for the sake of my own vanity. It's a true, honest love of music."
Songs are autobiographical as well, addressing her wants, her fears, her demands, the loss in her life: "Maybe the reason I'm so needy is because I never had real devotion," she sings.
She didn't worry about revealing too much; "it's too much of a purging process," she says. "I can't worry about what people will think. Otherwise it wouldn't be the cathartic process for me. When I started writing that, it just started to come out. I blew out that paper and pen and went crazy."
Once the album was finished, though, she had to decide whether she was going to go through with it. God knows she didn't need the money. And she knew the questions that would be asked, about everything from Elvis' death to her brief marriages to Michael Jackson and Nicolas Cage.
"That was probably the most difficult part for me–to break through all that. It's not something that's innate in my spirit. That was my biggest challenge, to break through this phantom tabloid thing I had and put down something substantial," she says.
She toured as an opener for Chris Isaak, knowing that the audience was looking at her more as a curiosity than a musician, "probably coming to look at me like an animal in a cage at the zoo. I kind of felt that vibe a little bit, the whole check-her-out thing."
It was a good education for her headlining show, knowing that "you have to step up every night, no matter what."
The quality of her show varies, she admits, depending on how well she's feeling. She has an ongoing stomach condition. "No one wants to hear about it, but it's the truth."
She finds the same writers who praised the album are now vexing her on tour.
"The thing I hate is the critics, honestly," Presley says with a laugh. She's her own toughest critic, she admits, but says she did a great show in Las Vegas. "I said, 'OK, that's a good show.' I've never said those words. My band was shocked," she says. The critics, however, "couldn't find anything on me that night, so they went off on the sound. That's the only thing I don't enjoy."
But it's getting better. On her headlining tour, it's all Presley fans who turn out.
"They're singing with me on every song, which I love. At first … I wouldn't even look at them because I was so neurotic. I would just zone out and want to jump out of my skin. Now they're very comforting for me. I can feel them and I completely go off their energy."
Related: Our obituary of Lisa Marie Presley
[The album was certified Gold by the RIAA and was ranked by Billboard as 2003's #129 top-selling LP.]
Lisa Marie Presley was born in Memphis on Feb. 1, 1968.

Latest posts by Mark Brown
(see all)