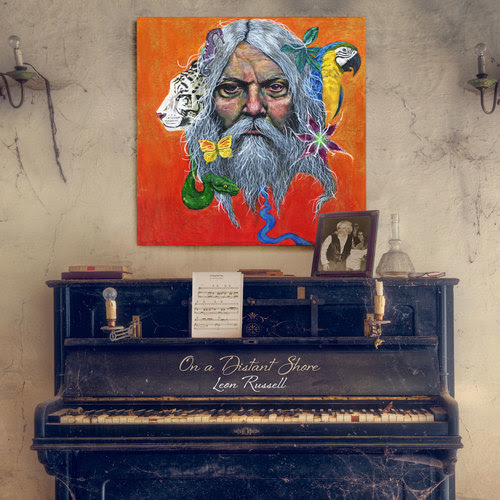 The final album recorded by Leon Russell, On a Distant Shore, will be released Sept. 22 by Palmetto Records. At the time, Russell, who died at age 74 last November, was still touring (he averaged 150 shows a year), and had logged more than half a century onstage.
The album is available for pre-order now.
Released 10 months after Russell's passing, On a Distant Shore is described in a press release as "a collection of new songs influenced by the timeless sounds of the Great American Songbook," with updated, road-tested arrangements of "Hummingbird," "A Song for You" and "This Masquerade." According to the release, "Looking to landmark recordings by Frank Sinatra, Nat King Cole, and Tony Bennett for inspiration, Leon rooted On a Distant Shore in timeless melodies, then turned to co-producer Mark Lambert and orchestral arranger Larry Hall to help turn his compositions into the biggest, boldest-sounding album of his career."
Related: A 2014 interview with Leon Russell
"He was so prolific," says Lambert, Russell's friend and musical collaborator for 30 years, in the release. "He was on a roll. There were days when he'd come into the studio and play something he'd written the night before, and he'd have the whole thing mapped out in his head already, even if he hadn't actually sat down at the piano and played it yet."
No stranger to timeless music, Leon Russell cut his teeth as a hotshot instrumentalist during the 1960s, playing piano on albums by Frank Sinatra, the Rolling Stones and the Beach Boys. By the following decade, he'd launched his own label, Shelter Records, and kicked off an acclaimed solo career. With wild, long hair and a ferocious work ethic, Russell blazed a unique trail throughout the 20th century and beyond, performing at George Harrison's Concert for Bangladesh one minute and releasing a string of gold-certified albums the next.
"Leon was an awkward romantic, a real softie," Russell's wife, Jan Bridges, explains. "To me, he always remained a mystery to people outside his circle, but this album gave him a chance to show his emotions. In the song 'Just Leaves and Grass,' you can hear him let out a real cry. That's not faked. He was emotional, and he'd get that way at his show, too. On a Distant Shore is a great portrait of him. An accurate portrait."
On a Distant Shore Track Listing
"On a Distant Shore"
"Love This Way"
"Here without You"
"This Masquerade"
"Black and Blue"
"Just Leaves and Grass"
"On the Waterfront"
"Easy to Love"
"Hummingbird"
"The One I Love Is Wrong"
"Where Do We Go from Here"
"A Song for You"
Listen to "Love This Way" from the album

The BCB team brings you the latest Breaking News, Contests, On This Day rock history stories, Classic Videos, retro-Charts and more.

Latest posts by Best Classic Bands Staff (see all)