Jerry Leiber & Mike Stoller on Writing for Elvis and the Beatles
by Harvey Kubernik
If songwriting partners Jerry Leiber and Mike Stoller had only written "Hound Dog" for Willie Mae "Big Mama" Thornton, along with "Kansas City" and "Stand By Me," they would already deserve their place in the Songwriters' Hall of Fame and the Rock & Roll Hall of Fame, both of which have inducted them. Lyricist Leiber and composer Stoller created a songbook that informed the rock 'n' roll scene of the '50s and continues to this century.
Watch Big Mama Thornton sing the original "Hound Dog"
The 2022 biopic, Baz Luhrmann's Elvis, reminds viewers and a global audience about their lyrical and melodic scripture.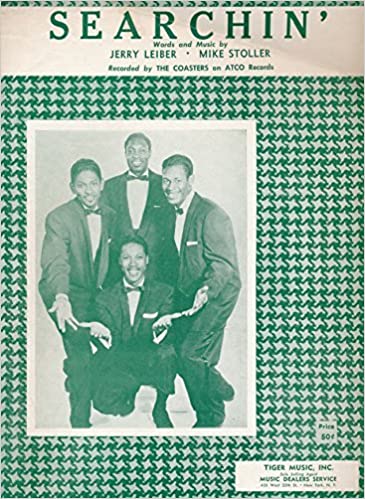 The Leiber and Stoller team gave us "Jailhouse Rock," "(You're So Square) Baby, I Don't Care," "Trouble," "Treat Me Nice," "Little Egypt," "Love Me" and "Loving You" by Elvis Presley, "Ruby Baby," "Dance With Me," "There Goes My Baby" for the Drifters, "Only In America" (Jay and the Americans), "Saved" (LaVern Baker), "Drip Drop" (Dion), "I (Who Have Nothing)" (Ben E. King), "Love Potion #9" (the Clovers), "I'm A Woman" and "Is That All There Is?" (Peggy Lee), as well as the Cheers' "Black Denim Trousers and Motorcycle Boots," Wanda Jackson's version of "Riot In Cell Block #9," the Monkees' cover of "D.W. Washburn" and John Lennon's offering of "Stand By Me." The Spencer Davis Group also recorded "Searchin'." "Spanish Harlem," a big hit for Ben E. King, was co-written by Leiber and Phil Spector.
The L&S team wrote (or co-wrote) virtually every hot record by the Coasters and their predecessors the Robins: "Charlie Brown," "Three Cool Cats," "Framed," "Poison Ivy," "Along Came Jones," "Young Blood," "Yakety Yak" and "Smokey Joe's Café."
"Some Other Guy," a tune from the Leiber and Stoller songbook, recorded originally by Richard Barrett, was famously sung by the Beatles on their first-ever black-and-white newsreel footage from the Cavern Club. And a musical, Smokey Joe' Café: The Songs of Leiber & Stoller, ran successfully on Broadway and in several U.S. cities.
In later years, the pair produced the hit "Stuck in the Middle With You" by Stealers Wheel and the Procol Harum album Procol's Ninth.
Related: Remembering Ben E. King
The Leiber and Stoller story has been told in Hound Dog: The Leiber & Stoller Autobiography, with contributor David Ritz, published in 2009 by Simon and Schuster.
In April 2007, Sony/ATV Music Publishing purchased the catalog of Leiber and Stoller, including more than 40 Top 40 hits.
I met up with Leiber and Stoller at their offices on Sunset Blvd. in West Hollywood in 1995. Leiber subsequently passed away, on August 22, 2011. Stoller, born on March 11, 1933, turned 90 in 2023.
Watch Leiber and Stoller as guests on the TV quiz show What's My Line?
Best Classic Bands: Jerry, how did you meet Mike?
Jerry Leiber: I went down to the Orpheum Theater (in downtown Los Angeles) to see him a couple of times, where he worked as an usher. He had written a couple of songs. Then I ran into him at the school hall at Fairfax High.
You guys probably had the first independent production and record company.
Mike Stoller: We were the first, I'm told by guys at Atlantic [Records]. We got a phone call from Ralph Bass at Federal Records: "Hey guys, [R&B singer] Little Esther is cutting with Johnny Otis' band at Radio Recorders on Tuesday. Go to the studio and bring some songs." We would teach the song to Esther in the studio and we'd have some ideas on how it might go. Johnny was busy doing head arrangements because his band was so tight that he could pull out a riff and, boom, a harmony. The arrangement was written in about five minutes and it was recorded. We'd bring four songs in, and on a break, we would go out and write a fifth one. So we got a hands-on situation and we learned from watching Johnny Otis. Johnny was a major talent scout.
The records you wrote for the Robins, like "Framed," began a style of narrative-oriented composition, which later evolved into things you did with the Coasters. What were the influences and where did that come from?
JL: I had heard the multiple narrative voice before. I must say, I really didn't think about the songs I was writing. They were a natural evolution of a state of mind. I'd be walking down the street and start singing a line. I didn't think of it. It would happen. The only time I started actively thinking was when I edited the work and made it fit better.
"Some Other Guy," which the Beatles performed in their early days, was a song that you wrote with [producer/musician/songwriter] Richard Barrett, who you worked with at Red Bird Records [a label run by Leiber and Stoller, whose roster included the Shangri-Las].
MS: We were recording Richard. He was involved with the [girl group the] Chantels. He was a very capable producer and writer on his own. He wanted to do a session as an artist. Two sides, that's all we did with him: "Some Other Guy" and a thing called "Tricky Dickey." I guess it found its way to Liverpool. It was not a hit.
What was it like to hear artists like the Beatles do your work?
JL: Someone said, "You want to hear a Beatles cut?" "Yeah, great." I've never heard the Beatles do "Young Blood." I know Leon Russell did it at the (1971) Bangladesh concert.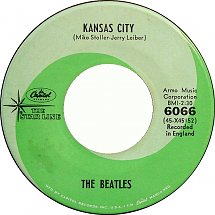 You wrote "Kansas City," which the Beatles covered in a medley with Little Richard's "Hey! Hey! Hey! Hey!" What was your feeling about their version of "Kansas City"?
MS: Between the Beatles' records and Paul McCartney's recordings there is a vast array of versions, but the first version was taken from Little Richard's version, which came out in the U.S. right after Wilbert Harrison's record came out. [Note: Harrison's went to #1 in the U.S.] I liked Paul McCartney as a vocalist, and especially loved him in those melodic things he wrote. Between him and John Lennon, that was the 1960s as far as I'm concerned. And I loved the way he sang our songs. Beautiful.
What was it like writing for Elvis Presley? He covered 20 of your songs, including "Jailhouse Rock," "Hound Dog" and another Coasters song, "Little Egypt." How did Elvis get your material?
MS: Elvis knew Big Mama's record, "Hound Dog," because he was a student, and, in addition, his first records (pre-RCA) were on Sun Records, which did an answer version, "Bear Cat," with Rufus Thomas. It was a big record on Sun. ["Hound Dog"] was a woman's song. Jerry wrote the lyrics for Big Mama and I think we recorded it in 1952, and it was released in early '53. Elvis heard a lounge act doing it in Las Vegas and they corrupted it so they could sing it, because they were guys. They put this "rabbit" thing in [the lyrics] that wasn't in the original. The original is Jerry's lyric, where a woman is singing to a gigolo. It still has the hostility in the line "You ain't nothin' but a hound dog." Elvis heard them sing it. I think the group was Freddie Bell and the Bellboys, so he recorded it the way they had done it, lyrically.
What were your first impressions when you met him and worked with him?
MS: Jerry and I actually produced, without credit, our songs that were in the film Jailhouse Rock. He asked for us to be there. We had never met him before. He was a very good-looking young man, very energetic. I mean, he just kept going and going in the studio. He'd say, "Let's do another one," and it would go on and on until he felt he had it. The studio was booked for the day, and we were used to three-hour sessions.
JL: He loved doing it. He wasn't someone who was doing it and wanted to go home, like a lot of people. He had more fun in the studio than he did at home. He was very cooperative and a workhorse. He had the "Memphis Mafia" around him, seven or eight guys. They were his boys. He would be nice to other people but did not interact that much. We met him in the studio. And the Colonel [Tom Parker, Elvis' manager] was smart; he let him travel with his entourage and it kept him insulated. Nobody could get to him.
MS: I ended up spending a little more time with him than Jerry, because I played the role of his piano player in Jailhouse Rock, which Jerry was supposed to play, but he had to go to the dentist that day.
What did you enjoy most about his talent, especially his vocal abilities?
JL: I thought he was the greatest ballad singer since Bing Crosby. I loved to hear him really do a ballad, 'cause there weren't too many people who could do our ballads to our satisfaction. We didn't have people like Tony Bennett or Frank Sinatra because we were writing rhythm 'n' blues, torch ballads, and they didn't so those things. They did Sammy Kahn songs, Sammy Fain, those other kinds of structures that we, by the way, admired very much and love, still do. We wrote a couple, and Frank finally did one. It's unreleased. As far as I'm concerned, nobody cuts Little Richard on rhythm tunes. You have to go far and wide. But Presley was the ultimate in the ballad.
Was it microphone technique? Instincts?
MS: No, it was just his singing. Pure talent. Later, when he was in Las Vegas, when he was so large, he was poking fun at himself, and he would do this thing with the scarf, tossing it back to the audience. He would do 20 of those. That was the show. Sure, he could still sing, but it wasn't like it was before and it was clouded by all this show biz. I mean, there is nothing wrong with relating to an audience, but it was mannered.
JL: He'd become somewhat of an imitation of what he was, coupled with some show biz schtick that he thought, and some of his managers thought, and the club owners thought, would go down.
In the '70s, a couple of decades after you quit writing songs for his movie scripts, did you ever re-submit any tunes to his people?
MS: We wrote a song with Doc Pomus [who also wrote hit songs for Elvis]. The three of us sat down together and wrote a song called "She's Not You," and submitted it. We had stopped submitting songs to him, other than if we had a record. If it was a good song and it didn't happen, we'd sometimes throw it at them and he frequently did it. For example, "Girls, Girls, Girls" was a Coasters record that didn't happen like the prior four or five. "Bossa Nova Baby" was a record we made with the Clovers on a short-lived label that we had, Tiger, and we didn't have any distribution, so nothing happened, and we submitted it. And he liked it.
Watch Pink Floyd's David Gilmour perform Leiber and Stoller's "Don't," originally recorded by Elvis Presley
Latest posts by Harvey Kubernik
(see all)