The band of brothers talk influences, family and ambitious career goals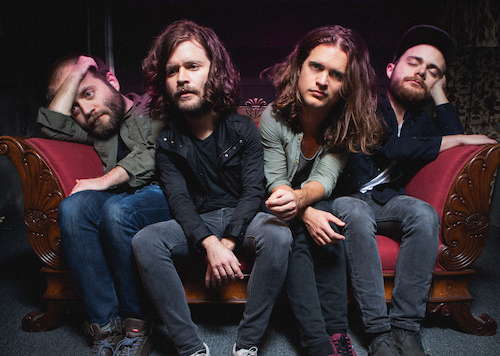 If any new group in the last few years sound like they're the classic rock of the future, it's Kongos. It's the result of the deep and broad musical roots of the four brothers Kongos, who were raised on a kaleidoscopic spectrum of sounds.
They've already established themselves with the phenomenal success of 2014's multi-million-selling song "Come With Me Now," which was a #1 hit on Billboard's alternative chart (for five weeks in a row), #2 on the rock chart, and #14 on the mainstream Hot 100. Its video has racked up nearly 50 million views on YouTube, among the song's many other accomplishments that have made it almost ubiquitous on radio as well as TV. Now their new single "Take It From Me" – from their upcoming album Egomaniac, out on June 10th – shows similar heat as the #1 most-added track at alternative radio for two weeks running (as of this writing).
Don't miss a post! Sign up for Best Classic Bands' Newsletter; form is on every page.
Such success seems completely natural for the band of brothers, who were literally weaned on music. Three of them were born in London, all four grew up in South Africa and came of age in the Phoenix, AZ area. "From a very young age our dad played us all kinds of music, everything from African styles of music to classical to opera to classic rock to modern electronic music," says Jesse Kongos, drummer and singer and second in the siblings' birth order. Even their baby carriage was wired for sound. "This was back in the '80s before it was easy to install mobile audio. He had speakers installed into our pram and he played mostly classical music: some Bach cello suites and stuff like that."
Their father John Kongos had been a rock star in South Africa, and then moved to London where he became part of an early '70s singer-songwriter scene alongside artists like Elton John (with whom he shared a producer, Gus Dudgeon) and Cat Stevens. In 1971 he scored two #4 U.K. singles, "He's Gonna Step on You Again" and "Tokoloshe Man," that also posted high chart numbers across Europe and in Australia. He parlayed that into a career as a musical jack-of-all-trades: producer, session musician, songwriter, engineer, jingle and theme music composer and more.
But his most potent musical creation is his offspring. "We all took classical piano lessons up to our teenage years. And didn't really branch out until then into other instruments," says Dylan Kongos (bass and vocals, and third in the birth order). Our Dad started teaching Danny [guitar and vocals; the youngest Kongos brother] and I some guitar, then we kind of took it further on our own. Johnny [the eldest sibling who plays keyboards and accordion and sings] went and studied jazz at Arizona State University [where all four went to college], and Jesse started taking to the drums. Johnny stuck with keyboards and accordion. Everyone plays a little but of everything. But once we started focusing on our individual instruments the rest took a back seat."
Yet they became a band less by parental mentoring and more of their own accord. When the family relocated from South Africa to Arizona (where their mother hails from) in the mid-1990s, "my Dad had to find a place to put all the instruments," explains Dylan. "They ended up in one spot for a moment and we just met there and started jamming and playing some covers: we learned some simple Beatles songs, a couple of JJ Cale songs, stuff like that. It was not very good at all but it started to get fun. Over the years we developed it. In 2003, it became special, let's try and do a gig or something, gave the band a name and made all those decisions."
A first album on their own label in 2007 won the group a regional following. Hit second album Lunatic and "Come With Me Now" first scored in South Africa and were slow to catch on in the U.S. until radio stations in Denver and Chicago started playing "Come With Me Now" and "I'm Only Joking," respectively, and listeners responded. Record labels came courting; Epic Records won the band after a full-court press by CEO L.A. Reid. Soon after, "Come With Me Now" became the fastest single to rise to #1 in the history of the alternative rock chart.
The Kongos "sound" varies, but both "Come With Me Now" and "Take It From Me" reflect the band's South African roots in the rhythmic bottom end and with the accordion. "It's something our Dad attempted to do in the '70s," Jesse notes. "Never quite cracked America. But he proved that it could work, that you could blend African music and pop-rock music. From that point a lot of people were influenced by that in terns of tapping the wonderful resources of African music and bringing at least some elements of it to the Western world."
The foursome also shows firm rock roots in their music. Yet at the same time they have a pronounced modernist slant. Both strains reflect the influence of their father, who is in the Guinness Book of World Records for being the first musical artist to use a sample on a recording – an African drum loop on "He's Gonna Step on You Again" (rave rockers Happy Monday revived the song into their 1990 Top 5 U.K. hit "Step On"). John Kongos also programmed Fairlight synthesizer drums for Def Leppard's 1983 10-million seller Pyromania.
They can as easily rave about the talents of jazz pianist Keith Jarrett as the merits of South African township jive music. Yet at the same tine, Jesse cites John Bonham as a major influence. "We've kind of been inculcated into the mentality of not being too concerned with what's the new cool music to listen to," he points out. "Listen to what you want to listen to. If it causes a response, then embrace it."
And for all the variety they do embrace, "We have a philosophy in our band that there has to be an essence of a Kongos sound in whatever we do," says Jesse. "What that is is still taking shape but we know it when we hear it."
It's out!! Go get "Take It From Me" and preorder our new album, Egomaniac – https://t.co/kgLp96koaE pic.twitter.com/cXIw1TvBR3

— KONGOS (@KONGOS) April 15, 2016
Family bands in rock like the brothers Davies in The Kinks, the Gallaghers in Oasis and the Everlys have been notorious for their conflicts. But it seems that the four Kongos brothers display a solidarity that can likely survive the tests of time and fame. "Yeah, we do," Dylan admits. "At the same time people don't see us have arguments in the privacy of our own tour bus. Like any other family or any other band we fight just as much." When on tour with the Followill brothers of Kings of Leon the bands would banter back and forth about which group of siblings argued more.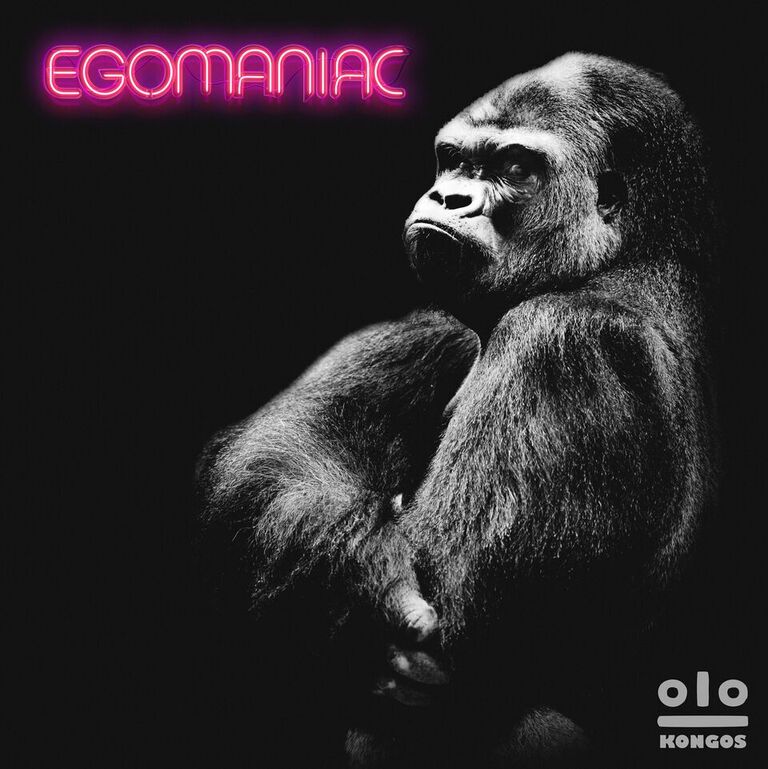 But their family bond does make Kongos a self-contained and sufficient unit who even produce their own quite professional videos. "We've been at this a long time and we all have the same goal in mind, and that's to take this band as high as we can go," Jesse says. "I think that common goal has helped us see clearly and think clearly about this thing."
"We realize the fortune that we have being four brothers and being able to do this together," Dylan concludes. "We didn't choose it necessarily; it's like we were born into this opportunity. And it feels right to take it as far as we can, and justify all the work that was done before us."
Kongos have scheduled a North American tour, performing at various festivals and headlining shows. Click here for tickets.
Kongos 2016 Tour Dates:
June 18 – Glen Allen, VA – Big Field Day
July 2 – Sioux, City, IA – Saturday in the Park
July 3 – Indianapolis, IN – INDYpendence Day
July 4 – O'Fallon, MO – Heritage and Freedom Festival
July 7 – Chicago, IL – Taste of Chicago
July 9 – Toronto, ON – Velvet Underground
July 10 – Philadelphia, PA – WRFF Radio Show
July 13 – Tulsa, OK – Brady Theatre
July 14 – Little Rock, OK – Metroplex
July 16 – Martindale, TX – Floatfest
Aug 16 – Morrison, CO – Red Rocks Amphitheatre
9/23-24 – Las Vegas, NV – Life Is Beautiful Festival
9/25 – Santa Cruz, CA – The Catalyst
9/27 – Spokane, WA – Knitting Factory Concert House
9/29 – Edmonton, Alberta – Union Hall
9/30 – Calgary, Alberta – MacEwan Ballroom
10/1 – Saskatoon, Saskatechewan – Loui's
10/2 – Winnipeg, Manitoba – Garrick Centre
10/4 – Minneapolis, MN – Varsity Theater
10/6 – Detroit, MI – St. Andrews Hall
10/8 – Montreal, Quebec – Metropolis
10/9 – Toronto, Ontario – Danforth Music Hall
10/11 – Rochester, NY – Main Street Armory
10/12 – Boston, MA – The Royale
10/14 – Silver Spring, MD – The Fillmore
10/15 – New York, NY – PlayStation Theater
10/20 – New Orleans, LA – House of Blues
10/21 – Houston, TX – Warehouse Live
10/23 – Dallas, TX – Gas Monkey Live!
10/27 – San Francisco, CA – Regency Ballroom
10/28 – Los Angeles, CA – The Wiltern
10/29 – Phoenix, AZ – Crescent Ballroom Outdoors

Rob Patterson began writing about music in 1976. Since his first published record review in Crawdaddy he has contributed to numerous national popular music magazines such as Creem, Musician, Circus, Spin, Request, Tower Pulse!, CD Review, Acoustic Guitar, Harp and many others along with major country music, consumer audio, musical instrument and studio recording magazines plus international publications New Musical Express and Country Music People in the U.K. From 1977 to '84 he wrote a nationally syndicated music column as well as stories for Newspaper Enterprises Association/United Feature Syndicate that ran in more than 400 daily newspapers across the nation. His work has also appeared in many weekly newspapers, onlinepublications like Salon.com and The Huffington Post, such books as the Rolling Stone Record Guide & Revised Record Guide, The Greenwood Encyclopedia of Rock History and The Year In Rock, 1980-81, plus liner notes for 20 album releases.

Latest posts by Rob Patterson (see all)