What was the last great Rolling Stone album? (Note the singular not plural). Talk Is Cheap, the Keith Richards solo debut in 1989. It had everything we Keef aficionados love about his tracks with the Stones and more, plus deep and wily grooves. And was the most consistent, cool and winning LP from the band's camp since Some Girls in 1978 – the last truly great long-player in the group's catalog from far too long ago.
Richards had something to prove: That he could make a full album worthy of the highest Stones standards without Mick, and establish himself as an entity outside the rock 'n' roll band that has reigned longer and more often than any other as The World's Greatest. One in which he has always been the core member, its heart and soul, even if Jagger's mug, voice, media savvy and taste for the spotlight has made him its public face (and lips and tongue).
Well, still been waiting on that next truly great Stones/Stone disc – Keith's second solo outing, Main Offender, was largely a somewhat paler yet still likable redux of Talk Is Cheap – until now.
How does one denote subtle yet undeniable greatness in the simplest of terms? It's not so easy to say but Richards knows the secret to creating it. Crosseyed Heart isn't merely a Stone's classic musical statement but a stone cold classic album, period (and I do mean album for the way to travels through styles yet coheres as a collection of tracks). It takes the distinctive solo style he developed on Talk Is Cheap and widens it, adds other elements, perfects and deepens it. And delivers it all in a way that shows how music goes beyond his second nature to be a calling embedded deep in his spirit, soul and even his bones. After all, Keith Richards is rock'n'roll.
It plays so well from start to end that the reviewer almost resists parsing Crosseyed Heart into its constituent parts, just wanna enjoy letting it play, as one would back in the day when a new Stones album arrived and you'd spin it on the turntable time and again for days if not weeks on end. This one's as much of a long-term-player with some serious legs, a set to be savored now and well into the years to come.
Richards starts out on the album where he more or less began as a musical artist: with a verse/chorus/verse/chorus of a solo acoustic finger-picked country-blues (the title song). "That's all I got," Keith announces. Then bam! Right into some Stones-style slip 'n' slide rock 'n' roll, with a Richards accent, on "Heartstopper." He's got much more….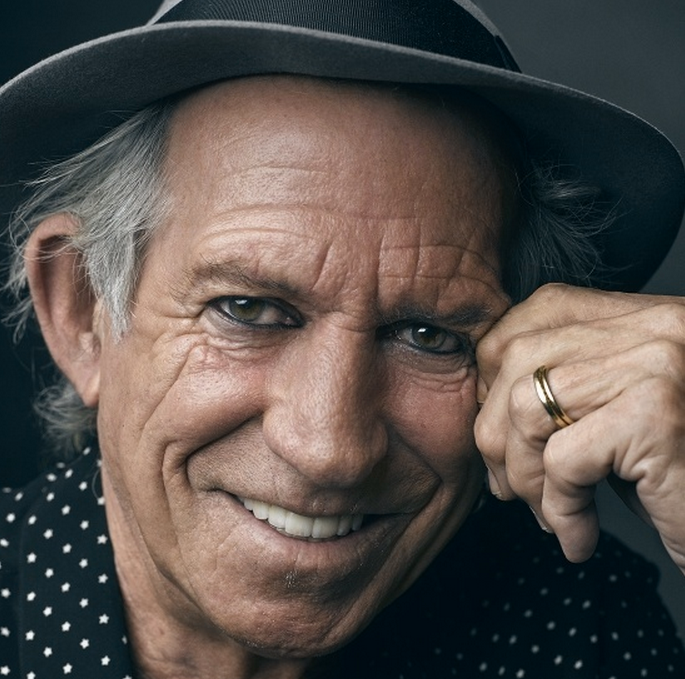 The rocking half of the tracks on here would stand up nicely on a Stones album, but bear the Keith solo stamp – especially on the LP's first single "Trouble," the revved-up South Side of Chicago  barn-burner "Blues in the Morning" and wide-screen "Something For Nothing" – in the way his rhythm guitar and the snare and bass drums of Steve Jordan, his co-producer and co-writer on 11 of the LP's 13 songs, function like an interlocked system of pistons to give every song an infectiously propulsive drive, no matter what the tempo (and made Talk Is Cheap such a bopping delight).
But the real eye-opener on Crosseyed Heart is how well Richards sings. I'd like to think it's not Pro Tools but a greater confidence is his role as a full album lead vocalist. He shows his smooth and sexy sweet side on a bit of reggae lover's rock on Gregory Issacs' "Love Overdue," phrases skillfully in his low tones through the slow and simmering "Just a Gift," and duets quite effectively with a sultry Norah Jones on "Illusion" (where as it fades out he coos "to my blood" in what would be his falsetto in a way that sends shivers).
The set wraps up with a song so done to death, Leadbelly's "Goodnight Irene," one might wonder how anyone can bring something new to it. Yet Richards strikes a piquant balance between sleepy and stately to close the album proper on a grace note. And then sweetens the deal with two bonus tracks: "Substantial Damage," a chunky and churning funk instrumental workout peppered with declamations and slashing slide guitars, and "Lover's Plea," a dead-on-target slice of Muscle Shoals-style Delta soul.
There's nothing flashy here, just a seasoned talent sounding quite comfortable within his artistic skin, skillful and smart arrangements with horns here, backing vocals over there, a sax riff (from the late Bobby Keys), some piano and organ touches – all placed in a way that adds just the right piquant touch. And supremely cool guitar riffs, figures, line and the occasional lead throughout from Richards and Waddy Wachtel. Everything on Crosseyed Heart plays just right.
Because this time out Richards doesn't have one damn thing to prove. But if you really might want it, the proof suffuses the grooves across all 15 tracks. And shows how he still has so much to offer that it salivates a fan's desire to hear the artist at work here truly reunite with Jagger one more time on an album to remind us just why the Rolling Stones are the definitive rock 'n' roll band of all time. Meanwhile, this cool platter should keep rock fans happy indeed.

Latest posts by Rob Patterson
(see all)