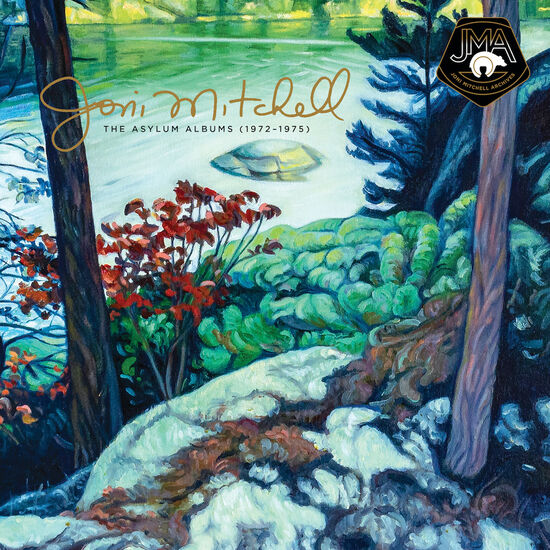 Joni Mitchell The Asylum Albums (1972-1975) is the next installment in the Joni Mitchell Archives series. The box set, in 4-CD and 5-LP limited edition 180-gram vinyl, arrived Sept. 23, 2022, via Rhino. It features newly remastered versions of For the Roses (1972), Court and Spark (1974), the double live album Miles of Aisles (1974), and The Hissing of Summer Lawns (1975). All four were recently remastered by Bernie Grundman. Listen to many of the tracks below.
The news of the collection arrived just days after Mitchell's surprise set at the 2022 Newport Folk Festival.
From the July 28 announcement: Mitchell was at a turning point 50 years ago. After making four acclaimed albums with Reprise Records, including her 1971 masterpiece Blue, she left the label to join the brand-new Asylum Records in 1972. Over the next seven years, Mitchell would record some of the most acclaimed music of her career while changing her musical direction by adding more jazz elements into her songwriting.
Listen to the newly remastered version of "You Turn Me On, I'm A Radio" from For the Roses
The cover art for The Asylum Albums (1972-1975) features a previously unseen painting by Mitchell. The set also includes an essay by friend and fellow Canadian Neil Young. He writes: "Joni's music is so deep and transporting. She comes right from the source. I listened to every album as it came out. The musicians she played with were always above my abilities. She had grown from folk to jazz and in between, creating a unique kind of sound that I loved to listen to over and over."
The Asylum Albums (1972-1975) follows Mitchell's musical evolution over four albums as she embraced more jazz-inspired pieces and moved away from the folk and pop of her early years. It includes essential tracks like her highest-charting (#7) single "Help Me," plus favorites like "Free Man In Paris," "Raised On Robbery" and "In France They Kiss on Main Street."
For the Roses, which was released 50 years ago this November, was certified Gold and added to the Library of Congress' National Recording Registry in 2007. Court and Spark topped the U.S. album chart and was certified double Platinum, making it the best-selling album of Mitchell's career. It was nominated for multiple Grammy® Awards, including Album of the Year, and won Best Arrangement Accompanying Vocalist for "Down To You."
Related: Our Album Rewind of Court and Spark
Miles of Aisles is a double live album that spotlights the tour for Court and Spark. It reached #2 on the album chart and was certified Gold. The Hissing of Summer Lawns was certified gold as well, peaking at #4 on the album chart and earning a Grammy® Award nomination for Best Female Pop Vocal Performance. Listen to her perform "Woodstock" below.
The new collection heralds the upcoming release of Joni Mitchell Archives Vol. 3, which will arrive next year. It will be the third installment in the comprehensive archival series exploring different eras of Mitchell's celebrated career through unreleased studio and live recordings. Vol. 3 will focus on the timeframe when she recorded the albums included in The Asylum Albums (1972-1975).
Mitchell continues to be intimately involved in producing these collections, lending her vision and personal touch to every element of the projects. Future releases in the archive series will arrive in a similar manner, with a boxed set focused on studio albums from a specific era, followed by an official "Archives" release looking at unreleased audio from the same period.
The complete track listing (plus her live performance of "Woodstock") appears below the Amazon links.
The Asylum Albums (1972-1975) Track Listing
For the Roses (1972)
"Banquet"
"Cold Blue Steel And Sweet Fire"
"Barangrill"
"Lesson In Survival"
"Let The Wind Carry Me"
"For The Roses"
"See You Sometime"
"Electricity"
"You Turn Me On I'm A Radio"
"Blonde In The Bleachers"
"Woman Of Heart And Mind"
"Judgement Of The Moon And Stars (Ludwig's Tune)"
Court and Spark (1974)
"Court and Spark"
"Help Me"
"Free Man In Paris"
"People's Parties"
"Same Situation"
"Car On A Hill"
"Down To You"
"Just Like This Train"
"Raised On Robbery"
"Trouble Child"
"Twisted"
Miles of Aisles (1974)
"You Turn Me On I'm A Radio"
"Big Yellow Taxi"
"Rainy Night House"
"Woodstock"
"Cactus Tree"
"Cold Blue Steel And Sweet Fire"
"Woman Of Heart And Mind"
"A Case Of You"
"Blue"
"Circle Game"
"People's Parties"
"All I Want"
"Real Good For Free"
"Both Sides Now"
"Carey"
"The Last Time I Saw Richard"
"Jericho"
"Love Or Money"
The Hissing of Summer Lawns (1975)
"In France They Kiss On Main Street"
"The Jungle Line"
"Edith And The Kingpin"
"Don't Interrupt The Sorrow"
"Shades Of Scarlett Conquering"
"The Hissing Of Summer Lawns"
"The Boho Dance"
"Harry's House/Centerpiece"
"Sweet Bird"
"Shadows And Light"

Latest posts by Best Classic Bands Staff
(see all)