Singer-songwriter John Prine died April 7, 2020, due to complications from the Covid-19 virus. The news was first announced in The New York Times, which received confirmation from his family. Prine, 73, had been at Vanderbilt University Medical Center.
Almost immediately after the news broke, tributes began to pour in from fellow musicians. Bruce Springsteen called Prine "a national treasure." His frequent concert collaborator, Bonnie Raitt, wrote, "Words can't even come close. For all of us whose hearts are breaking, we will keep singing his songs and holding him near."
On April 2, his eighth day in intensive care, his wife, Fiona, noted that he was "very ill." He "still needs quite a bit of help with his breathing [and] has pneumonia in both lungs," she wrote. "Yet I remain hopeful that he can continue to fight this devastating virus and come home."
She added, "I don't have the words to adequately thank you all for the outpouring of love and prayers that John and our family have received this last week."
The news of Prine's ill health was first shared on the musician's various social media platforms on March 29. The announcement noted that Prine was hospitalized on March 26 and intubated on March 28. The post indicated that "he continues to receive care, but his situation is critical."
The family statement added, "This is hard news for us to share. But so many of you have loved and supported John over the years, we wanted to let you know, and give you the chance to send on more of that love and support now. And know that we love you, and John loves you."
On March 30, his wife, offered some news – which was misinterpreted—noting that his condition was "stable" and that she herself had recovered. (She had tested positive for Covid-19 on March 19 and had been quarantined.)
I have recovered from Covid-19. We are humbled by the outpouring of love for me and John and our precious family. He is stabile. Please continue to send your amazing Love and prayers. Sing his songs. Stay home and wash hands. John loves you. I love you

— Fiona Whelan Prine (@FionaPrine) March 30, 2020
Several hours later, she clarified her previous statement, explaining that "stable… is not the same as improving."
I need to clarify what I mean by "John is stable". That is not the same as improving. There is no cure for Covid-19. He needs our prayers and love – as do the thousands of others who are critically ill. Stay at home. Wash your hands. We love you.

— Fiona Whelan Prine (@FionaPrine) March 30, 2020
Prine was scheduled to be honored in 2020 with a Lifetime Achievement Award from the Recording Academy, joining Chicago, Roberta Flack, Isaac Hayes, and others, in receiving the honor, announced the previous Dec. 19. A special award presentation ceremony and concert celebrating the honorees was scheduled to be held on April 18 at the Pasadena Civic Auditorium, that was ultimately canceled due to the pandemic.
Prine returned to the concert stage in September 2019, two months after he had surgery to have a stent inserted after doctors had told him he had elevated risk of a stroke.
Prine's first show back was Sept. 18 with the Denver Symphony Orchestra at the legendary Red Rocks Amphitheatre in Colorado.
The two-time Grammy winner and four-time American Music Awards winner was inducted into the Songwriters Hall of Fame in January 2019. He had made an announcement about his health on his website on July 23, 2019.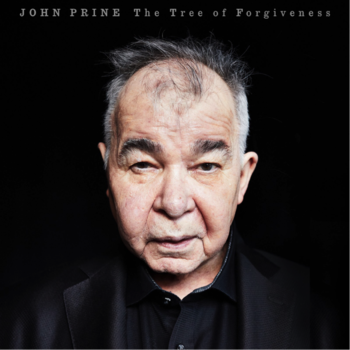 On Sept. 11, Prine won Album of the Year for 2018's The Tree of Forgiveness and Song of the Year (for "Summer's End," about the opiate crisis) at the 18th annual Americana Honors and Awards, in Nashville.
Prine turned 73 on October 10, 2019.
The July 23 announcement, concerning his health, noted: "In consultation with his doctors, John has been advised that he has an elevated risk for a stroke. He will have surgery this week to insert a stent which will remedy the issue. He looks forward to a full and speedy recovery."
Watch Prine perform "Sam Stone" with the Denver Symphony Orchestra on Sept. 18, 2019
Watch the official video for "Lonesome Friends of Science" from his last studio album
Prine was discovered by Kris Kristofferson and signed with Atlantic Records in 1971. He later signed to Asylum Records before launching his own Oh Boy label in 1984. His most popular songs included "Angel From Montgomery," "Sam Stone," "Paradise" and "Your Flag Decal Won't Get You Into Heaven Anymore."
Related: Our Album Rewind of Prine's brilliant debut
Listen to Prine sing "Angel From Montgomery" with Emmylou Harris
Prine was nominated for induction into the Rock and Roll Hall of Fame in 2018 but wasn't selected.
Related: Prine is among our list of worthy artists not yet inducted into the Rock and Roll Hall of Fame
Watch the lyric video for Prine's "When I Get to Heaven"
Related: Musicians we lost in 2020

Latest posts by Best Classic Bands Staff
(see all)