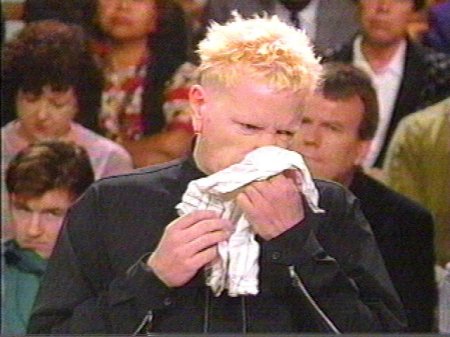 There are some moments in modern pop culture that are just so wonderfully bizarre. This was one of them.
Who knows what drummer Robert Williams was even thinking when he took his case for breach of contract as well as assault and battery against former Sex Pistol John Lydon pka Johnny Rotten. He hired Williams (and paid him) to play on a tour. Williams claims Lydon fired him without cause and headbutted him. Lydon countered that Williams refused to share a hotel room on the tour, which he, the star, was even doing.
Was he fired or did he quit? Oldest story in the book.
Lydon, being the media manipulator that he is, can't resist making the most of the moment. But Judge Judy keeps him in line, and at one juncture shushing him and saying, "Sir. Don't be disrespectful. I haven't disrespected you, have I?"
"No, you haven't" Lydon answers.
"So let's not be disrespectful in my home," the judge says.
Williams loses and is not awarded the $5,000 he claimed to be owed. "This is a very strange business you are in," Judge Judy tells him. "You should probably find another business."
"Fairly obvious conclusion," a smug Lydon says.
Related: A Public Image Ltd. show is on our list of 10 memorable rock concert riots

Latest posts by Best Classic Bands Staff
(see all)