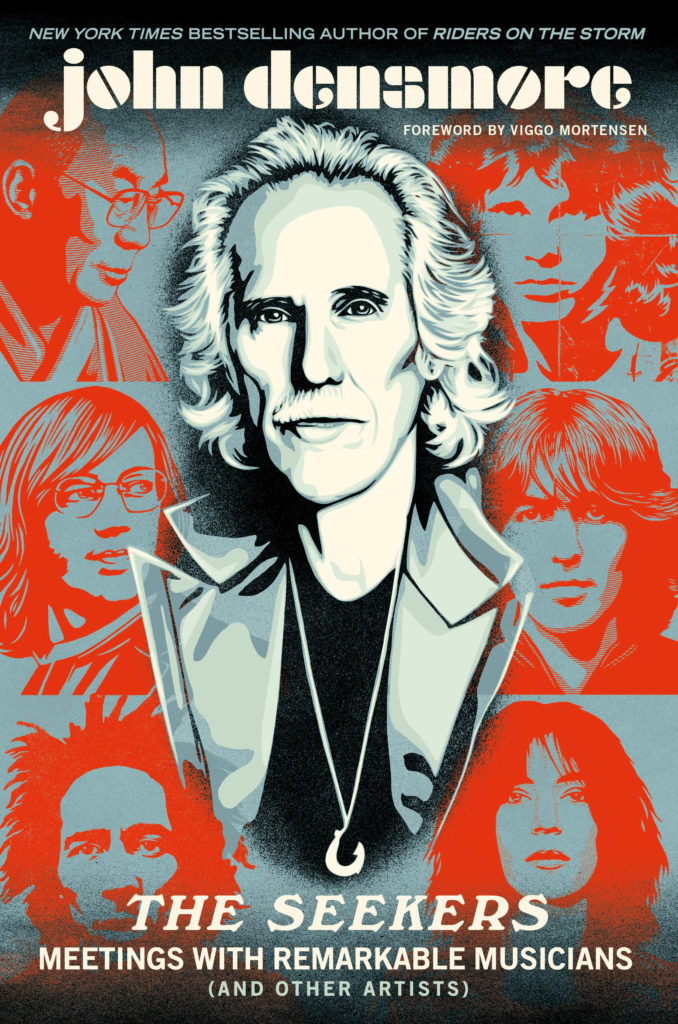 John Densmore, drummer, co-founder of The Doors and New York Times bestselling author, has written a very revealing and healing book, The Seekers: Meetings With Remarkable Musicians (and Other Artists), published by Hachette Books. The volume, published in 2020, chronicles Densmore's personal creative journey and spiritual path alongside some of the iconic people he has known.
Whether it's the curiosity that blossoms after we listen to our favorite band's newest record, or the sheer admiration we feel after watching a knockout performance or reading a masterpiece, many of us have experienced art so pure—so innovative—that we can't help but wonder afterwards, "How did they do that?"
The Seekers: Meetings With Remarkable Musicians (and Other Artists) offers us a bridge. Densmore digs deep into his own process and draws upon his access to fellow artists, performers and writers—including Ravi Shankar, Elvin Jones, Willie Nelson, Patti Smith, Lou Reed, Bob Marley and former, now-deceased bandmates Ray Manzarek and Jim Morrison—to explore the origins of creativity itself.
"On the back cover of my first book, Riders on the Storm, Oliver Stone called me a 'survivor and a seeker,'" Densmore offered in media materials supplied by the publisher. "I am still on that road. We all are; we have embarked on a journey of spirit in our human bodies as we proceed down our path on Planet Earth. And music is a candle, lighting the way along the road toward the art of living."
Densmore and I corresponded earlier in 2021 about The Seekers: Meetings with Remarkable Musicians (and Other Artists).
"The concept came from the book Meetings with Remarkable Men, by G.I. Gurdjieff," Densmore replied. "I knew I was doing chapters on [jazz drummer] Elvin [Jones], Janis [Joplin], Ravi Shankar, Marley, [poet/activist] Robert Bly and [conductor] Gustavo Dudamel, because of my personal experience with them. The others just evolved. Since Ray [Manzarek] passed, I wanted to honor him, which led to a chapter on Jim [Morrison]. Patti Smith led to Lou Reed. After working on this for about a year or so, I met Willie [Nelson], and then met Paul Simon (again). Then I thought, why not start the whole thing with my mom, since she encouraged piano and drums. Then a month after it was published, I realized that I had written in the Elvin chapter that the first drum beat all of us hear is in the womb, so, of course, my mom would be the starting chapter…I came out of her womb! 
"I wanted to give a tip of the hat to those artists who fed me over the years, and after writing a few chapters it became a mission. I was trying to figure out what connected all these people…I realized it was a love of sound: musical notation or spiritual mantras. And the counterbalance to both is silence, a very neglected sound."
It's certainly no secret that Densmore's spiritual journey started many decades ago. "I've always had a spiritual yearning, but I didn't realize until recently that jazz music also has a spiritual searching going on," he said. "That was when I decided to include a couple of spiritual teachers as well as having all these musical mentors."
Densmore, born Dec. 1, 1944, was asked what happens when a drummer/percussionist becomes an author and navigates the literary expedition? "Drummers have to focus on the groove, which is kinda like a meditation," he said. "Now that I've written several books, I'm thinking that for me the length of a sentence is a musical question. If it's short, it's percussive; if it's long, it's melodic. Too long and you'd better edit!
"With the Doors I had to work harder on the tempo because Ray's left hand was the bass," he continued. "And when he took a solo, he'd get excited and speed up. 'Hold it back!' But, without a separate guy doing bassline runs and grooves there are holes. 'OK. I'm going in.' Sometimes I didn't do anything. That was my territory between the beats."
Related: Ray Manzarek on the Doors' studio albums
His chapter on Ravi Shankar is particularly fascinating. In 1965, Densmore, Krieger and Manzarek met at the Maharishi Mahesh Yogi's Transcendental Meditation Center in Los Angeles.
"I find it interesting that across the pond, the Fab Four were exploring the same thing as us," he said. "Both groups were experimenting with then-legal LSD, then drifted toward a less shattering route on the nervous system: Maharishi and meditation. The whole Eastern Indian thing—Ravi Shankar, via George Harrison and the Beatles—saturated everything with paisley bedspreads sound-wise. 'The End' was a raga tune.
Listen to "The End" performed at the Isle of Wight festival in 1970
"Robby and I went to Ravi Shankar's Kinnara School of Indian Music. Later, Robby and I went to see Ravi play at the Hollywood Bowl, and George was on stage. Ravi didn't teach at the school, but he'd drop in and give a little lecture on Sublimating Your Sexual Drive Into Your Instrument. Later, George came to one of our recording sessions for The Soft Parade."
The Seekers implements a slew of photos Densmore personally selected to illustrate his spiritual and musical trek, including one with the late philosopher, author, teacher and mystic Ram Dass. In 1998 this author interviewed Ram Dass and asked about Shankar and the Doors.
"I was real happy when Ravi Shankar started getting acceptance in the West, partly because of George Harrison going to India. I had heard of Ravi in the very early '60s when I was in India. I was delighted with the East-West merger…And I loved the Doors, sure… 'Light My Fire.' Of course. Some Eastern influences in their music. Jim Morrison was a poet…I liked the level of reality he played with. I like people pushing the edge and getting out of the linearity. And not in a kind of clever, studied way, but in an ecstatic experiential way. That's what I love better. That's what he tried to do."
Watch The Doors on The Ed Sullivan Show
Latest posts by Harvey Kubernik
(see all)