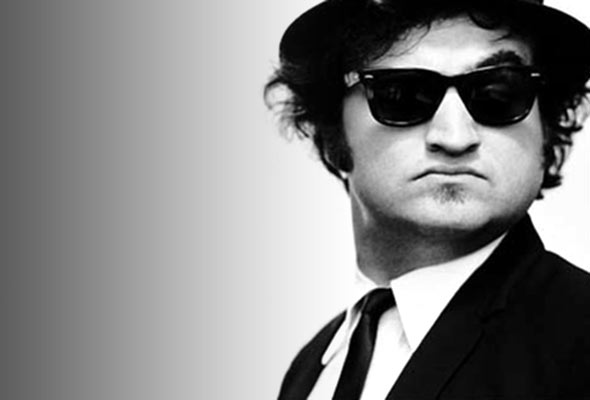 John Belushi was enjoying his fame and success at age 33. He had become a comedy star thanks to his hilarious performances as an original cast member of Saturday Night Live. He ascended to movie stardom after his humorously riotous performance in National Lampoon's Animal House. After he and friend/co-star/pal Dan Aykroyd created the Blues Brothers as an SNL musical sketch, they cut an album, Briefcase Full of Blues. It went #1 and sold two million copies, made Belushi a rock star, and was spun off into a hit movie.
Watch the Blues Brothers perform "Soul Man" in 1978
Belushi also had an appetite for cocaine. "John, he just loved what it did," says Aykroyd. "It sort of brought him alive at night – that superpower feeling where you start to talk and converse and figure you can solve all the world's problems."
Despite his efforts to battle his cocaine addiction and even one year clean, in early 1982 Belushi was hanging out in Los Angeles and indulging his taste for partying. On the evening of March 4th, he went club hopping with former SNL writer Nelson Lyon and Cathy Smith. Smith injected him with cocaine a number of times during the evening out.
After midnight, Belushi, feeling ill, returned with Smith to the bungalow where he was staying at the Chateau Marmont on the Sunset Strip in West Hollywood. Both Robin Williams and Robert De Niro briefly stopped by. In the wee hours of the morning, she injected Belushi with a "speedball" – a combination of heroin and cocaine. She later checked in on Belushi in his bedroom, and despite having problems breathing, Smith left to run errands in Belushi's car.
Watch how the news was reported in Belushi's hometown of Chicago
His personal trainer Bill Wallace came to see Belushi later that morning and found him dead. The cause of death was ruled to be combined drug intoxication. Smith later pleaded guilty to manslaughter for injecting him with drugs. A gravestone in the cemetery on Martha's Vineyard where he was initially buried reads, "I may be gone but Rock and Roll lives on."
If you're a new reader of ours, we'd be grateful if you would Like our Facebook page and/or bookmark our Home page.
Besides his great performance in National Lampoon's Animal House and The Blues Brothers, Belushi's many film roles included 1941, Continental Divide and Neighbors.
Watch one of his great scenes from National Lampoon's Animal House
Related: Our story on SNL's classic "Cheeseburger Cheeseburger" sketch

Latest posts by Best Classic Bands Staff
(see all)