A biopic of Ramones frontman Joey Ramone—who died 20 years ago today (April 15, 2021)—is in the works, according to an announcement. Netflix and STXfilms have partnered to develop and produce the film, which will be titled I Slept with Joey Ramone, based on the book of the same title by Mitch Leigh, Joey's brother.
The film will star Saturday Night Live's Pete Davidson as Ramone.
The film will be directed by Jason Orley and executive-produced by Rory Rosegarten (Everybody Loves Raymond), Davidson, Leigh and David Spiegelman. Davidson and Orley will write the film. Orley and Davidson previously teamed up on the feature film Big Time Adolescence, which Orley wrote and directed. Orley also directed Davidson's standup special Alive from New York for Netflix.
The film will be made with the cooperation and support of the estate of Joey Ramone and with the assistance of Rosegarten Films.
Said Adam Fogelson, Chairman of STXfilms Motion Picture Group, "When you share a bed with someone–and not just a bed, but a childhood, a family, and a lifetime–you know that person better than anybody else. Mickey Leigh not only collaborated with his big brother's band–he has irreplaceable memories of and insights into Joey Ramone, having supported him when no one else would and witnessed him overcome adversity in the most dramatic way.
"I Slept with Joey Ramone is a great rock anthem that will make an equally great rock biopic, set apart by a universal story of family. Pete is perfect for this role and we're excited he and Jason will be bringing this icon of rock to life and thrilled to be collaborating once again with our friends at Netflix."
Davidson turned 27 on Nov. 16, 2020. He made his SNL debut on Sept. 26, 2014, at age 20.
Related: Our Album Rewind of the Ramones' Road to Ruin
Joey Ramone was born Jeffrey Hyman in Queens, New York, in 1951. The Ramones were formed in 1974 and though none were related by birth, co-founder and bassist Douglas Colvin urged them to share a common last name. Colvin became Dee Dee Ramone and the others followed suit. Guitarist John Cummings became Jonny Ramone and drummer/producer Tommy Erdelyi became Tommy Ramone. Later members also took on the surname Ramone.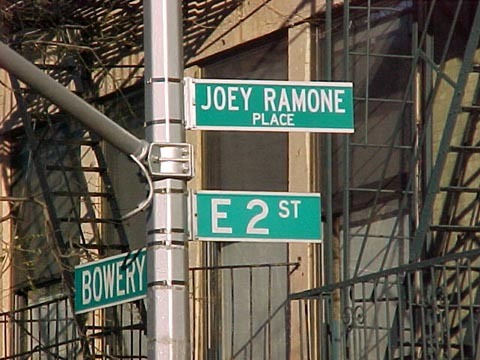 Although they were misunderstood at first, the quartet built an audience of fans at New York City's dive bar CBGB, and ultimately became a worldwide phenomenon. The Ramones' influence on punk rock was incalculable, influencing bands not only in the U.S. but abroad as well, among them the Clash and the Sex Pistols in England. The group's fashion sense also caught on, with ripped jeans and leather jackets becoming ubiquitous.
The Ramones split in 1996. Joey recorded two posthumously released solo albums, Don't Worry About Me (2002) and Ya Know? (2012). He died of cancer on April 15, 2001.
In 2003 a block in New York City was renamed Joey Ramone Place. The street sign designating it as such is reportedly the most often stolen in New York.

Latest posts by Best Classic Bands Staff
(see all)