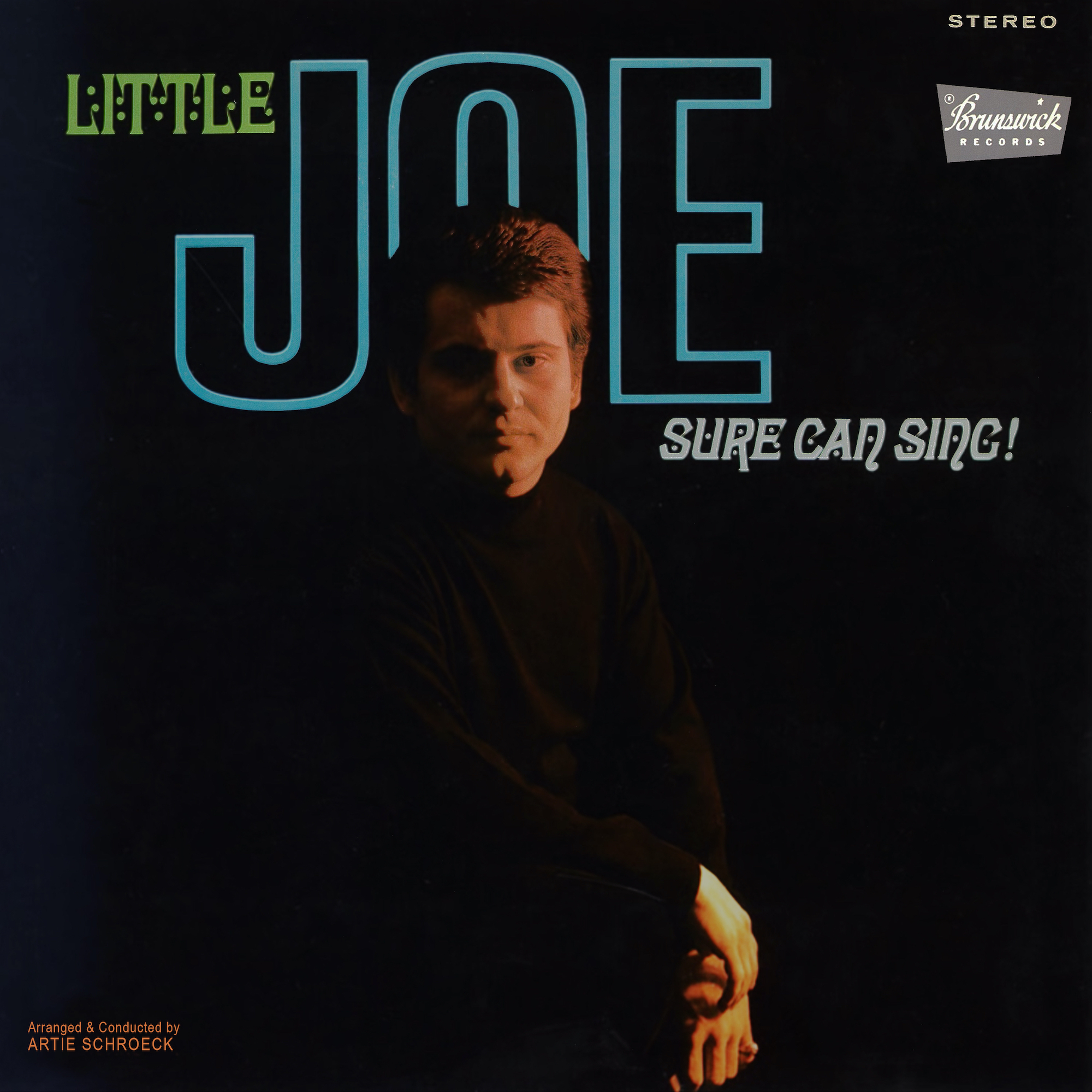 Well before Joe Pesci won an Academy Award for Goodfellas, cracked us up in Home Alone and the Lethal Weapon films as the comedic sidekick Leo Getz, and starred as would-be lawyer Vincent Gambini in the 1992 hit comedy My Cousin Vinny, the then-25-year-old actor was a budding recording artist on Brunswick Records.
The classic indie R&B label has reissued Little Joe Sure Can Sing!, Pesci's long out-of-print and up until now nearly impossible-to-find album. Originally released on vinyl in 1968, the collection was reissued on November 5, 2021, on all streaming platforms. Listen to several tracks below.
Recorded under the moniker "Joe Ritchie," the jazz, pop, and blues-influenced 10-track collection features unique renditions of three Beatles classics ("Got to Get You Into My Life," "Fixing a Hole," "The Fool on the Hill"), three vintage late 60's Bee Gees gems (including "To Love Somebody"), Mel Torme's "Born to Be Blue," and "Stop and Say Hello," originally recorded by Pesci's childhood friend and fellow "Jersey Boy" Frankie Valli.
Listen to Pesci as "Joe Ritchie" sing "Got to Get You Into My Life"
Many of Pesci's acting collaborators have weighed in. From Sharon Stone, who starred with him in Casino: "I guarantee you will be amazed by the beautiful voice that Joe has. Joe Pesci singing the classics is fabulous!"
Ray Romano, who shared the screen with Pesci in The Irishman: "Just when I thought I couldn't be more in awe of Joe Pesci, I find out he can sing. Wow."
Of the Bee Gees covers, Barry Gibb says, "I love Joe Pesci! He's one of America's greatest actors who steals every scene, in every film he's in. I didn't know he was also a great singer. I have followed him throughout my life and hearing that he sings some of our songs on this album is such a great honor."
Brunswick CEO Paul Tarnopol – son of the late Nat Tarnopol, who was President of the label during its 60's-70's heyday – notes that the original release of the "Joe Ritchie" album was a bit of a mystery. "Between 1960 and 1970," he says, "Nat had transformed Brunswick from a label best known for Lawrence Welk and Brenda Lee records into an R&B powerhouse with artists like Little Richard, Jackie Wilson, Lavern Baker, Gene Chandler, the Young-Holt Unlimited and the Chi-Lites. The 'Little Joe' album was released right in the middle of this renaissance.
"Since Nat passed away before Goodfellas, My Cousin Vinny and JFK made Joe Pesci a… star, Nat Tarnopol was never asked why he released the Pesci album on a label with a roster of entirely soul and rhythm and blues artists."
Little Joe Sure Can Sing! Track Listing
Holiday
Got to Get You Into My Life
Stop and Say Hello
To Love Somebody
The Fool on the Hill
Fixing a Hole
Let's Stop Fooling Ourselves
No More (In Life)
Born To Be Blue
And the Sun Will Shine
Listen to Pesci tackle "The Fool on the Hill"
Little Joe Sure Can Sing! makes a unique cameo appearance in the 2021 film The Many Saints of Newark, a prequel to the famed HBO series The Sopranos. Ray Liotta's character is a jazz junkie whose nephew brings him albums to listen to behind bars. The cover of the Pesci album is seen alongside other jazz titles.
Though officially retired from acting, Pesci, born Feb 9, 1943, has appeared in several films throughout the 2000s, most notably and recently, The Irishman, which reunited him with Robert De Niro and director Martin Scorsese, whom the actor had first collaborated with on Raging Bull.
Related: Our feature on My Cousin Vinny

Latest posts by Best Classic Bands Staff
(see all)