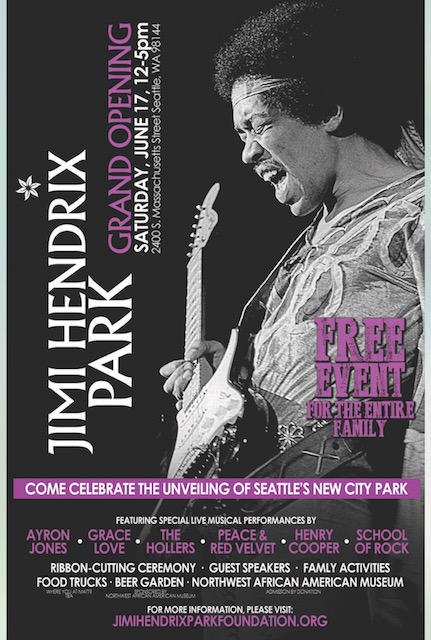 The city of Seattle will hold a grand opening celebration of the new Jimi Hendrix Park this Saturday (June 17), from 12-5 p.m. The event is free and will be held in the 2.5-acre park named in honor of the hometown musical icon. The park is adjacent to the Northwest African American Museum in Seattle's Central District at 2400 S. Massachusetts St.
The opening of the $2.2 million park improvement project is sponsored by Seattle Parks and Recreation, Jimi Hendrix Park Foundation and the Friends of Jimi Hendrix Park.
According to a press release, a "newly installed central shelter, a soaring sculpture reminiscent of butterfly wings, now anchors Jimi Hendrix Park. Phase one, or 'Little Wing,' opened in October 2016 following a year of construction that reimagined the park as a tribute to the music and artistry of Jimi Hendrix."
New park amenities, the release says, "include a grand entrance and stairway adorned with Jimi's signature at the corner of Massachusetts and 25th Avenue South. A walkway toward the central plaza incorporates a timeline of Jimi's life and career embedded in the pavement. Lyrics from timeless Hendrix songs, 'Little Wing' and 'Angel' are etched into a purple ribbon along the timeline. New plantings include numerous trees as well as four rain gardens with native plants and a butterfly garden with flowering shrubs to improve environmental sustainability. Also new are an informational kiosk and bike racks."
Related: Early Hendrix recordings released
A brief program and ribbon cutting with public officials and Janie L. Hendrix, Jimi's sister and the founder and director of the Jimi Hendrix Park Foundation, will open the celebration at noon Saturday. The stage then will be turned over to master of ceremonies Michael Wansley and local performers. Featured artists include School of Rock, Henry Cooper, Peace & Red Velvet, the Hollers, Grace Love, Ayron Jones, and Youth Speaks poets Carlynn Newhouse and Azura Tyabji.
In addition to the performances, families can enjoy food trucks, an instrument "petting zoo," chalk art contest and youth art activities all afternoon until 5 p.m.
If you're a new Best Classic Bands reader, we'd be grateful if you would Like our Facebook page and/or bookmark our Home page.
Says the press release, "The Friends of Jimi Hendrix Park Committee, Jimi Hendrix Park Foundation and Seattle Parks and Recreation collaborated on creating the park as a welcoming and inspiring community gathering space, as well as a place for fans of Jimi's music to celebrate his indelible contributions to the music world. Park design by Murase Associates of Seattle was inspired by the music and art of Jimi Hendrix, and included a public participation process involving the neighborhood. Contractor ERRG of California has led the construction process, and the construction of the Central Shelter was completed by Argent Fabrication of Seattle. Funding was raised from many generous individuals as well as grants and donations, including the Seattle Parks and Green Spaces Levy Opportunity Fund and Seattle Department of Neighborhoods Neighborhood Matching Fund and Building for Culture, a partnership between 4Culture and King County."
Watch Hendrix perform "Hey Joe" at the Monterey Pop Festival in 1967

Latest posts by Best Classic Bands Staff
(see all)