Jimi Hendrix Rocks the Hollywood Bowl in 1967: Review
by Jeff Burger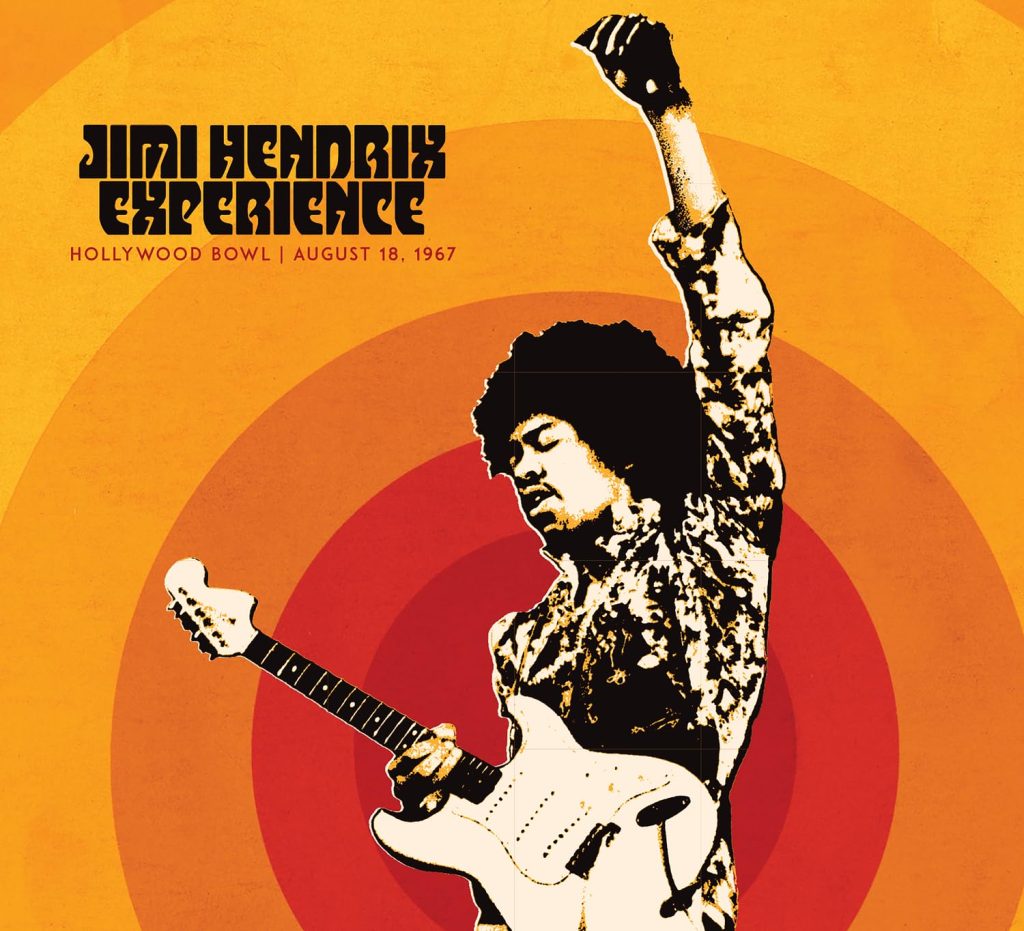 Jimi Hendrix released only four albums during his too-brief lifetime, but new LPs, CDs and boxed sets have continued to appear in a steady stream in the years after his 1970 death. Today, more than half a century later, they're still coming. Just in the past few years, we've seen the release of the five-disc Songs for Groovy Children: The Fillmore East Concerts, the two-disc Live in Maui and Los Angeles Forum–April 26, 1969.
Some of Hendrix's posthumous material has arguably been rather redundant in that it consists of concert tracks that have already been released in similar live versions. But the quality level is generally sky-high. Both comments apply to the latest release, Live at the Hollywood Bowl, August 18, 1967, that arrived on Nov. 10, 2023, with a 24-page booklet that includes an essay by journalist Jeff Slate, a reproduction of a poster for the concert and previously unseen photos.
The program features Hendrix's "Foxey Lady," "Fire," "Purple Haze" and "The Wind Cries Mary," all of which appeared on Are You Experienced?, his first studio album. Also here are covers of the Beatles' "Sgt. Pepper's Lonely Hearts Club Band," Bob Dylan's "Like a Rolling Stone," Howlin' Wolf's "Killing Floor," Robert Petway's "Catfish Blues" and Chip Taylor's "Wild Thing," the Troggs hit. Live versions of all nine of these tracks appear on other Hendrix albums, but many of the performances here are head-turners.
Moreover, these tracks are notable not only because they are excellent and all previously unreleased but also because they contain some of Hendrix's earliest recorded concert performances. His Monterey Pop Festival tracks predate these by a couple of months and there are also a few earlier live recordings on an eponymous box and on Hendrix's Radio One CD (though the latter were taped in a studio without an audience). But that's about it.
The Hollywood Bowl set was recorded five days before the band's debut album became available in the U.S. and represents one of its last appearances before an audience whose members had mostly never even heard of it. Hendrix was just the opening act for the group they'd come to see, the Mamas and the Papas, a fantastic quartet but one that came from a different musical universe. To judge by this recording, the L.A. radio DJ who introduced the Jimi Hendrix Experience (saying "Are you ready for a groovy night?") received a more enthusiastic welcome than the band itself.
Related: Our review of the 1969 L.A. Forum release
Perhaps anticipating that a Mamas and Papas audience wouldn't know what to make of his music, Hendrix began by telling the crowd, "We don't mind if you laugh, long as you laugh in key." It's likely, though, that no one was laughing after the performance started. On the contrary, "People were almost speechless," recalled Brian Ray, a session musician who attended as a 12-year-old. Fifty-six years later, you can hear why on these intense recordings, which find Hendrix playing guitar in ways no one had ever done before, inventively blending blues and psychedelic rock in his original material, while also transforming well-known songs like "Wild Thing" into something new and spellbinding.
Latest posts by Jeff Burger
(see all)