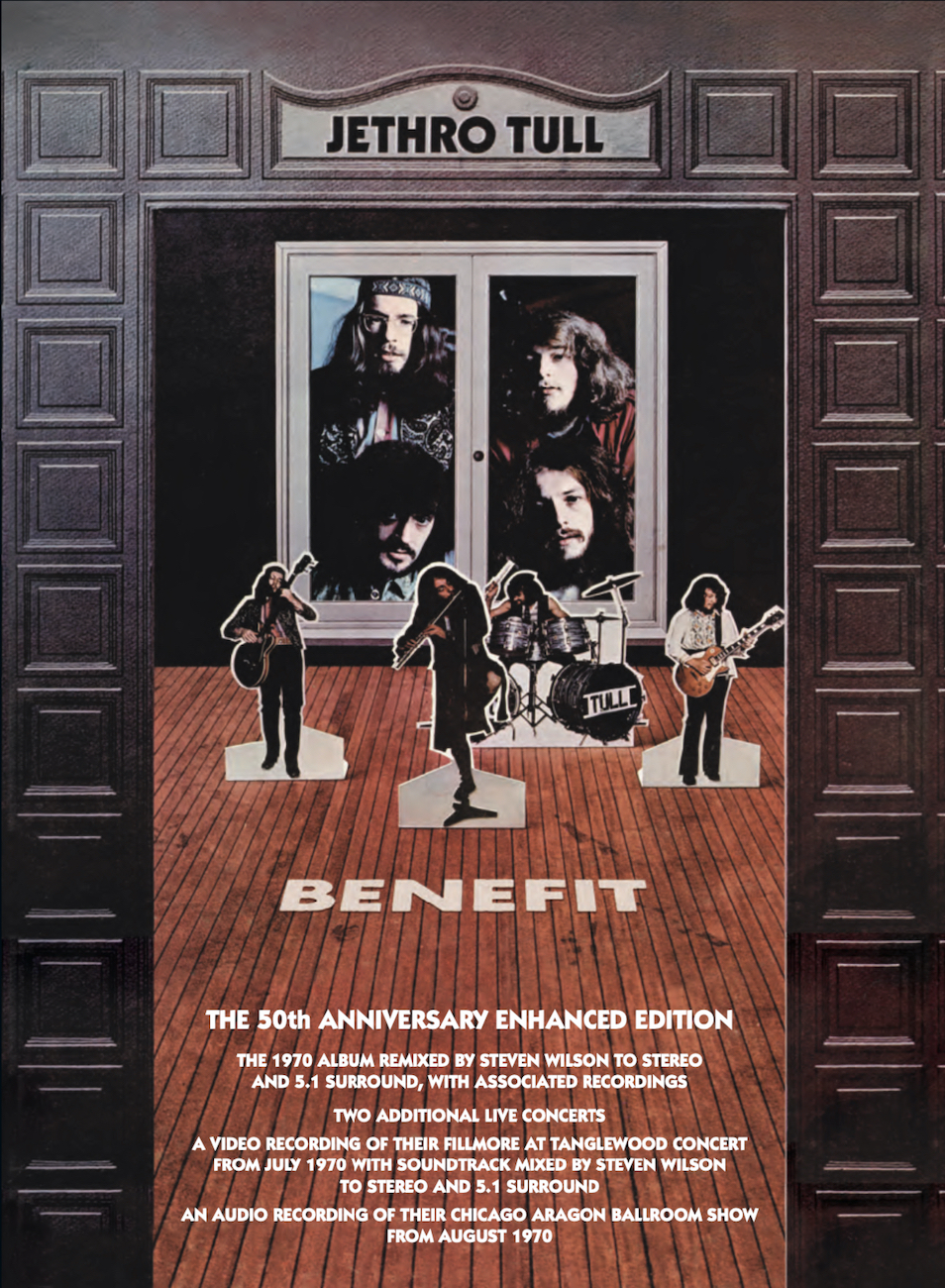 Jethro Tull's 1970 classic Benefit will be celebrated with a 4-CD/2-DVD set, featuring remixes by Steven Wilson, and an abundance of previously unreleased material. After pandemic-enforced delays, Benefit (The 50th Anniversary Enhanced Edition) was released on November 5, 2021, via Rhino.
The set is packaged within a deluxe hardback book, containing 100 pages of commentary from numerous contributors alongside images of memorabilia from the era, and of the band creating and performing their first million-selling album.
From the announcement: Following the successes of This Was (1968) and Stand Up (1969), Jethro Tull returned in 1970 with their third studio album in as many years. For Benefit, Ian Anderson (flute, guitars, vocals), Martin Barre (guitars), Glenn Cornick (bass), and Clive Bunker (drums) were joined by John Evan on piano and organ, who would go on to play on all of Jethro Tull's albums throughout the 70s. The album featured more advanced studio techniques, such as a backward-recorded flute on "With You There To Help Me" and a sped-up guitar on "Play in Time."
Compared to Stand Up, although containing a similar mix of bluesy hard-rockers and melodic acoustic numbers, Benefit had, as Anderson put it, a "harder, slightly darker feel" compared to previous material. Peaking at #4 in the U.K. Singles Chart, "The Witch's Promise" continued Tull's success in the charts, with the album faring equally as well. Benefit charted in the top 10 across six countries, including U.K. (#3), Australia (#4), and Germany (#5), while peaking at #11 on the Billboard 200 in the U.S., where it was certified Gold.
The new edition contains a previously unreleased Steven Wilson remix of Jethro Tull performing at Tanglewood in 1970, as well as previously unavailable film footage of that show. There's also a newly remastered mono version of a previously unreleased concert at Chicago's Aragon Ballroom in 1970. The 100-page book, enclosed within the elegant, hardback book packaging, contains an essay from Martin Webb, who expands upon the 2013 "A Collector's Edition" booklet notes. Following that are comments on each of the album's tracks from Anderson, Barre, Cornick, and Bunker, as well as interviews with Robin Black (studio engineer of Benefit and many other Jethro Tull albums), Chrysalis' Terry Ellis (executive producer of Benefit), Joshua White who directed the 1970 Tanglewood Festival which features on DVD2, and Wilson explaining the mixing of Benefit in 2013.
Listen to Wilson's 2013 mix of "Nothing to Say"
See the complete track listing below the links. (Best Classic Bands is an authorized Amazon affiliate.)
Related: Our Album Rewind of Tull's next album, 1971's Aqualung
Benefit (50th Anniversary Enhanced Edition) Tracklisting
DISC ONE – ORIGINAL ALBUM
Steven Wilson Stereo Remixes (1-17)
1. With You There To Help Me
2. Nothing To Say
3. Alive And Well And Living In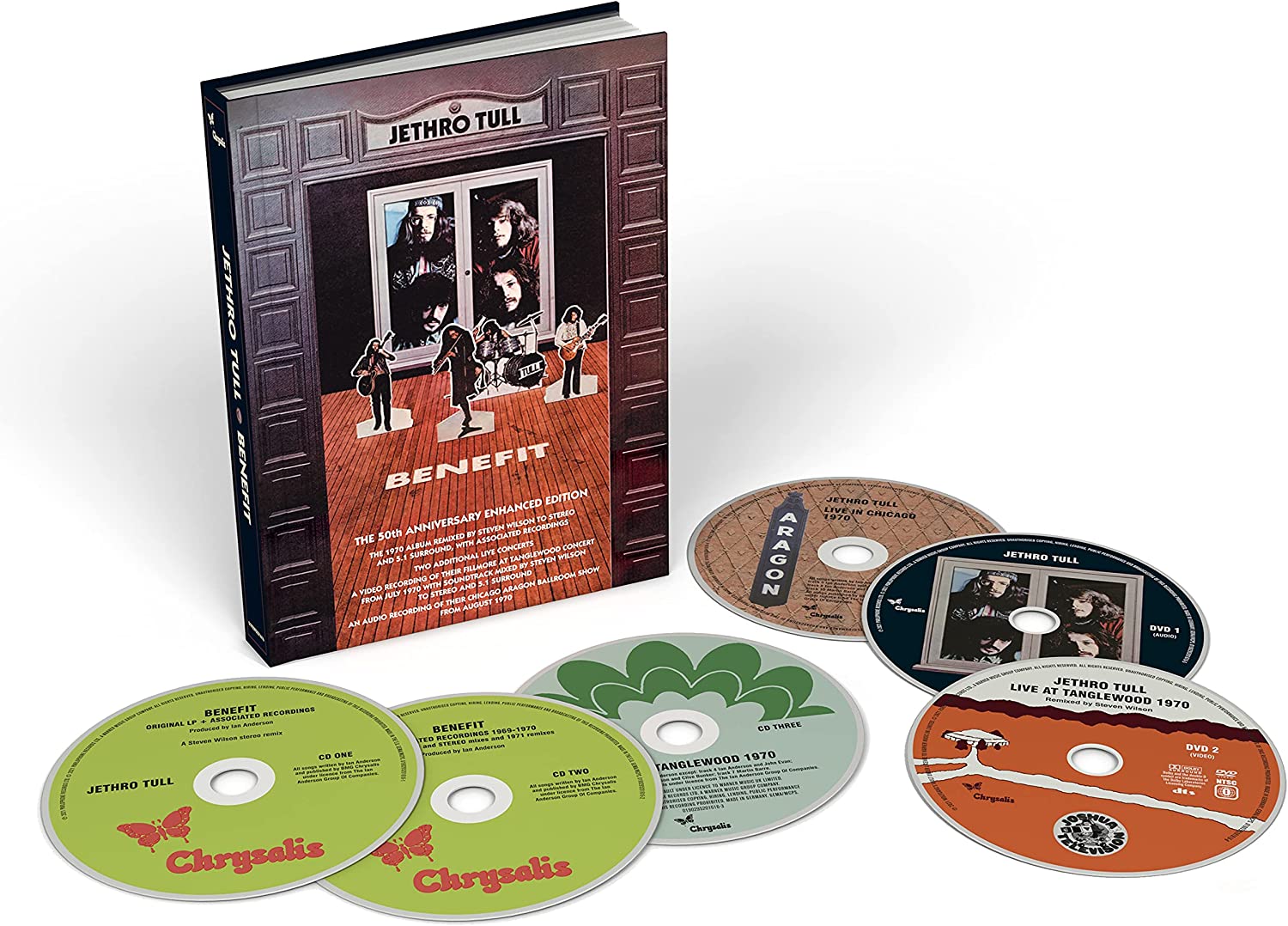 4. Son
5. For Michael Collins, Jeffrey And Me
6. To Cry You A Song
7. A Time For Everything?
8. Inside
9. Play In Time
10. Sossity; You're A Woman
Associated Recordings
11. Singing All Day
12. Sweet Dream
13. 17
14. Teacher (UK Single Version)
15. Teacher (US Album Version)
16. My God (Early Version)
17. Just Trying To Be
DISC TWO – ADDITIONAL ASSOCIATED RECORDINGS
Original 1969-1970 Mono Mixes
1. Singing All Day
2. Sweet Dream (UK single 'A' side)
3. 17 (UK single 'B' side)
4. The Witch's Promise (EUR single double 'A' side)
5. Teacher (UK Single Version) (EUR single double 'A' side)
6. Teacher (US Album Version) ( US single 'B' side)
7. Inside (UK Single' A' side)
8. Alive And Well And Living In (UK Single' B' side)
9. A Time For Everything ( US single 'B' side)
Original 1969-1970 Stereo Mixes
10. Sweet Dream
11. 17
12. The Witch's Promise (UK single double 'A' side)
13. Teacher (UK Single Version)(UK single double 'A' side)
14. The Witch's Promise (US promo single 'A' side)
15. Teacher (US Album Version) (US promo single 'B' side)
1971 Stereo Remixes
16. Singing All Day
17. Sweet Dream
18. The Witch's Promise
19. Teacher (US album Version)
Original Radio Spots
20. Benefit Radio Spot #1
21. Benefit Radio Spot #2
DISC THREE – LIVE AT TANGLEWOOD 1970
(Steven Wilson Stereo Remix)
1. Introduction And Tuning
2. Nothing Is Easy
3. My God (incl. Flute Solo)
4. With You There To Help Me / By Kind Permission Of
5. Dharma For One (incl. Drum Solo (edited))
6. We Used To Know
7. Guitar Instrumental
8. For A Thousand Mothers
DISC FOUR – LIVE AT THE ARAGON BALLROOM, CHICAGO 1970
(Mono)
1. Introduction And Tuning
2. My Sunday Feeling
3. My God (incl. Flute Solo)
4. To Cry You A Song
5. With You There To Help Me / By Kind Permission Of
6. Sossity; You're A Woman / Reasons For Waiting
7. Nothing Is Easy
8. Dharma For One (incl. Drum Solo)
9. We Used To Know
10. Guitar Instrumental
11.For A Thousand Mothers
DVD 1
Steven Wilson's 2013 remix of the album and 5 extra tracks in DTS
and Dolby AC 3 5.1 surround and stereo 96/24 LPCM
Flat transfers of the original UK+US LP master in 96/24 LPCM
& Additional tracks Sweet Dream, 17 & The Witch's Promise
DVD 2
The 1970 Fillmore at Tanglewood Concert on video with Steven Wilson's 2020 audio remix in stereo and 5.1 surround

Latest posts by Best Classic Bands Staff
(see all)