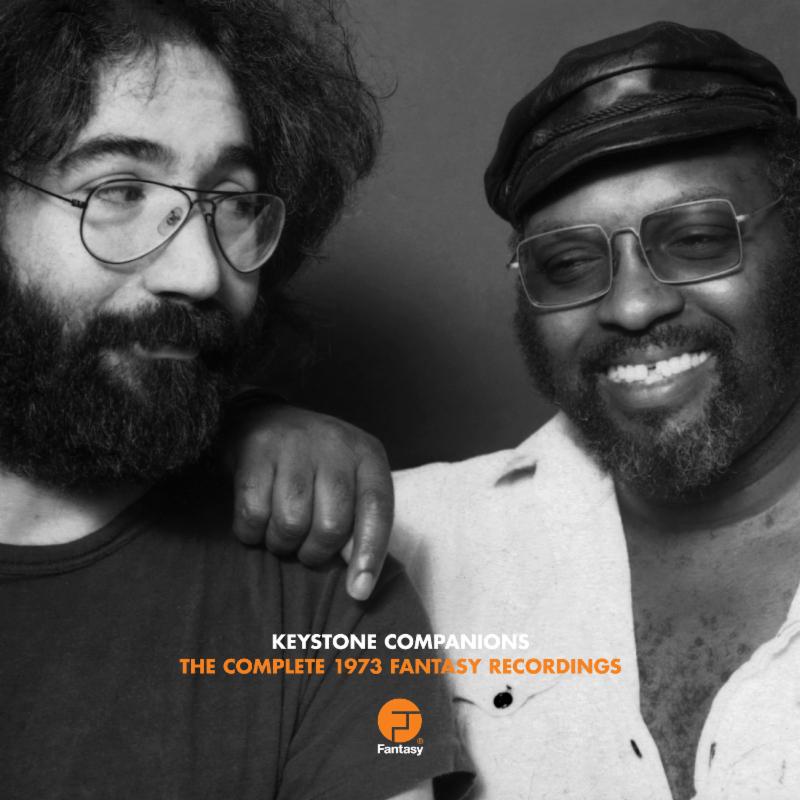 Jerry Garcia was once asked what he liked to do when he wasn't playing music. "Play music!" was his response. For about five years, the Grateful Dead guitarist spent many nights collaborating with organist Merl Saunders both in concert and in the studio. Fantasy Records, which issued the original Saunders/Garcia albums, is now releasing a vinyl edition of its 2012 CD boxed set collecting the pair's fabled 1973 sessions. Merl Saunders/Jerry Garcia—Keystone Companions: The Complete 1973 Fantasy Recordings, is set for release on October 21. Pre-order is available here.)
Recorded live on July 10-11 1973 at the Keystone club in Berkeley, California, the 24 tracks on this 180-gram, 6-LP collection will be accompanied by a booklet including never-before-seen photos new to this edition, plus updated liner notes by Grateful Dead expert David Gans. A collectible poster will round out the package.
Listen to Jerry Garcia and Merl Saunders performing Stevie Wonder's "I Was Made to Love Her"
The five-year association of Saunders, who'd worked primarily as a jazz organist, and Garcia took root in late 1970 with a weekly jam session featuring Saunders, Garcia, bassist John Kahn, and drummer Bill Vitt, at San Francisco's Matrix.
The Keystone box expands upon Live at Keystone, a double LP recorded by Grateful Dead associates Betty Cantor-Jackson and Rex Jackson, with all four artists credited as producers. Additional material was released as Live at Keystone, Volumes 1 & 2 in 1988. Keystone Companions: The Complete 1973 Fantasy Recordings assembles the original recordings, remastered and presented in chronological order.
Track List
DISC 1
Side A:
Hi–Heel Sneakers — 8:14 (Robert Higgenbotham)
Keepers — 7:54 (Saunders–Kahn)
Side B:
The Harder They Come — 6:23 (Jimmy Cliff)
It Takes A Lot To Laugh, It Takes A Train To Cry — 6:21 (Bob Dylan)
It's Too Late (She's Gone) — 7:47(Chuck Willis)
DISC 2
Side A:
My Funny Valentine — 18:14 (Rodgers–Hart)
Side B:
Mystery Train — 11:37 (Phillips–Parker)
I Second That Emotion — 10:59 (Robinson–Cleveland)
DISC 3
Side A:
Someday Baby — 10:15 (Sam Hopkins)
Merl's Tune — 13:34 (Saunders–White)
Side B:
It Ain't No Use — 9:36 (Bonds–Hollinger–Williams)
Positively 4th Street — 7:45 (Bob Dylan)
DISC 4
Side A:
How Sweet It Is (To Be Loved By You) — 8:09 (Holland–Dozier–Holland)
It Takes A Lot To Laugh, It Takes A Train To Cry — 7:06 (Bob Dylan)
Keepers — 6:34 (Saunders–Kahn)
Side B:
One Kind Favor — 6:39 (Blind Lemon Jefferson, Arr. Garcia-Saunders-Kahn-Vitt)
That's All Right, Mama — 4:11 (Arthur Crudup)
The Harder They Come — 10:09 (Jimmy Cliff)
DISC 5

Side A:
My Funny Valentine — 18:05 (Rodgers–Hart)
Side B:
Money Honey — 8:21 (Jesse Stone)
Someday Baby — 10:15 (Sam Hopkins)
DISC 6
Side A:
Merl's Tune — 12:21 (Saunders–White)
Side B:
Like A Road Leading Home — 11:02 (Nix–Penn)
How Sweet It Is (To Be Loved By You) — 10:20 (Holland–Dozier–Holland)

Latest posts by Best Classic Bands Staff
(see all)