Rhino Entertainment has acquired the rights to the catalogs of Jefferson Starship, Starship and Hot Tuna, effective today, the company has announced. Also included in the deal are rights to a selection of Jefferson Airplane albums, solo albums by Grace Slick and additional albums and Grunt label signings related to various other band members including Paul Kantner and David Freiberg.
The announcement was made by Rhino President Mark Pinkus and band manager Jeff Jampol. The agreement includes the use of master recordings spanning nearly 20 years, from Jefferson Airplane's 1972 album Long John Silver to Starship's 1991 Greatest Hits (Ten Years And Change 1979-1991) compilation. To coincide with the announcement, Rhino has released a new digital compilation Starship Enterprise: The Best Of Jefferson Starship & Starship and has also made all four Grace Slick solo albums (Manhole, Dreams, Welcome to the Wrecking Ball! and Software) available digitally for the first time.
"We're real happy to have Rhino take over so much of our catalog," said Airplane/Tuna bassist Jack Casady. "They have an avid interest in keeping all the great music from our youth relevant and we look forward to a great relationship and all that will manifest."
"With Rhino's awesome track record of bona fides I am thrilled that they will be shepherding the re-releases of so much of our catalog," added bandmate Jorma Kaukonen. "I can think of no better record company to handle this task."
In 1972, Jefferson Airplane lineup took a break after releasing the band's seventh studio album, Long John Silver. With the Airplane on hiatus, Casady and Kaukonen focused on their side project, Hot Tuna. Playing with a revolving cast of musicians, they recorded five albums over five years, including the group's 1972 studio debut, Burgers. In 1973, Slick recorded Manhole, the first of her four solo albums. That same year, she and Kantner formed Jefferson Starship. Jefferson Airplane founding member Marty Balin joined the band in 1975. Jefferson Starship released eight albums between 1974 and 1984. Each was certified gold or better and helped the band assemble a steady streak of classic hit singles such as "Count On Me," "Jane," "Find Your Way Back" and "Miracles," the latter from their 1975 double platinum #1 album Red Octopus.
Related: Starship members on their #1 hit "We Built This City"
In 1985, the band shortened its name to Starship. Over the next five years, Starship would record three albums, including the band's 1985 debut, Knee Deep In The Hoopla. A massive hit, the album was certified platinum and features two #1 singles, "We Built This City" and "Sara." Both "We Built This City" and their third #1 hit, "Nothing's Gonna Stop Us Now," have surpassed the 100 million stream mark on Spotify, a rare feat for 30-year-old songs.
A partial list of albums included in the deal, all of which are now available digitally:
Jefferson Airplane
Long John Silver (1972)
Thirty Seconds Over Winterland (1973)
Jefferson Starship
Dragon Fly (1974)
Red Octopus (1975)
Spitfire (1976)
Earth (1978)
Gold (1979)
Freedom At Point Zero (1979)
Modern Times (1981)
Winds Of Change (1982)
Nuclear Furniture (1984)
Starship
Knee Deep In The Hoopla (1985)
No Protection (1987)
Love Among The Cannibals (1989)
Greatest Hits (Ten Years & Change 1979-1991) (1991)
Hot Tuna
Burgers (1972)
The Phosphorescent Rat (1974)
America's Choice (1975)
Yellow Fever (1975)
Hoppkorv (1976)
Grace Slick
Manhole (1974)
Dreams (1980)
Welcome To The Wrecking Ball! (1981)
Software (1984)
Paul Kantner/Grace Slick/David Frieberg
Baron Von Tollbooth & The Chrome Nun (1973)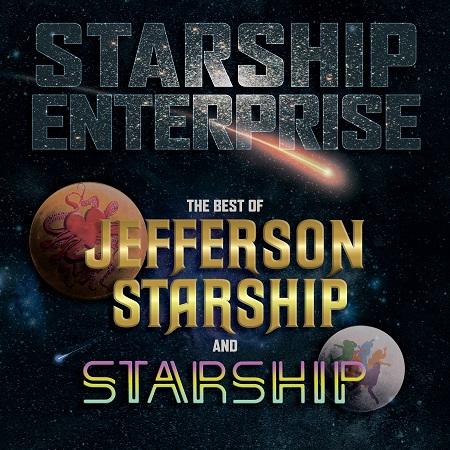 Starship Enterprise: The Best Of Jefferson Starship & Starship Track List
1. "Ride The Tiger" – Jefferson Starship
2. "Caroline" – Jefferson Starship
3. "Fast Buck Freddie" – Jefferson Starship
4. "Miracles" – Jefferson Starship
5. "Play On Love" – Jefferson Starship
6. "With Your Love" – Jefferson Starship
7. "Count On Me" – Jefferson Starship
8. "Runaway" – Jefferson Starship
9. "Jane" – Jefferson Starship
10. "Rock Music" – Jefferson Starship
11. "Find Your Way Back" – Jefferson Starship
12. "Layin' It On The Line" – Jefferson Starship
13. "No Way Out" – Jefferson Starship
14. "We Built This City" – Starship
15. "Sara" – Starship
16. "Tomorrow Doesn't Matter Tonight" – Starship
17. "Nothing's Gonna Stop Us Now" – Starship
18. "It's Not Over ('Til It's Over)" – Starship
19. "Set The Night to Music" – Starship
20. "It's Not Enough" – Starship
Watch the video for Starship's "Sara"

Latest posts by Best Classic Bands Staff
(see all)