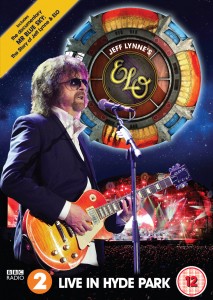 Jeff Lynne's ELO: Live In Hyde Park
Directed by Joe Angio
In A Word: Electric
It's hard to imagine for a lot of reasons that the concert featured on Jeff Lynne's ELO: Live In Hyde Park was the first time in nearly 30 years that the British hitmakers had performed on a concert stage. But there they are in front of a crowd of 50,000 performing over a dozen hits from the Electric Light Orchestra, the symphonic pop band that Lynne co-founded in 1970.
And "Orchestra" is a key word here as Lynne and Co. are joined by the BBC Concert Orchestra. There are lots and lots of strings and they're essential to replicate Lynne's intricate studio arrangements.
Jeff Lynne's ELO: Live In Hyde Park, recently released on DVD and Blu-ray by Eagle Rock Entertainment but taped a year ago in one of London's beautiful parks, coincides with Lynne's announcement that he would be finally resurrecting ELO. The 67-year-old has been as busy as ever, having just signed a worldwide deal with Columbia Records for new ELO albums and handling production chores for the upcoming LP from Bryan Adams.
Live In Hyde Park kicks off with the crowd-pleasing "All Over The World," a great song and easily the only good to come from the disastrous 1980 film Xanadu that starred Olivia Newton-John and Gene Kelly. (Don't ask.) Lynne can be forgiven for not always trying to hit the song's high notes, though happily, as the evening continues his confidence grows and he very capably handles all the lead vocals.
Lynne is joined by his longtime ELO keyboardist Richard Tandy – they're in their fifth decade together – as they delight their fans to one ELO hit after another: "Evil Woman," "Livin' Thing," "Strange Magic," "Don't Bring Me Down," and "the first one we ever had a hit with," Lynne  proudly says while introducing "10538 Overture" (used so brilliantly in the 2013 film American Hustle).
Though Lynne is not a magnetic stage presence, his arrangements, familiar songs, expert band – notably newcomers Donavan Hepburn on drums and solo violinist Chereene Allen, plus musical director Mike Stevens – and the orchestra offer a magical evening to the huge crowd. Live In Hyde Park ends triumphantly with "Mr. Blue Sky," deservedly considered ELO's signature tune. And it's great news that the new ELO record will also mean a full 2016 worldwide tour. Can't wait!
–
The DVD includes an interview in which Lynne shares how many of his hits came to fruition. He wrote "Mr. Blue Sky," for instance, as a nursery rhyme with a sophisticated accompaniment. The Traveling Wilburys' "Handle With Care," though mostly written by George Harrison, was finished by Harrison, Tom Petty, Bob Dylan, Roy Orbison and Lynne while dining at Dylan's home during the group's recording sessions.
Also included in the package is a feature-length documentary, Mr. Blue Sky – The Story Of Jeff Lynne & ELO, that has interviews with Petty, Paul McCartney, George Harrison's widow Olivia and son Dhani and others. Lynne fans will enjoy hearing about his work as a producer, including the first new Beatles song in 25 years, "Free As A Bird," for their 1995 Anthology release. "I was willing to sit there forever and hear these stories," says Lynne about his sessions with Harrison, McCartney and Ringo Starr. You'll feel the same.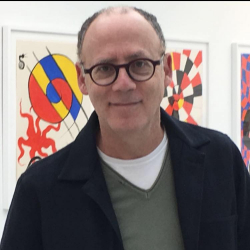 Latest posts by Greg Brodsky
(see all)