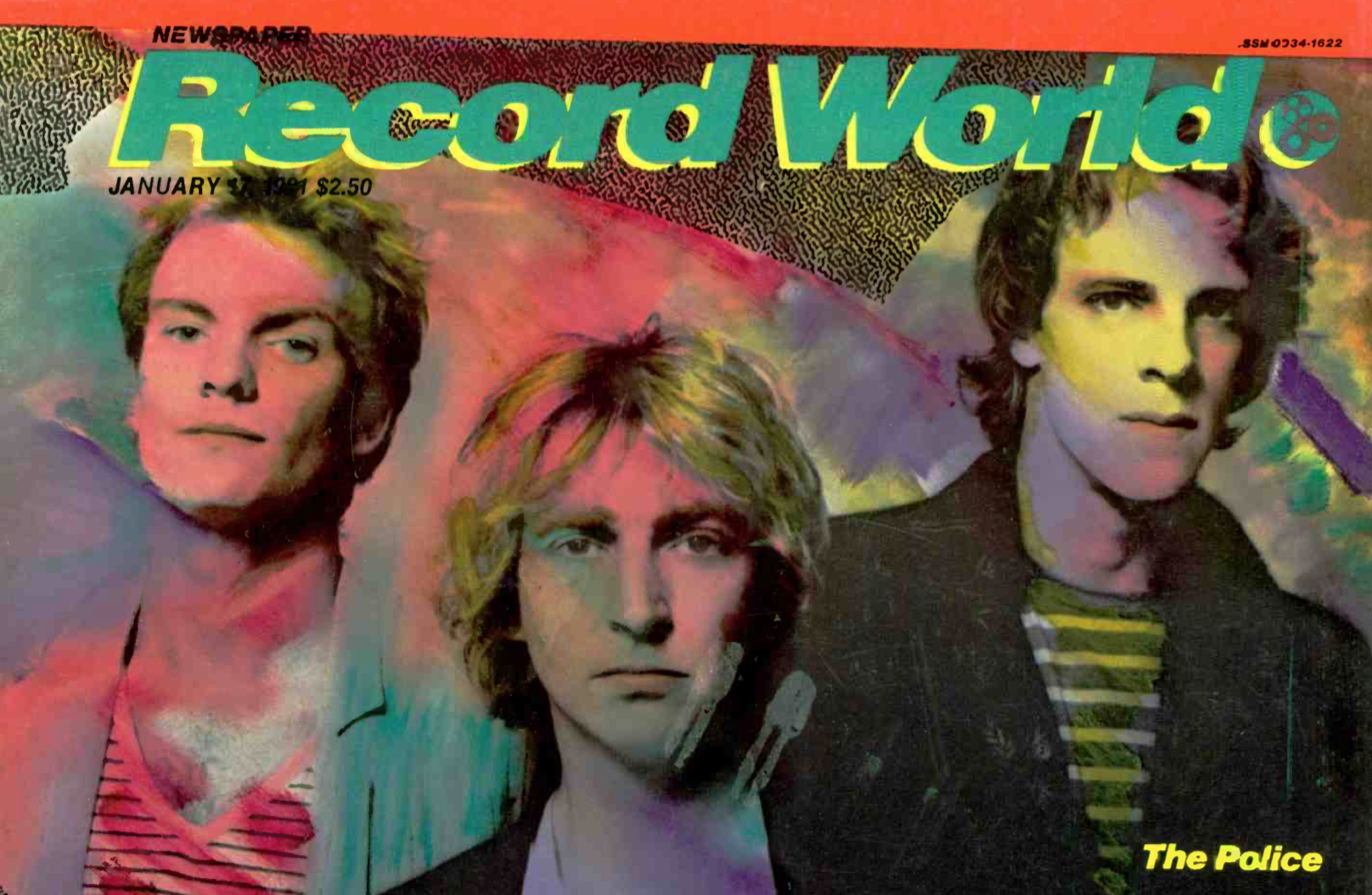 From 1964 until 1982, Record World was, along with Billboard and Cashbox, one of the music industry's three main trade publications. The record labels, retailers, rack jobbers (the distributors that served as the middlemen to place music onto the shelves of department stores), and so on, eagerly awaited the charts.
The classic rock albums getting the most airplay on FM radio this week were Bruce Springsteen's The River, John Lennon/Yoko Ono's Double Fantasy, RW cover story band The Police's Zenyatta Mondatta, Rod Stewart's Foolish Behaviour and Steely Dan's Gaucho. The Most Added to playlists were new albums by Warren Zevon, Steve Winwood and Manfred Mann's Earth Band.
Rapidly ascending the Album Chart was REO Speedwagon's Hi Infidelity at #21 with a bullet (Record World's indication that a record's status had improved significantly over the previous week). The album would hit #1 later that winter.
Billy Joel at #19 was in the midst of his dominating run with another #1 album, Glass Houses, which was led by the first #1 single of his career, "It's Still Rock and Roll to Me."
At #18 with a bullet (on its 43rd week on the chart) was Christopher Cross, whose out-of-nowhere debut would come close to sweeping the Grammys including wins for Best Album, Record of the Year and Song of the Year for "Sailing" and Best New Artist.
The Police were on the verge of really breaking through in the U.S. Their album was #15 this week and yielded a pair of #10 U.S. singles, "Don't Stand So Close to Me" and "De Do Do Do, De Da Da Da."
At #13 was Steely Dan with Gaucho. Fans would have to wait 20 years for another studio album.
Eagles Live, their first live collection, was released in time for the holiday selling season as a 2-LP set. The band were in the midst of breaking up and the album fulfilled their contractual obligation to their label. Fans embraced it and it has been certified as 7x Platinum.
Queen's The Game, which featured two #1 singles ("Crazy Little Thing Called Love" and "Another One Bites the Dust") was still at #7 after half a year on the chart.
Pat Benatar's Crimes of Passion, released in August 1980, was a big follow-up to her 1979 debut, and firmly established her as a '80s superstar. The album, at #5 this week, yielded three solid hits: a cover of the Rascals' "You Better Run," "Treat Me Right" and "Hit Me With Your Best Shot," which became her biggest hit at that point in her career. (Yeah, we're not sure either why the official live video begins with more than a minute of applause.)
Related: Our Album Rewind of Crimes of Passion
Also firmly ensconced in the Top 10 – where it would remain for months' more – was AC/DC's Back In Black. It's said to have sold 50 million copies worldwide, placing it behind only Michael Jackson's Thriller for the best-selling album of all-time.
Related: AC/DC's Back in Black: The Inside Story
At #2 was the Lennon/Ono album Double Fantasy which was still trailing Kenny Rogers' Greatest Hits collection. The former dominated the record retail chains; the latter was being bought in huge numbers at department store chains. Double Fantasy would go on to win Album of the Year honors at the Grammy Awards in 1982.
25. Fleetwood Mac Live – Warner Bros.
24. Kool & the Gang – Celebrate – De-Lite
23. Jacksons – Triumph – Epic
22. Xanadu (Original Soundtrack) – MCA
21. REO Speedwagon – Hi Infidelity – Epic
20. Doobie Brothers – One Step Closer – Warner Bros.
19. Billy Joel – Glass Houses – Columbia
18. Christopher Cross – Christopher Cross – Warner Bros.
17. Blondie – Autoamerican – Chrysalis
16. Rod Stewart – Foolish Behaviour – Warner Bros.
15. The Police – Zenyatta Mondatta – A&M
14. Heart – Greatest Hits/Live – Epic
13. Steely Dan – Gaucho – MCA
12. Anne Murray – Greatest Hits – Capitol
11. Barry Manilow – Barry – Arista
10. Eagles – Live – Asylum
9. Bruce Springsteen – The River – Columbia
8. Stevie Wonder – Hotter Than July – Tamla
7. Queen – The Game – Elektra
6. Neil Diamond – The Jazz Singer (OST) – Capitol
5. Pat Benatar – Crimes of Passion – Chrysalis
4. AC/DC – Back in Black – Atlantic
3. Barbra Streisand – Guilty – Columbia
2. John Lennon/Yoko Ono – Double Fantasy – Geffen
1. Kenny Rogers – Greatest Hits – Liberty

Latest posts by Best Classic Bands Staff
(see all)