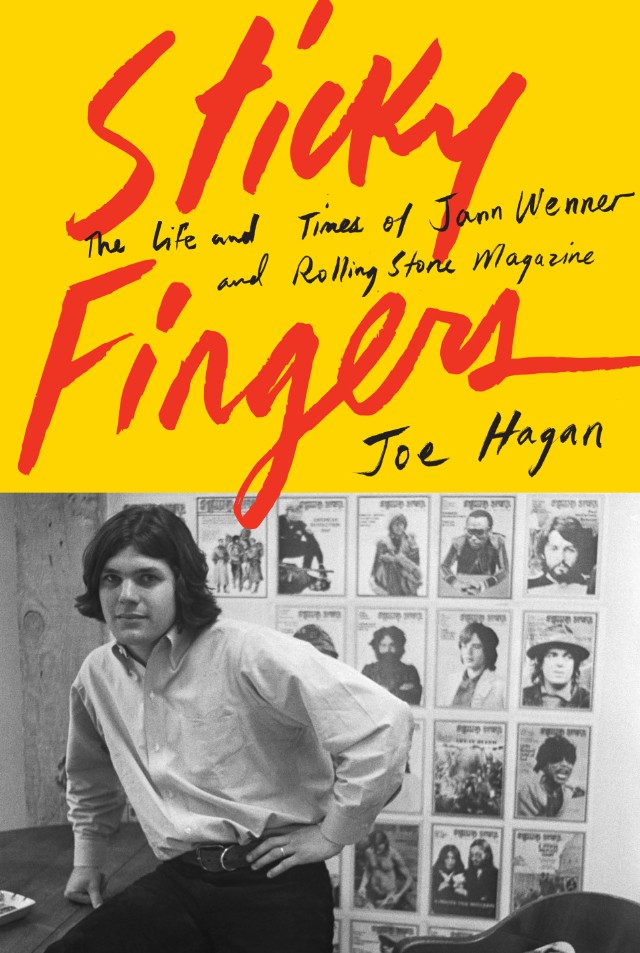 It's good bet that most of the people who visit Best Classic Bands (and a fair share of the writers) have been in some way influenced by Jann Wenner. Like it or not, Rolling Stone was a—if not the—major shaper of what we now consider the classic rock canon. Even as his magazine's place as tastemaker has waned, his influence remains through his iron-fisted hold on the Rock and Roll Hall of Fame, whose annual announcements of nominees and inductees probably generate the largest volume of aggrieved emails and Facebook threads outside of any topic that doesn't contain "Trump."
Joe Hagan's Sticky Fingers: The Life and Times of Jann Wenner and Rolling Stone Magazine is an ambitious, dishy, well-written biography, with a backstory worthy of its subject. While not an authorized biography, it was produced with Wenner's cooperation, but he has been quite vocal about his dissatisfaction with the completed book.
It's easy to understand why. The Jann Wenner who barrels his way through Sticky Fingers is a mercurial, impulsive, drugged-out, social-climbing (or, to be less charitable, starfucking) genius/savant. On more than one occasion we're reminded that Wenner's idea for Rolling Stone—a magazine that would cover not just music, but the culture—was so powerful that it was able to survive Wenner's management of it.
Watch a CBS This Morning interview with Jann Wenner
If "sex, drugs, and rock 'n' roll" were the bywords of his generation, Wenner's interest in them was intense, and in that order. The rolicking, early days of the magazine come off as something of a bacchanal. Sexually ambivalent, Wenner had affairs with both men and women, and more than one editor also served as a staff dealer. His wife Jane, the beautiful, sloe-eyed daughter of a wealthy New York family (who provided half of the magazine's start-up funding), is as important to Rolling Stone's story as anyone, and Hagan's portrait of her as both muse and siren who matched her husband in her appetites is the book's real revelation.
As is usually the case in biographies, Wenner's rise is more interesting than the plateau and fade. The first half of the book tells a gripping story. Watching Wenner shrug off accusations of being a sellout (mostly because, to his mind, he never bought in), while creating not just a magazine, but a new way of writing and thinking about music, is fascinating and filled with memorable personalities. Bylines such as Chet Flippo, Ben Fong-Torres, Jon Landau and, of course, Hunter S. Thompson, are given flesh and blood. But the person Hagan draws most vividly is photographer Annie Leibovitz. She was something of fulcrum in the Wenners' marriage, sleeping with both of them (and many of her subjects) and matching them all with her drug intake. And the set pieces of Rolling Stone's move to New York from its birthplace of San Francisco, and its response to the tragedies of Altamont and John Lennon's murder, are smart and well-told.
Related: How Dr. Hook got onto the "Cover of the Rolling Stone"
But by the late '70s, when the music turned away from the kind that he loved and Wenner lost interest in the magazine, the day-to-day workings of Rolling Stone fades into the background, and Sticky Fingers becomes something of a parade of bold-faced names: David Geffen, Art Garfunkel, Diane Von Furstenberg, Truman Capote and Tom Wolfe all make appearances. People are picked up, used up and tossed away. The prickliest (and therefore most interesting) is Wenner's relationship with Mick Jagger. Watching them tangle over the Rolling Stone name, become business partners (in a failed British version of Rolling Stone) and form an uneasy alliance is one of many subplots that Hagan covers.
As Wenner tells Hagan when describing his decision to "come out" as a gay man to his wife, it was "entirely a gut decision…with no thought for consequences….it was impulsive, and guided by some sense of what's right and what's good for me." As Will Dana, who was editor during the Virginia University rape story, asks, is Wenner "51% good or 51% bad?" That at the end of Sticky Fingers you'll be able to answer that question for yourself is proof of the book's success.
Watch Ahmet Ertgun and Mick Jagger induct Jann Wenner into the Rock Hall

Latest posts by Steven Mirkin
(see all)