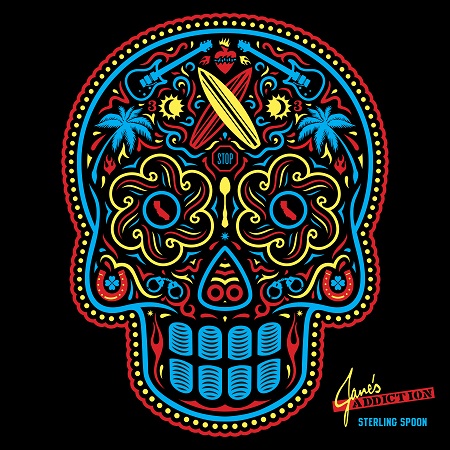 This fall, Jane's Addiction will celebrate the 25th anniversary—or "Sterling Spoon Anniversary," as they are calling it—of their Ritual de lo Habitual album and the first Lollapalooza festival, which was launched in 1991 by the band's frontman Perry Ferrell.
The anniversary got under way in July when the band launched a tour that includes a performance of Ritual de lo Habitual in its entirety each night, and will continue in October with the release of Sterling Spoon, a six-LP collection that includes the debut album Nothing's Shocking, Ritual de lo Habitual (actually released in 1990) and vinyl debuts of the 1990 concert recording Live From The Palladium and a selection of rarities, demos and live takes from the 1997 compilation Kettle Whistle.
Limited to 5,000 copies worldwide, and featuring cover art by Ernesto Yerena, Sterling Spoon will be available on October 21 for a list price of $99.98. Pre-order it here.
Watch a complete Jane's Addiction concert from 1990…
According to a press release from Rhino Records, which is releasing the package, the collection focuses mainly on the Los Angeles-based quartet's first incarnation—Perry Farrell (vocals), Dave Navarro (guitar), Eric Avery (bass), and Stephen Perkins (drums).
Sterling Spoon Six-LP Set Track Listing:
Nothing's Shocking
Side One:
"Up The Beach"
"Ocean Size"
"Had A Dad"
"Ted, Just Admit It…"
"Standing In The Shower…Thinking"
Side Two:
"Summertime Rolls"
"Mountain Song"
"Idiots Rule"
"Jane Says"
"Thank You Boys"
Ritual De Lo Habitual
Side One:
"Stop"
"No One's Leaving"
"Ain't No Right"
Side Two:
"Obvious"
"Been Caught Stealing"
Side Three:
"Three Days"
"Then She Did"
Side Four:
"Of Course"
"Classic Girl"
Kettle Whistle Extractions
Side One:
"Kettle Whistle"
"Ocean Size" (Demo)
"My Cat's Name Is Maceo" (Demo)
Side Two:
"Had A Dad" (Outtake)
"So What!"
"Mountain Song" (Demo)
"Been Caught Stealing" (Outtake)
"City" (Soul Kiss 88)
Live At The Hollywood Palladium 1990
Side One:
Drum Intro
"Up The Beach"
"Whores"
"1%"
"No One's Leaving"
Side Two:
"Ain't No Right"
"Then She Did…"
"Had A Dad"
Side Three:
"Been Caught Stealing"
"Three Days"
Side Four:
"Mountain Song"
"Stop!"
"Summertime Rolls"
"Ocean Size"
Jane's Addiction Tour Dates (Click here for tickets):
September 2 Riot Fest Denver, CO
September 21 The Masonic San Francisco, CA
September 23 Irvine Meadows Amphitheatre Irvine, CA
September 24 Life Is Beautiful Festival Las Vegas, NV

Latest posts by Best Classic Bands Staff
(see all)