'Late for the Sky'—Jackson Browne's Confessional Masterpiece
by Sam Sutherland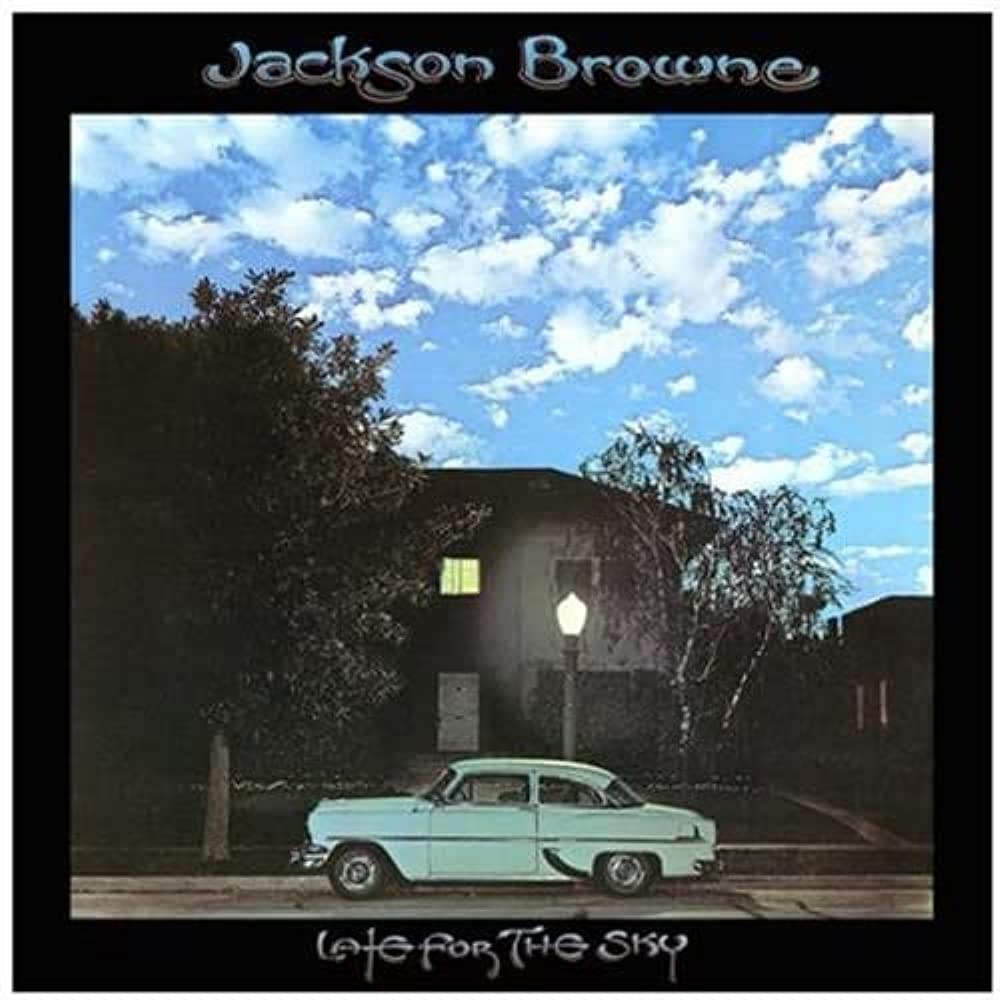 Making his case that 1974 marked the moment when Los Angeles emerged as a crucible for American cultural, political and social values, veteran journalist Ron Brownstein cited new narratives in music, film and television shaped by insights and values shared by the postwar baby boom generation. In his 2021 best-seller, Rock Me on the Water: 1974 The Year Los Angeles Transformed Movies, Music, Television, and Politics, Brownstein reckoned, "The most memorable works of early 1970s Los Angeles—from Chinatown to All in the Family to Jackson Browne's great album Late for the Sky—emerged from the collision of ['60s] optimism with the mounting cynicism and pessimism of the ['70s]."
That Brownstein places Browne at the cusp of this shift is justified by the enduring impact of that album, his third and most revelatory as it probed "the resignation that living brings" with lived experiences in adulthood. Earlier songs written as a teenager had challenged youthful ideals with clear-eyed realism as he helped refine '60s folk and rock as a confessional storyteller. At 26, Browne now focused a mature lens on the world, stepping beyond adolescent tropes of rebellion, self-discovery, communal identity, romance and sexual freedom to consider the day-to-day realities of relationships public, private and spiritual, and how we recognize and reconcile them as we navigate through life.
"I had moved back into the house that my grandfather had built when my father was just an adolescent," Browne recalled in a 2008 MOJO interview. "I was newly a father, and I would look at my son playing in this house and remember being that age myself with my father. I wrote those songs, sitting in the miniature chapel my grandfather had built…with a pipe organ in it and a choir loft. There was this kind of continuum, some kind of great metaphoric terrain there for me: I grew up there, moved away, but had come back to raise my family." It's not a stretch to hear the songs' gestation in a chapel through the piano-driven ballads that dominate Late for the Sky, leaning into the harmonic language of Christian hymns.
Browne's awareness of his new family and that ecumenical musical influence emerge with the title song, which ignores hit-seeking conventions to open the album with the very model of a deep cut in every sense. Even as he dedicated the album to his wife, Phyllis Major, and their infant son, Ethan, Jackson set the album's tone of sober inquiry with a ballad mapping interpersonal fractures as he describes a couple's late-night conversation "tracing our steps from the beginning…trying to understand how our lives had led us there"—a location "close to the end of the feelings we've known."
A mood of sad acceptance prevails as the singer measures a widening gulf, bringing "such an empty surprise to feel so alone." In the aftermath of romance, "Late for the Sky" conveys the melancholy of a bond's dissolution:
"You never knew what I loved in you
I don't know what you loved in me
Maybe a picture of somebody you were hoping I might be."
Browne's piano and Jai Winding's organ provide the foundation for the track, with David Lindley's liquid electric guitar figures flowing around and beneath the keyboards in mournful sympathy. More than three decades later, Browne would explain the title phrase as "about a moment when you realize that something has changed, it's over, and you're late for wherever you're going to be next." In building the album around that metaphor, he tapped into a moment of generational reckoning in sharp contrast to the adolescent preoccupations that had dominated boomer-centric popular culture for the past decade, that new calculus explored further on the three tracks that followed on the LP's first side.
An existential wariness heard on some of his earliest songs is prominent throughout the album, serving as a central thread in "Fountain of Sorrow," a meditation on love, friendship and identity that lifts the album's energy without erasing its somber undercurrents. Against a propulsive piano arrangement, the singer offers solace to a friend, sustaining a sense of forward momentum while dissecting hazards of the heart:
"When you see through love's illusions, there lies the danger
And your perfect lover looks just like a perfect fool
So you go running off in search of a perfect stranger
While the loneliness seems to spring from your life
Like a fountain from a pool."
Related: Browne paid tribute to David Lindley upon the musician's 2023 death
Browne's counsel welds romantic advice to a deeper awareness of emotional fragility and the struggle to "keep understanding and compassion in sight," tying the quest for love to a larger mission of community to achieve its cautious uplift.
With "Farther On," the set decelerates in tempo to trace the arc of youthful dreams that "come up torn and empty," teasing out further connections between romantic love, artistic ambition, friendship and faith. That sensibility extends into "The Late Show," a slow-burning tour de force. In its conversational tone, the song walks a narrow path between trust and cynicism, faith and doubt:
"Everyone I've ever known has wished me well
Anyway, that's how it seems, it's hard to tell
Maybe people only tell you how they're doing
'Cause that's easier than letting on how little they could care…"
From that vantage point, the song proceeds cautiously, then hopefully toward a moment of connection. A subdued but lush backing chorus including Dan Fogelberg, Don Henley, J.D. Souther and Terry Reid offers overlapping comments that open the song structurally, with David Campbell's string arrangement further animating the scene the singer conjures for a would-be lover, imagined in "a house nobody lives in" as the singer sits behind the wheel of an early-model Chevrolet. The sound of an engine overturning completes a cinematic transformation, its dream becoming real, cannily visualized in Bob Seidemann's delicately surreal cover image.
Where side one is grounded in intimate relationships, the album's second half widens its view to explore community and ultimately mortality itself. "The Road and the Sky" kicks up the pace with the record's lone full-throttle rocker, a nominal car song from behind the wheel of a "stolen Chevrolet" implied as the same set of wheels heard pulling away from the curb at the end of the last track. The freedom of the road is framed by apocalyptic imagery as the driver seeks to "hot wire reality" and escape "dark clouds gathering up ahead" that will "wash this planet clean like the Bible said," an image that echoes earlier Browne songs and anticipates the album's climax.
Inspired by Little Feat's Lowell George, a friend who had tagged along for much of Browne's recent tour co-billed with Linda Ronstadt, Jackson stepped up to unleash searing slide guitar figures and an impressive solo.
The album turns from that burst of go-for-broke momentum to reflect on the death of a friend. "For a Dancer" approaches its subject with both delicacy and warmth as it acknowledges both the finality and mystery of death:
"I don't know what happens when people die
Can't seem to grasp it, as hard as I try
It's like a song I can hear playing right in my ear
But I can't sing, I can't help listening…"
The song's cadence and harmonies can be heard as a secular hymn that glides lightly beneath David Lindley's exquisite fiddle lines, colored by a sympathetic backing chorus as Browne binds his elegy for a friend to gentle pleas for community and personal faith. Both the message and its elegant musical setting offset the song's fatalism with humanity: "In the end there is one dance you'll do alone," Browne concludes before urging the listener to "keep a fire for the human race."
The album's penultimate track, "Walking Slow," briefly lightens the mood in a winsome stroll through his old neighborhood, reveling in a moment of happiness while tapping directly into the set's prevailing themes in a chorus that insists, "If I die a little farther along, I'm trusting everyone to carry on."
As he had on his previous album, For Everyman, Browne reserves the final track for a generational anthem that is the LP's most openly idealistic, if darker than that predecessor. "Before the Deluge" returns to antediluvian imagery to dramatize an emerging environmental crisis as its youthful cohort of "dreamers" and "fools" strive to "make their journey back to nature" against the forces seeking to "forge her beauty into power."
Related: Our Album Rewind of Browne's debut LP
Written only four years after the inaugural Earth Day in 1970, Browne's prophecy is a grim one, his portrait of his own generation tinged with disappointment that its aspirations were already collapsing under the weight of social and political intransigence. His vision of a new and devastating flood proves sadly prescient a half-century later, its watery apocalypse now a looming threat grounded in climate science.
Musically, the song draws solace in its bridge, pleading, "Let the music keep our spirits high," sung by a mixed chorus that reinforces its hymn-like balm. David Lindley, who had proven Browne's most empathetic partner since joining forces soon after the songwriter's debut album, further elevates the song with gorgeous, arpeggiated fiddle lines that ripple beneath its coda.
The album's musical and thematic coherence likely drew from its swift creation, made relatively quickly "in about a month," according to Browne, whose previous production on For Everyman had stretched over nine months at a then-lofty cost of $100,000. Chastened by that set's more modest sales, Browne had opted to record Late for the Sky with his touring band, ensuring arrangements that could be replicated onstage while keeping costs down. He enlisted veteran producer and engineer Al Schmitt, who had mixed the prior LP, as co-producer.
Watch Browne sing the title track on Austin City Limits
Together, they opted for a sonic perspective that showcased the songs, not the band, trimming solos and backlighting Browne's vocals, with Larry Zack's drums placed further back in the record's soundstage. The overall ensemble sound is softer and more burnished than much of the high-relief rock studio efforts in mid-'70s play, a contrast that led to peer critiques that the album was under-produced, a verdict Browne took very much to heart on subsequent albums.
What that complaint ignores is the poetic force Browne achieved with the eight songs comprising Late for the Sky, their lyrics demanding a closer listen. That he gravitated toward a more subdued ensemble attack is justified by the material at hand. He would record albums that sold more and got more radio exposure, but none that would overshadow or outlast his masterpiece, released on Sept. 13, 1974.
In 2020, Late for the Sky was selected by the Library of Congress for preservation in the National Recording Registry.
Watch Jackson Browne and Joan Baez sing "For the Deluge" live
Browne is on tour. Tickets are available here and here.

Latest posts by Sam Sutherland
(see all)