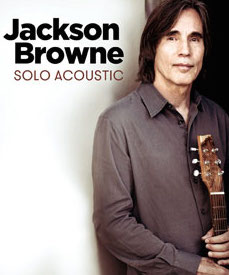 You've got more opportunities to see the Jackson Browne 2016 tour. The Rock and Roll Hall of Famer has just added a string of solo acoustic dates running April 21st through May 10th, primarily in California but with a smattering of individual performances in Nevada, Arizona and New Mexico.
The singer-songwriter has sold more than 18 million albums in the U.S. since he first hit the music scene in the 1960s, writing classic tunes like "Take It Easy," "The Pretender," "Running On Empty," "Doctor My Eyes," and "Somebody's Baby." His songs have been recorded by everyone from Nico and Joan Baez to Gregg Allman, The Eagles, Linda Ronstadt, The Byrds and others.
Browne was 24 when his world-weary self-titled debut album arrived in 1972, expertly melding almost naive idealism with incisive social commentary. The classic rock icon, now 67, is currently on tour performing a different set list each night on guitar and piano, featuring songs culled from his entire body of work. He released his 14th studio album, Standing in the Breach, in 2014, his first batch of new material in six years but as strikingly personal and political as ever.
Browne postponed performance dates in Virginia, North Carolina and South Carolina this past weekend due to illness, but he's now officially back on the road. Rescheduled dates will be announced as soon as possible, and fans will still be able to use their original tickets to gain entry.
Advance tickets, VIP packages and Guacamole Fund benefit seats for Browne's newly added tour dates are available on his website.  The Guacamole Fund is currently celebrating its 42nd year of organizing events to raise consciousness about environmental and social change. The charity is also partnering with David Crosby, Graham Nash and Bonnie Raitt to offer benefit tickets for their respective tours this year.
And keep in mind that Browne is teaming up with James Taylor for concerts at two of America's most beloved ballparks: June 30th at Chicago's Wrigley Field and August 3rd at Boston's Fenway Park.
Jackson Browne 2016 Solo Acoustic Tour Dates:
January 16 – 30A Songwriters Festival – Santa Rosa, FL
January 17 – Curtis M. Phillips Center for Performing Arts – Gainesville, FL
January 19 – Ruther Eckerd Hall – Clearwater, FL
January 20 – Broward Center for the Arts – Fort Lauderdale, FL
January 22 – Thomas Wolfe Auditorium – Asheville, NC
January 23 – Carpenter Theatre – Richmond, VA
January 25 – Bergen Performing Arts Center – Englewood, NJ
April 21 – Sunset Center – Carmel, CA
April 23 – Fox Theatre – Bakersfield, CA
April 24 – Wells Fargo Center for the Arts – Santa Rosa, CA
April 26 – Cascade Theater – Redding, CA
April 27 – Turlock Community Theatre – Turlock, CA
April 29 – Grand Theatre at Grand Sierra Resort & Casino – Reno, NV
April 30 – Hanford Fox Theatre – Hanford, CA
May 2 – Lancaster Performing Arts Center – Lancaster, CA
May 3 – Thousand Oaks Civic Arts Plaza – Thousand Oaks, CA
May 6 – Renee and Henry Segerstrom Concert Hall – Costa Mesa, CA
May 7 – The Show at Agua Caliente Casino Resort Spa – Rancho Mirage, CA
May 9 – Yavapai College Performing Arts Center – Prescott, AZ
May 10 – The Lensic Performing Arts Center – Santa Fe, NM

Latest posts by Best Classic Bands Staff
(see all)