Long time before either became world-famous, Jack Tempchin and Glenn Frey were friends. It's a friendship first sparked back in 1972 when Frey, then a member of the duo Longbranch Pennywhistle with J.D. Souther, spent a San Diego night at Tempchin's big house and candle factory, a beloved hippie crash pad. Two years later at his friend Jackson Browne's Los Angeles home, Tempchin played Frey a new song he'd written, "Peaceful Easy Feeling," about a waitress in El Centro. So enthralled was Frey by the tune that he recorded it on cassette tape, telling Tempchin that he'd formed a new band eight days earlier, and wanted to play it for them. Tempchin's reaction: "Whoa, yeah!"
That band was the Eagles. The next day Frey returned with a recording of the Eagles singing this song. Hearing that track with those now-iconic Eagles harmonies blew his mind. "It was," he said, "the best thing I had ever heard." He already knew Frey was a fine solo singer, but had no clue about his greatness as an arranger and harmony singer. The song became one of the Eagles' most beloved hits, a triumph Tempchin attributed more to the band than the songwriter. "It is not a normal love song," he said. "But the Eagles, with their arrangement, breathed life into it." Its success led him on a lifelong songwriting path from which he's never veered.
When Frey chose another one of Tempchin's songs for the Eagles, "Already Gone," it also became a major hit. Written in 20 drunken minutes in the back room of a San Diego State coffeehouse, it was a country song that Frey turned into rock. Now with two hits emerging from their alliance, the timeless magic of Frey singing Tempchin was undeniable. So when the Eagles broke up and Frey found himself faced with the formidable challenge of making a solo album in their wake, he turned, naturally, to Tempchin. Together they tailor-made their decade-defining song "You Belong to the City" for TV's Miami Vice, as well as the 1991 gem "Part of Me, Part of You," written for the movie Thelma & Louise. They also wrote "Smuggler's Blues," "The One You Love," "I Found Somebody," "Lover's Moon," "Soul Searchin'," "I Did It for Your Love" and "True Love."
"I had two songs on the biggest selling record of the 20th century. And now that the 20th century is over they can't take that away. How lucky can a guy get?" Tempchin told Best Classic Bands in a previously published interview.
Many of these songs are included in a new album, Peaceful Easy Feeling–The Songs of Jack Tempchin, being released August 25 on Blue Elan Records. (CD pre-order is available here; a digital version with four extra tracks is available here. See the track list below.)
Watch Tempchin perform "Part of Me, Part of You" from the album
Tempchin and Frey dubbed their songwriting collaboration "El Blurto," a name which, Tempchin explains, referred to their philosophy of "blurting out anything, typing it up, then editing and refining it the next morning over coffee."
"You Belong to the City" was blurted out when the pair were sent a tape of the show before it had yet aired. "The whole feel of that song," Tempchin said, "with the sax and all, was inspired by the style and vibe of that show. We wrote it quickly."
Raised in San Diego, Tempchin became one of America's most prolific and widely-covered songwriters, crafting classics for himself as a solo artist and band member (as part of the legendary Funky Kings) as well as for a host of other artists, including George Jones, Emmylou Harris, Tom Waits, Glen Campbell, Jackson Browne, Dwight Yoakam, Linda Ronstadt, Tanya Tucker, and many more. His most famous non-Eagles hit, first recorded by the Kings, was "Swaying to the Music (Slow Dancing)," a giant hit for Johnny Rivers, and now a modern standard.
Being a successful songwriter does have its advantages over being an artist, Tempchin noted in his previous interview with BCB. "Yeah, I did want that dream and I still do, kinda. And I've playing all these years, and I got to do a lot of that. But the songwriter thing is that you're anonymous, and you get to make a living, and you don't have to buck all those giant headwinds coming at you, you don't have to deal with fame, and the treacherous managers and record labels and all that stuff. So it is kind of a dream job."
Watch Tempchin and Rita Coolidge perform "Slow Dancing"
Peaceful Easy Feeling–The Songs of Jack Tempchin Track List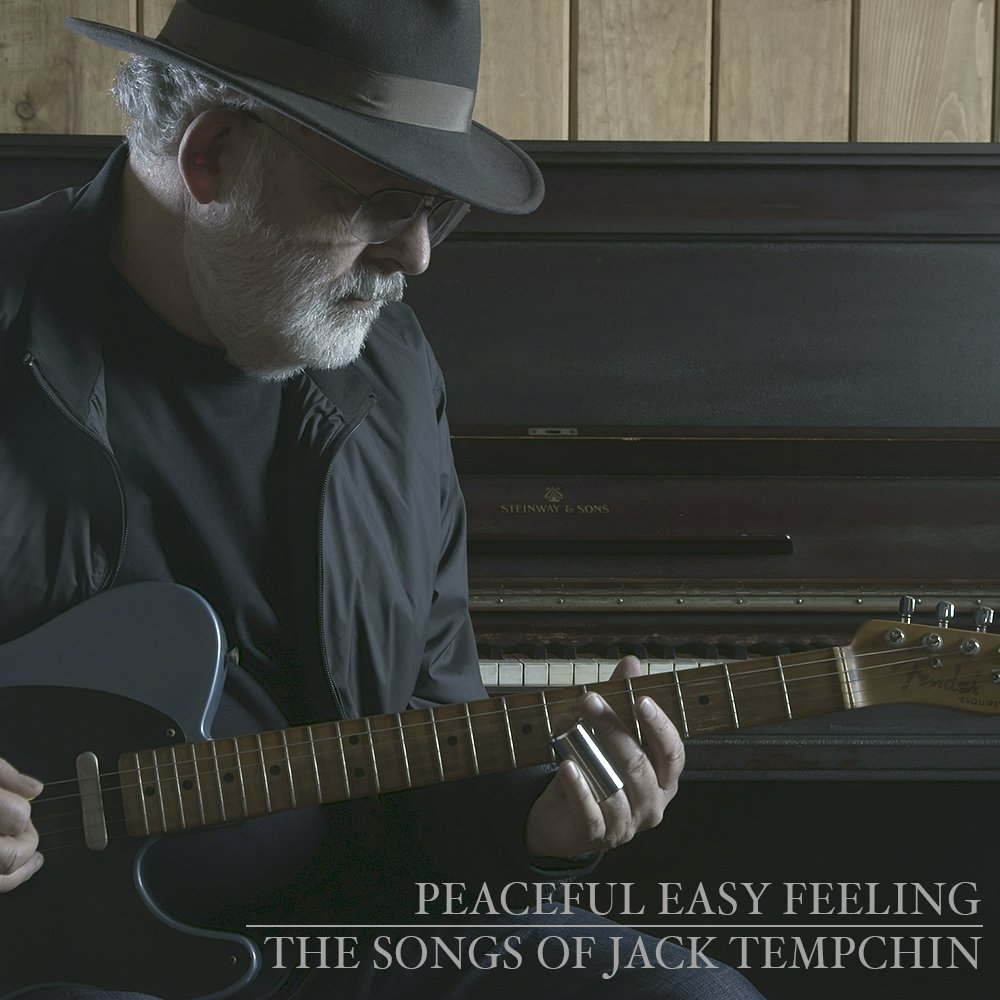 Peaceful Easy Feeling
Part of Me, Part of You
Slow Dancing (featuring Rita Coolidge)
The One You Love
Soul Searchin' (featuring Janiva Magness)
Already Gone (featuring Chris Hillman and Herb Pedersen)
Privacy
Everybody's Gonna Love Somebody Tonight
Party Town
It's Your World Now
Bonus Songs (on digital edition)
Somebody
I Found Somebody (featuring Janiva Magness)
I Did it For Your Love
You Belong to the City
As a solo artist, Tempchin has recorded 12 of his own albums. Peaceful Easy Feeling–The Songs of Jack Tempchin is his fourth album in 24 months. A poignant tribute to his fabled friendship with his "musical brother, " Frey, it features Tempchin's own renditions of 12 of their songs, performed solo and with guest vocalists Rita Coolidge, Janiva Magness, Chris Hillman and Herb Pedersen.
"This album," writes Tempchin in the liner notes, "is dedicated to my great friend of 46 years, Glenn Frey. Glenn and I always had a fabulous time writing songs together. We would talk about our lives and laugh. He was the funniest person I've ever had the pleasure to know. It was my great good fortune that my buddy happened to be one of the best songwriters of all time. Goodbye my friend and musical brother. Thanks for all the wonderful times."

Latest posts by Best Classic Bands Staff
(see all)