For more than a decade, the J. Geils Band, despite being one of the most popular live bands in America and boasting a respectable track record of album sales, had managed to avoid scoring a top 10 single—hit records really weren't what they were about.
Then came MTV. The next thing the J. Geils Band knew, they were #1.
Prior to "Centerfold," the closest the band—formed in Massachusetts in 1967—had come to the top of the singles chart was during the first week of 1975 when its song with the spelling-challenged title "Must of Got Lost" peaked at #12 on the Billboard Hot 100.
"Centerfold" was written by the band's keyboardist Seth Justman and, like all of the sextet's tunes, sung by Peter Wolf, neither of whom, you've undoubtedly noticed, was named J. Geils. Which probably means this is a good time to go back to the beginning and explain a few things.
Related: Our review of a J. Geils Band reunion concert
In the mid-'60s, J. Geils—his first name is John but he never used it professionally—teamed up with harmonica player Richard Salwitz (who called himself Magic Dick, and still does) and bassist Danny Klein to form an acoustic blues trio. They were doing just fine on the local circuit when, in '67, they decided to go electric, adding drummer Stephen Jo Bladd and a disc jockey/singer from The Bronx, New York, Peter Blankenfeld, who went by the name Peter Wolf. With the final addition, Justman, the J. Geils Band quickly found its niche.
While all of the band members—the lineup remained intact until the end—loved the blues, it was soul music that gave the J. Geils Band its ticket to success. Wolf, who was known for his rapid-fire, jive-talking delivery on his radio program, proved a compelling frontman. Where most singers of white R&B/blues bands of the day—with the exception of Mick Jagger and a handful of others—were content to stand stock-still at the microphone and emulate their black heroes, Wolf was a dynamo, never idle for a second, dancing and jumping around in the coolest way while whipping up both band and audience into a soul-party frenzy.
They attracted the attention of Atlantic Records, which signed the J. Geils Band in 1970, and from the start that combination of authenticity, excitement and serious chops made critics take notice—even if, at first, some were ambivalent. Writing about their self-titled debut album, rock critic Robert Christgau said, "I find this gritty Jewish R&B band from Boston fun but somewhat retrogressive, which is admittedly the way I once felt about Creedence. Side two pops out of the box with covers from Otis Rush and the Contours and then slows down in style with two originals that deserve to get covered back. But the vocals don't do much for John Lee Hooker (no surprise) and the two instrumentals hobble the album's build (also no surprise, since great R&B instrumentals are almost as hard to come by as great white blues singers)."
Related: Our Album Rewind of the band's great, first live LP
Even as they became a word-of-mouth concert favorite throughout much of the U.S. (Detroit was a particularly hot market), the band's album and single sales remained cool. Bloodshot, in 1973, became their first and only top 10 album for Atlantic, and none of their other singles for the label rose above #30. Wolf and Justman were writing fine modern R&B-rock tunes, their covers did the originals justice and the live show was dazzling; everyone seemed to love the J. Geils Band but they couldn't break out of their B-level status as record sellers.
Related: We had the final interview with Jay Geils, namesake of the J. Geils Band
By 1978, Atlantic had dropped them and EMI America, a new label, picked them up. And there would be a new musical approach as well. EMI was fine with the J. Geils Band strutting their love of vintage R&B but they wanted them to sound more like a modern band and, as industry types said at the time, move some units. Punk and new wave music were the rage now, and if you wanted not to be left behind, you needed to find a more pronounced beat, fire up some synthesizers, look good and make people dance.
The J. Geils Band said, basically, yeah, we can do that too, and with their second studio album for the new label, Love Stinks, they figured out how to translate the innate party-time vibe of Geils music into modern rock. The album peaked at #18.
Then, at midnight on August 1, 1981, everything changed. Music Television, MTV, was launched, offering a 24-hour menu of music videos. An instant phenomenon, MTV gave artists an unprecedented promotional outlet for their music. This, of course, did not escape EMI America Records or the J. Geils Band, who were already into the recording of their 12th studio album when MTV began reshaping the popular music landscape.
It could have proven a challenge—the J. Geils Band members were not stylish young pretty boys, after all. But they were very animated performers and if they could figure out a way to take that stage charisma and translate it into something videogenic, then maybe they could find a new, younger audience.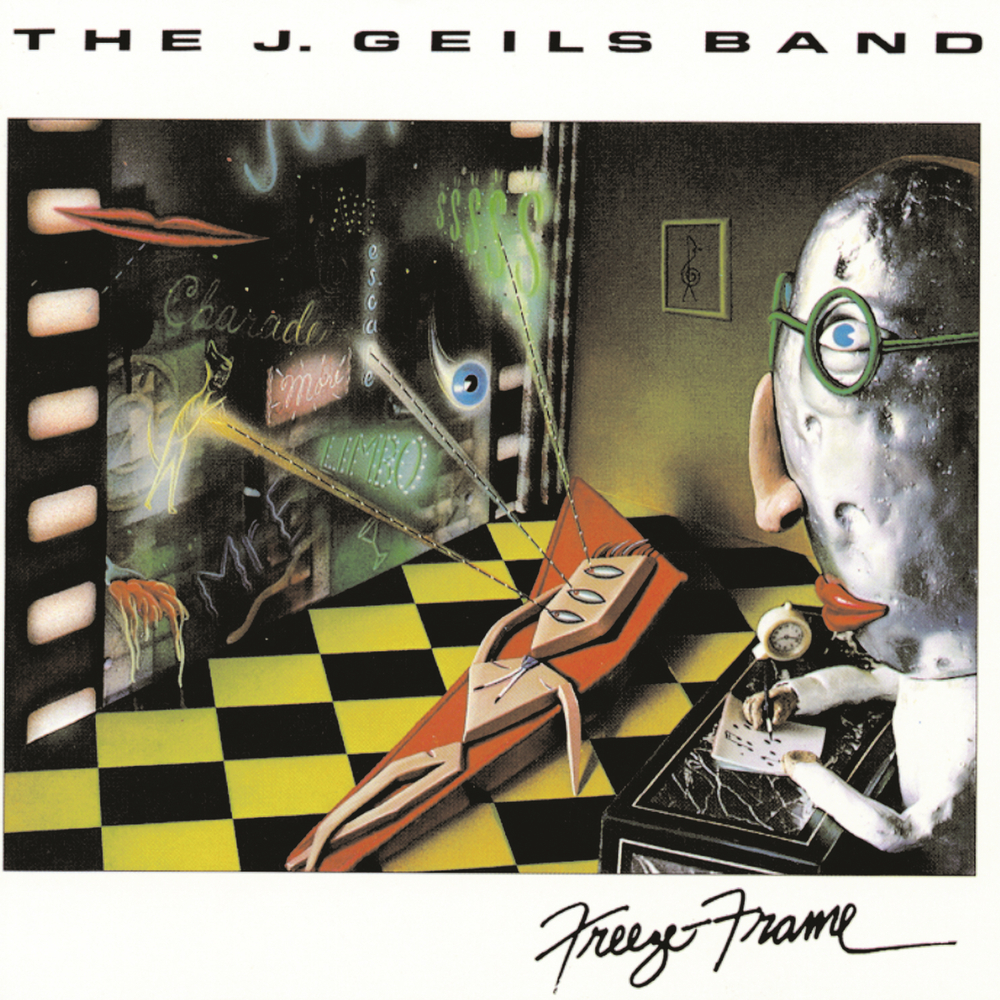 Freeze-Frame proved the vehicle. Released on October 26, 1981, less than three months after MTV first aired, the album pushed the J. Geils Band musically to a place that Love Stinks had only hinted at. Without giving up any of their shared adoration of rootsy R&B, Freeze-Frame—produced in its entirely and mostly written solo by Seth Justman—retained the trademark Geils soul mojo while simultaneously introducing a more mainstream rock side of the veteran band. And "Centerfold" was its centerpiece.
Released on September 13, a month before the album, "Centerfold" didn't actually make its move until November 7, when it entered the Hot 100 at #70. It took a while—it had to wait for Olivia Newton-John's multi-week stay with "Physical" to end—but on February 6, 1982, the J. Geils Band found themselves with their first, and only, #1 single.
Without a doubt it was MTV that fueled the song's rise—and that of the album, which itself vaulted to #1, the only time the J. Geils Band, which split in 1985 (two years after Wolf left), claimed the top spot. (Freeze-Frame's title track, released as a single after "Centerfold," made it to #4.)
The concept behind "Centerfold" was so simple that it was a wonder that no band had thought of it before: The singer's ex-high school crush, his "homeroom angel," the one who was "pure like snowflakes," was now strutting her stuff for all the world to see in one of those "girly" magazines.
Sang Wolf:
"My blood runs cold
My memory has just been sold
My angel is the centerfold
Angel is the centerfold."
The song's structure, like its sorry tale, was equally simple: Over a riff that hints at a bagpipes-ready Celtic melody, and a repetitive drum pattern, an older Wolf—too shy as a schoolboy to pursue the object of his dreams—now shares the sadness and sorrow of his discovery:
"I was shakin' in my shoes
Whenever she flashed those baby-blues
Something had a hold on me
When angel passed close by
Those soft and fuzzy sweaters
Too magical to touch
To see her in that negligee
Is really just too much"
For the video, there could be only one way to present this saga, and it wasn't with a bunch of guys playing their instruments. The Geils boys nailed it: In "Centerfold," directed by Justman, we see Wolf shimmy his way around a classroom inhabited solely by '80s babes with their big hair and not-so-big outfits, slowly but surely cozying up to the lovelorn sap even as he assures us that next time he sees her things will be different:
"It's okay, I understand
This ain't no never-never land
I hope that when this issue's gone
I'll see you when your clothes are on
Take your car, yes we will
We'll take your car and drive it
We'll take it to a motel room
And take 'em off in private"
As all involved repeatedly chant the song's signature "Na-na-na-na-na-na" to a whistling melody line, Peter Wolf disappears from the frame, the pom-pom-waving girls do cartwheels and we never do find out whether they make it to that private room.
Some things are better left to the imagination.

Latest posts by Jeff Tamarkin
(see all)