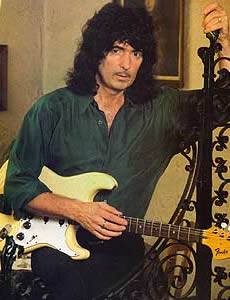 Update: Germany's Monsters of Rock festival confirmed on its website today that Blackmore will indeed be playing two dates. The announcement:
"'Ritchie Blackmore's Rainbow' live in Germany for two exclusive shows in Loreley [June 17th] and Bietigheim-Bissingen [June 18, 2016], playing the classic rock anthems of Rainbow and Deep Purple."
Here's the ticket link.
Legendary guitarist Ritchie Blackmore announced on his official Facebook page on Saturday (10/17) that he'll be playing at a festival called Monsters of Rock in Bietigheim-Bissingen, Germany on June 18th of next year. The post says tickets will go on sale November 6th, the same day that rock doc The Ritchie Blackmore Story is due for release on DVD and Blu-ray.
Before you get too excited, though, know that details aren't yet confirmed. The announcement contains a link to a post on a German news website which is no longer accessible, and Google searches for the festival turn up dry.
There have been rumors galore about a Rainbow reunion over the past few months. At the very least, former vocalist Joe Lynn Turner seems convinced that something will happen, although he isn't sure of the exact form it will take. News about a possible Blackmore show also comes on the heels of several interviews in which the musician said he will be revisiting Rainbow and Deep Purple classics with some dates in England, Germany and Sweden next year.
Blackmore's main musical project for the past two decades has been Blackmore's Night, a Renaissance-inspired medieval folk band that he formed with his then-girlfriend, now-wife Candice Night. Under that moniker, he and Night have released nine studio albums, including their latest, All Our Yesterdays, which came out September 18th.
Here's hoping for more info in the coming days. Stay tuned.

Latest posts by Best Classic Bands Staff
(see all)