Ian Whitcomb 'You Turn Me On' Singer, Dead at 78
by Jeff Tamarkin
Ian Whitcomb, the British-born singer and performer who scored a lone top 10 hit in the U.S., 1965's "You Turn Me On (Turn On Song)," died April 19, 2020, according to Barret Hansen, host of The Dr. Demento Show, and several other online sources. Whitcomb, who had suffered a stroke in 2012, died from natural causes; the place of death has not been reported, but it was believed to be at a hospital in the Los Angeles area.
Whitcomb, who was 78, had been in ill health for some time, and a GoFundMe page had been established last year to help with his medical expenses.
Hansen wrote: "We'd been friends for close to 50 years, and we appeared as guests on each other's radio shows several times. Ian was not only a fine singer, specializing in vintage British and American comedy songs, but a great scholar as well, author of fine books on a variety of musical and cultural topics."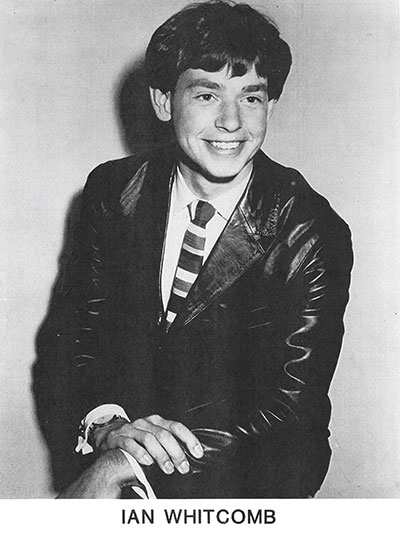 Although Whitcomb's only major chart appearance came some 55 years ago—the R&B-flavored single, released on the Tower label and sung in a falsetto voice, reached #8 in Billboard—he remained active in the music business into his last years, as a performer specializing in often comedic, old-timey songs and as a musicologist and author. He was also an actor who appeared in numerous films and television shows.
His first book, 1972's After the Ball, is described in Amazon.com as "an exuberant account of the origins and explosion of popular music, informed by the author's store of experience in the field as a pop sensation of the '60s."
Ian Timothy Whitcomb was born in Woking, Surrey, England, on July 10, 1941. He formed a skiffle group in 1957, followed by his first rock 'n' roll band in 1959, but his interest in ragtime and similar forms also developed during his childhood—he co-formed a group with his younger brother Robin in the early '60s called the Ragtime Suwanee Six, produced by Denny Cordell, who would later find success with Joe Cocker, Procol Harum and others.
While studying in Dublin, Whitcomb formed a band called Bluesville, which released the single "This Sporting Life," which bubbled under the top 100 in America. "You Turn Me On" followed and gave Whitcomb brief stardom—he performed in the U.S. on bills with the Beach Boys, the Rolling Stones, the Kinks and others.
Although Whitcomb continued to release singles and albums on the Tower label (unrelated to the Tower Records retail chain), he did not achieve further commercial success and moved on to other pursuits, including production (he produced an album by actress Mae West in 1972, among others).
Related: What were some of the other big hits of 1965?
Following the publication of After the Ball, his writing career continued with books such as Tin Pan Alley, A Pictorial History (1919-1939) and a novel, Lotusland: A Story of Southern California.
Watch the older Whitcomb perform on ukulele with his group the Bungalow Boys
As a performer, he played vintage songs on the ukulele (he created the music for a documentary on Bugs Bunny) and recorded numerous albums, including Pianomelt, which consisted of 18 piano rolls. His recreation of the music played aboard The Titanic won Grammy awards for packaging and liner notes, which he wrote. Having long ago relocated to Southern California, Whitcomb continued to find work there as a performer and radio host.
Watch Whitcomb perform "You Turn Me On" live

Latest posts by Jeff Tamarkin
(see all)