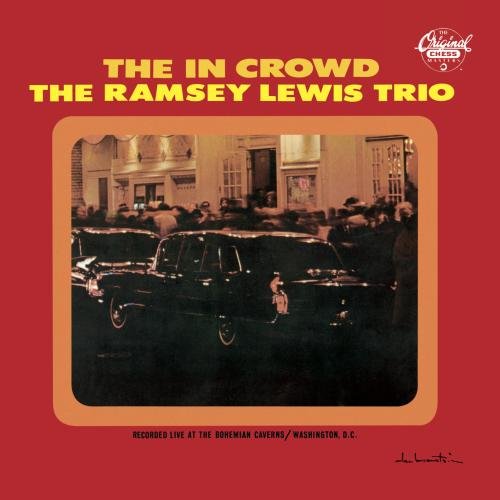 Today it's inconceivable that a jazz song could be released as a single and somehow find its way to the Top 40. For one thing, jazz is almost entirely an album-oriented genre, and for another, it just doesn't sell in large quantities to the mainstream audience. (One recent exception is Herbie Hancock's album River: The Joni Letters, which reached #5 in Billboard in 2008 after winning the Album of the Year Grammy, but it's definitely an exception to the rule.)
In the 1960s though, when jazz sold more briskly, record labels routinely released some of the more accessible tracks as singles, and they were occasionally rewarded with a solid hit, aided by AM radio programmers who thought nothing of constructing a playlist that might have rock 'n' roll, soul, pop, country and these jazz-related tunes in the same half-hour.
Here are 10 that made the top half of the Billboard singles chart—a couple even reached #1!
10. "A Taste of Honey" by Herb Alpert and the Tijuana Brass
The play A Taste of Honey opened in London in 1958 and came to Broadway two years later. It also inspired a film of the same name. But it was the song written for the Broadway run by Bobby Scott and Ric Marlow that made the biggest dent in popular culture. First recorded in 1961 by Billy Dee Williams, it became an unlikely cover by the Beatles on their first album, Please Please Me, in 1963. That same year, a young singer named Barbra Streisand included it on her debut album, which won the Grammy for Album of the Year. By the time the trumpeter Herb Alpert came up with his peppy instrumental version with his group the Tijuana Brass, it was already a well known melody, but the public enjoyed it enough to send it up to #7.
9."Grazing in the Grass" by Hugh Masekela
Hugh Masekela, born in 1939, is a South African trumpeter who had fled his country to escape the brutal apartheid policies of the white-controlled government in 1960. He made his way to London and then the United States, where he studied at the Manhattan School of Music from 1960-64—the same year he met and married singer Miriam Makeba (they divorced two years later). His popularity was on the rise in 1967 when he was called upon by the Byrds to play on their recording, "So You Want To Be a Rock 'n' Roll Star" and to perform at the fabled Monterey Pop Festival. He scored a minor hit that year with a cover of Jimmy Webb's "Up, Up and Away," but it was the following year when he cut a funky instrumental called "Grazing in the Grass," penned by Philemon Hou. Released on Masekela's album The Promise of a Future on the Uni label, it was pulled as a single and managed to climb to the top of the charts. Masekela, who died in 2018 at 78, released dozens of albums since but never had another hit single. "Grazing in the Grass," meanwhile, had a second life in 1969 when the Friends of Distinction, a Los Angeles group, took an uptempo vocal version all the way to #3.
Watch Hugh Masekela perform his big hit with the Dave Matthews Band
Related: Our feature on Hugh Masekela – Unlikely pop star
8. "Java" by Al Hirt
"Java" had its genesis in 1958 when it was written and recorded by the New Orleans pianist Allen Toussaint (under the name Tousan) for his album The Wild Sounds of New Orleans. Fast forward five years. Another New Orleans musician, trumpeter Alois Maxwell Hirt—known simply as Al Hirt—picked up Toussaint's buoyant dance melody and included it on his album, Honey in the Horn. RCA Victor, his label, sensed a buzz around the tune and released it as a single. It rose to #4 in early 1964 at the very time the British Invasion was exploding.
7. "Hello Dolly" by Louis Armstrong
Satchmo, as he was nicknamed, was already in his early sixties by early 1964. Beginning in the 1920s he had revolutionized American music and become the first true star of the jazz genre. He was arguably way past his prime as a player and as a trendsetter but that didn't mean he was ready to lay down his trumpet. So when, in December 1963, he was asked to make a demo recording of the title song from a new musical, Hello Dolly, he obliged. The song would be sung by Carol Channing when it opened on Broadway the following month, but it was Armstrong's take, released on Kapp Records, that slowly rose to #1, amazingly dislodging the Beatles from their months-long hold on that spot! Ironically, his interpretation was only nominally jazz in style, especially as compared to the hot sides Armstrong had cut some 40 years earlier, but it gave Armstrong a big late-career boost.
6. "Mas Que Nada" by Sérgio Mendes and Brasil 66
Brazilian music is so seductive. The samba and bossa nova rhythms glide easily, and the vocals, primarily in Portuguese, are mellifluous, romantic by their very nature. In the early '60s bossa took hold of the American listener (see song #2 below) and became something of a craze—young adults were particularly infatuated; every swinger owned at least a few albums of Brazilian music. But still, singles were something else, the domain of teenagers who liked to rock 'n' roll; although music falling into other categories, especially sung in languages other than English, occasionally made it to AM radio, it was a rarity. Sérgio Mendes and Brasil 66 were a group led by the Rio-born keyboardist and signed to Herb Alpert's A&M Records. He'd already released several albums in the U.S. but his debut with the group he called Brasil '66 proved the ticket to success and the irresistibly melodic single "Mas Que Nada," written by another Brazilian star, Jorge Ben Jor, managed a respectable #47 on the American charts. Mendes, still at it today, has recorded dozens of albums in various styles (many of them more mainstream jazz) and he had a couple of pop hits later on, but this remains his greatest. "Mas Que Nada," covered by dozens of artists, was later inducted into the Latin Music Hall of Fame.
5. "The 'In' Crowd" by The Ramsey Lewis Trio
A Chicago native, keyboardist Ramsey Lewis had already released close to 20 albums by the time he picked up on this funky tune written by Billy Page in 1965. It had already been a substantial R&B hit by singer Dobie Gray earlier in the year but Lewis reimagined it for a piano-bass-drums jazz trio, recorded it in front of a live audience at the Bohemian Caverns in Washington D.C., and released it on Chicago's Argo label.
The song's party atmosphere came through loud and clear and listeners ate it up, taking it to #5, higher than Gray's version had charted. Trivia bit: The bassist was Eldee Young and the drummer Redd Holt, who would go on to form their own Young-Holt Trio. When they left Lewis' employ, he replaced Holt with a young drummer named Maurice White, who later did quite well for himself as the founder of Earth, Wind and Fire.
4. "Mercy, Mercy, Mercy" by Cannonball Adderley
Julian "Cannonball" Adderley, born in 1928, was one of the most respected alto saxophonists in jazz. For nothing else, he would have gone down in history for his work on Miles Davis' Kind of Blue, said to be the best-selling jazz album of all-time. Adderley's own groups would include many fellow jazz greats, and in 1967 he was accompanied by his cornetist brother Nat Adderley, the keyboardist Joe Zawinul (later a founder of Weather Report) and others when he cut Mercy, Mercy, Mercy! Live at 'The Club. It was actually a studio recording, but it sounded like everyone involved was having a damn good time, and Zawinul's title track took off as a single, going all the way to #11 in early 1967. Months later, the Buckinghams, adding vocals, did even better with it, reaching #5.
Related: 10 solos by jazz greats on rock songs
3. "Watermelon Man" by Mongo Santamaria
Herbie Hancock was just getting started in 1962 when he released his debut album, Takin' Off, on the Blue Note label. It opened with his irresistible composition "Watermelon Man," a danceable, accessible post-bop tune that featured contributions from keyboardist Hancock, trumpeter Freddie Hubbard, saxophonist Dexter Gordon and others. A year later, Cuban percussionist Mongo Santamaria was introduced to the song when Hancock sat in with his band. The audience got into it and Santamaria recorded it with more of an Afro-Cuban feel. The result: a #10 single that was inducted into the Grammy Hall of Fame in 1998.
2. "The Girl from Ipanema" by Stan Getz and João Gilberto
"The Girl from Ipanema" was the perfect bossa nova ballad, and the biggest-selling. It was written in 1962, as "Garota de Ipanema," with music by Antônio Carlos Jobim and Portuguese lyrics by Vinicius de Moraes, and first recorded that year. In 1964, the American jazz saxophonist Stan Getz was making an album for Verve Records with the Brazilian guitarist João Gilberto and co-composer Jobim when the idea came up to record the song. American lyricist Norman Gimbel wrote English-language words for the tune and Gilberto suggested that his wife, Astrud—who was not a professional singer but knew English—handle the vocals. Their recording climbed to #2 and ultimately won the Record of the Year Grammy (this during the year the Beatles had first invaded!). The album won two Grammys—the first ever to feature non-American artists and the first jazz recording to win Album of the Year—and became one of the most successful jazz albums of all-time.
Related: João Gilberto died in 2019
1. "Yeh, Yeh" by Georgie Fame and the Blue Flames
Our #1 pick has a tie to our #3 pick. "Yeh, Yeh" was written as an instrumental by Rodgers Grant and Pat Patrick and was cut by Mongo Santamaria on his 1963 Watermelon Man album. Singer Jon Hendricks, a member of the popular trio Lambert, Hendricks and Ross, wrote lyrics for the tune and in late 1964 it was turned into a rockin' jazz-informed number with a bit of a hybrid ska/bossa beat. The British Fame, born Clive Powell, was (and remains, at age 73) a gifted keyboardist and engaging vocalist with a heavy stylistic debt to the American singer Mose Allison, albeit with more of an R&B flavor. "Yeh, Yeh," released on Columbia Records in the U.K., went to #1 in the U.K. and, on Imperial, #21 in the U.S. Fame later broke into the top 10 with his "The Ballad of Bonnie and Clyde" and has never stopped making excellent music—he worked for a time with Van Morrison and is still highly respected. But "Yeh, Yeh," his maiden hit, is still the one he has to play at every gig he does.

Latest posts by Jeff Tamarkin
(see all)