A New Compilation Surveys L.A.'s Vibrant Late '60s Rock Scene
by Jeff Burger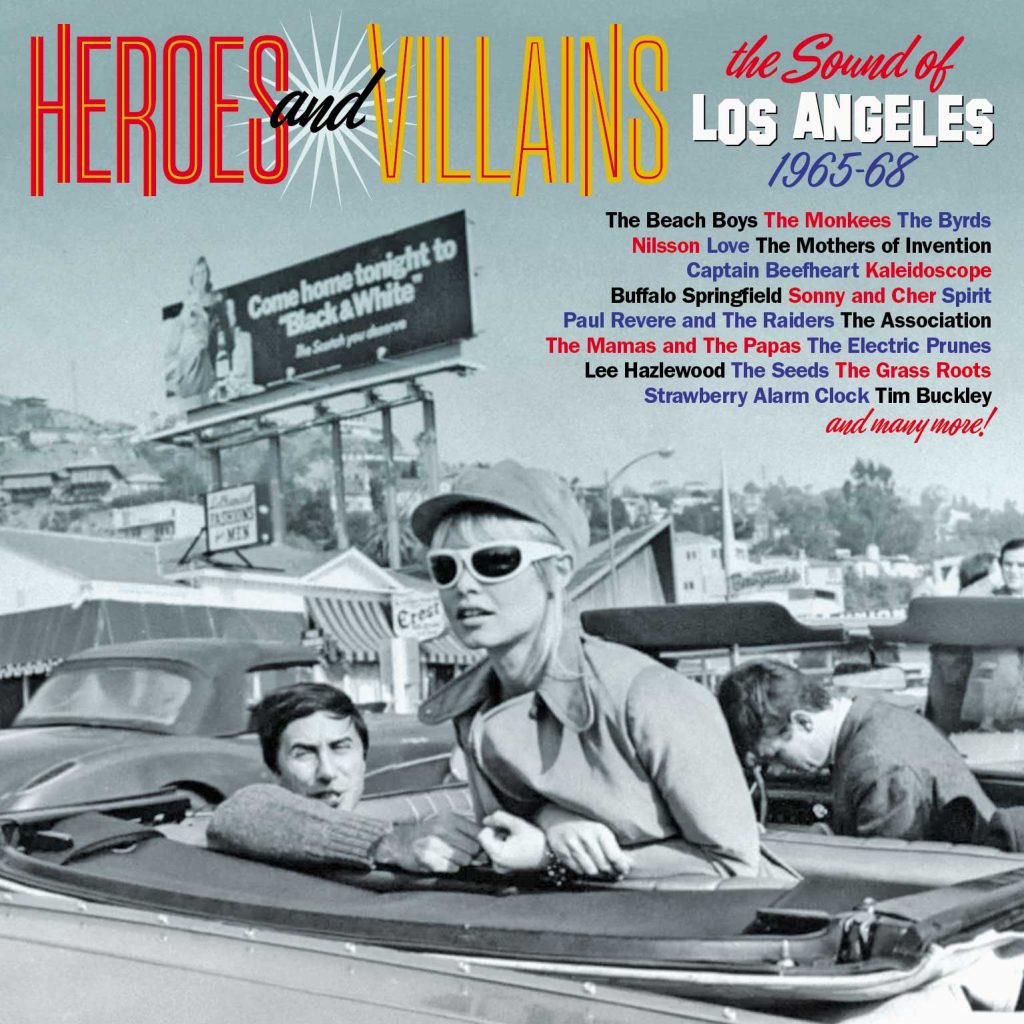 A new anthology on Britain's Grapefruit label, Heroes & Villains: The Sound of Los Angeles 1965–68, mines the exact same territory as Rhino's 2009 box, Where the Action Is! Los Angeles Nuggets 1965-1968. The 2022 Grapefruit set packs in 90 tracks on three discs—almost as many as the 101 in Rhino's four-CD collection, and with minimal overlap. (Only five numbers appear on both releases.)
That two record companies have now devoted multi-disc collections to the same four-year period in L.A.'s music scene is not surprising. As both anthologies will remind you, there was nearly as much going on at the time in Southern California as in San Francisco or London.
Don't look to the Grapefruit package primarily for hits. The program does make room for a few, such as Paul Revere and the Raiders' "Kicks," the Monkees' "Pleasant Valley Sunday," the Association's "Along Comes Mary," the Grass Roots' "Let's Live for Today," and the Mamas and the Papas' "Twelve Thirty (Young Girls Are Coming to the Canyon)." But Heroes & Villains mostly serves up obscure acts like the Misunderstood, the Second Helping, and the Odds & Ends. Even relatively well-known one-hit wonders like the Peanut Butter Conspiracy, the Music Machine, the Seeds, the Leaves and Strawberry Alarm Clock are represented not by the songs they're known for but by rarely heard B-sides, demos, and album tracks.
So are some of the household names. The Byrds, for example, are featured with an alternate version of "Why," which was the flip side of 1966's "Eight Miles High," while Chad and Jeremy—a British duo who were presumably included because they spent a chunk of the late sixties in Southern California—deliver "Pipe Dream," a 1968 album track, rather than one of their chart singles.
Despite this anthology's title, meanwhile, the Beach Boys surface here not with "Heroes & Villains" or any of their other hits but rather with "Do You Like Worms," from Brian Wilson's aborted Smile project. A few major Southern California acts from the period, such as the Doors and the Turtles, are missing entirely, no doubt due to licensing issues.
If you're a '60s rock fan, though, you probably already have at least some of the era's best-known material. What most makes this set noteworthy are the many fascinating obscurities that the compilers have unearthed.
Related: Photographer Henry Diltz captured the L.A. '60s scene
Granted, not all of them are treasures. The package includes a smattering of forgettable bubblegum pop, such as Mark Eric's "Move with the Dawn," Roger Nichols and the Small Circle of Friends' "Always You" and Boystown's "End of the Line." There are also a handful of stellar numbers—such as Tim Buckley's "Carnival Song," Spirit's "Uncle Jack," and Love's "She Comes in Colors"—from albums that deserve to be heard in their entirety.
But Heroes & Villains, which comes with an info-packed and well-illustrated 78-page booklet, is worth your time and money. It includes seminal work from soon-to-be major artists, such as Gram Parsons ("Luxury Liner," by his International Submarine Band) and Linda Ronstadt ("New Hard Times," by her group the Stone Poneys).
Also here are Ruthann Friedman's version of her own "Windy," which became a huge hit for the Association, and Bobby Jameson's "Viet Nam," which musically echoes Bo Diddley's eponymous R&B hit. Plus, the set features a healthy dose of noteworthy but little-known psychedelia—songs like the Velvet Illusions' "Acid Head" and "Hippy Town," Music Machine's "Point of No Return," and Clear Light's "Black Roses." These products of one of rock's most creative periods will take you back to another time and place. More importantly, they still sound good today.
Latest posts by Jeff Burger
(see all)