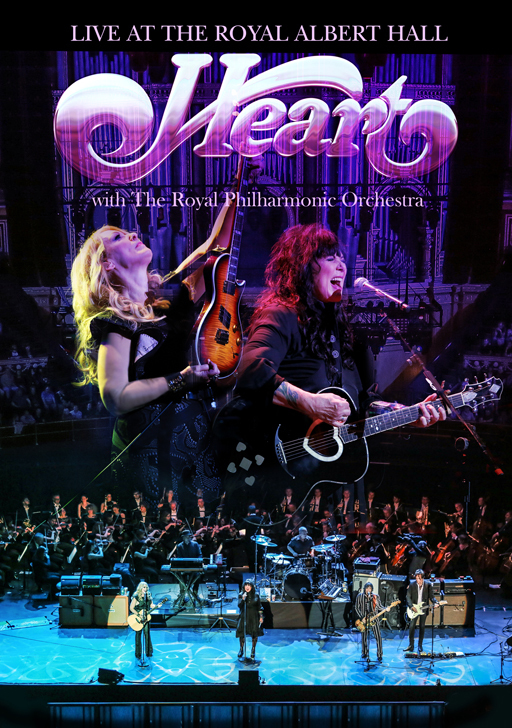 Heart's first-ever live performance at London's Royal Albert Hall and the band's first concert film performing with a full orchestra, is being released on December 2, 2016 by Eagle Rock Entertainment on Blu-ray, DVD and CD. Live At The Royal Albert Hall with the Royal Philharmonic Orchestra includes Heart's two #1 hits "These Dreams" and "Alone," as well as "What About Love" (#10), "Barracuda" (#11), "Magic Man" (#9), "Dreamboat Annie" and many more.
The 67-piece orchestra's presence at the sold-out appearance from June 29, 2016 added further depth and scale to the classic rock band's songs. The set included hits, fan favorites and both new and reinterpreted tracks from their most recent album Beautiful Broken.
Related: Heart revisits many of their older songs on Beautiful Broken. Review…
The lineup for the special show features Ann Wilson (vocals); Nancy Wilson (guitar and vocals); Ben Smith (drums); Dan Rothchild (bass); Craig Bartock (guitar); Chris Joyner (keyboards) and The Royal Philharmonic Orchestra conducted by Nick Davies. The Blu-ray and DVD include an interview with the band. Click here to pre-order the Blu-ray; and here for the DVD. (See below for the official teaser trailer.)
Heart has a few more 2016 tour dates. Tickets are available here.
The band has sold more than 35 millions albums worldwide and earned seven Top 10 albums in the U.S.
Related: Heart honor Led Zeppelin with dazzling performance of "Stairway to Heaven"
Track Listing
1) Magic Man
2) Heaven
3) Dreamboat Annie
4) What About Love
5) I Jump
6) Sweet Darlin'
7) Two
8) These Dreams
9) Alone
10) Beautiful Broken
11) Mashallah!
12) Silver Wheels / Crazy On You
13) Sand
14) No Quarter
15) Barracuda
16) Kick It Out
Here's the official teaser trailer…
Don't miss a post! Sign up for Best Classic Bands' Newsletter; form is on every page.

Latest posts by Best Classic Bands Staff
(see all)