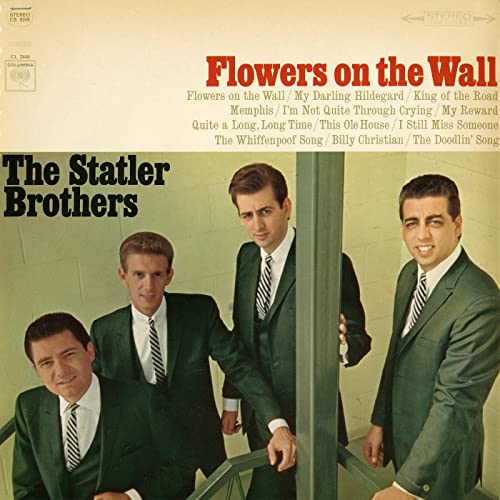 Harold Reid, a founding member of the country music singing group the Statler Brothers, died April 24, 2020, at his home in Staunton, Va. The group's website noted that Reid, 80, had a long battle with kidney failure. To pop music fans, the Statler Brothers are best known for their 1965 hit, "Flowers on the Wall," which featured Reid's deep bass vocals.
The Statler Brothers formed in 1955 in Staunton, Va., primarily singing gospel music. Though Reid and his brother, Don, were both members of the group, in fact there are no "Statler" brothers. The pair was joined by Phil Balsley and Lew DeWitt (later replaced by Jimmy Fortune) and combined to become one of the premier group in country music for nearly 40 years. From 1972-1984, they combined to win the Country Music Association's Vocal Group of the Year an astonishing nine times.
The Statler Brothers earned three Grammy Awards, including one for "Flowers on the Wall." The single, written by DeWitt, with its prominent banjo, was their first hit, reaching #2 on the country chart and #4 on the Hot 100 in January 1966. The song is prominently used in a scene from Pulp Fiction, with Bruce Willis' character singing along while its playing on the radio.
Related: The biggest singles of 1966
In its obituary for Reid, the Staunton News Leader noted that a disc jockey at a Kansas City radio station discovered the song on the B-side of the Statler Brothers' new single. "That happened six months after the record was released, which is almost unheard of," Reid told newspaper in 2015.
Among the song's lyrics are "Playin' solitaire till dawn with a deck of fifty-one/Smokin' cigarettes and watchin' Captain Kangaroo," with Reid's bass vocal resonating deeply.
Though it was their only pop hit, the Statler Brothers enjoyed another 32 singles that reached the Top 10 of the country charts, including four #1s.
Entering the business in 1964 as the backup voices for Johnny Cash on stage, records and TV, they served their apprenticeship with him for 8 1/2 years and were regulars on the weekly Johnny Cash Show on ABC TV.
Their original harmonies, sense of humor and lyrical style of writing made them a concert touring attraction. In the 1990s, the group starred on the Nashville Network's The Statler Brothers Show. The group retired in 2002.
Related: Musicians we lost in 2020

Latest posts by Best Classic Bands Staff
(see all)