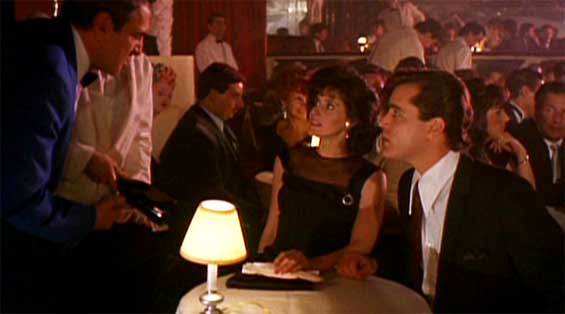 "What do you do?" Lorraine Bracco's Karen asks Ray Liotta's Henry Hill. "I'm in construction," he replies.
It's near the end of our favorite scene from Martin Scorsese's brilliant 1990 mob picture, Goodfellas, when Henry takes Karen to New York's legendary Copacabana on their first proper date.
Take a close look at this scene. Henry hands the first of a series of $20 bills to a man on the street across from the club as Karen asks incredulously "What are you doing?"
"He watches the car for me," Henry explains.
As they enter the Copa through the downstairs entrance and the kitchen, a series of employees greet Henry warmly, many of whom are on the receiving end of a twenty. As Henry and Karen walk into the club's main area, Henry is immediately acknowledged by the maitre d' and a table is whisked "right in the front."
It's all done in one shot, with one camera, a technique known as a tracking shot. It's brilliant and if you've never noticed Scorsese's cinematographer's particular skill in that scene before, you will now. That Scorsese adds "And Then He Kissed Me" by The Crystals to the scene is the proverbial cherry on top. Salut! Our Classic Video is known as the "Copa shot"…
The film's cinematographer, Michael Ballhaus, earned three Academy Award nominations in his career, which also included the Scorsese pictures The Departed and Gangs of New York, among many others. He died April 11, 2017.
You've likely seen Liotta 150 times in the commercial he did for Chantix. A clever video editor re-cut the spot with several of the actor's scenes from Goodfellas.
Goodfellas had its premiere on Sept. 9, 1990, at the Venice International Film Festival. It opened in the U.S. ten days later. The film earned six Academy Award nominations including Best Picture and one for Scorsese as Best Director. It scored only one win: Joe Pesci earned one for Best Supporting Actor. Dances With Wolves and Kevin Costner earned the Academy Awards for Best Picture and Best Director, respectively, that year among its seven win and 12 nominations. Go figure.
Watch the Goodfellas trailer
Speaking about the film's 30th anniversary in 2020, Liotta said, "I don't know where my keys are right now, but I can remember just about every scene and what happened that day." Liotta died in 2022, at age 67.
Read more about the cast's recollections here.
If you're a new Best Classic Bands reader, we'd be grateful if you would Like our Facebook page and/or bookmark our Home page.

Latest posts by Best Classic Bands Staff
(see all)