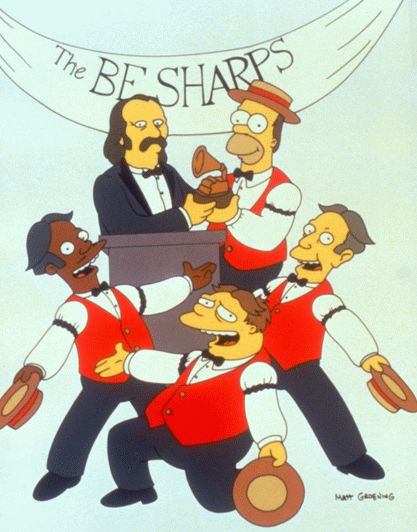 On the fifth season premiere episode of The Simpsons on September 30, 1993, two classic rock superstars were featured: George Harrison and David Crosby, who both agreed to having their likenesses used on the long-running cartoon series. They appear when Homer Simpson's barbershop quartet, The Be Sharps, win a Grammy. Crosby presents the award to the group, and then at the after-show party, Harrison introduces himself to Homer, who, typically, is more interested in the free brownies in the buffet than a Beatle.
It was Crosby's second appearance on the show, having already guested the previous season. In addition to Harrison, two other members of the Fab Four have been portrayed on the show: Ringo Starr and Paul McCartney, along with his late wife Linda (on the episode "Lisa The Vegetarian").
They're hardly all of the rockers who have visited Springfield on the show, which, in its 34th season, is far-and-away the longest-running scripted series in TV history. (It passed Gunsmoke all the way back in 2009.) The series had its season premiere on September 25, 2022.
Watch the Harrison segment
Other classic rock acts who have had themselves "Simpsonized" include: Aerosmith, Sting, Spinal Tap, Linda Ronstadt, Red Hot Chili Peppers, James Taylor, Peter Frampton, U2, The B-52's, NRBQ, Clarence Clemons, Bachman Turner Overdrive, The Who, R.E.M., Elvis Costello, Lenny Kravitz, Mick Jagger, Tom Petty, Keith Richards, Brian Setzer, David Byrne, Jackson Browne, Los Lobos, Metallica, Ted Nugent, "Weird Al" Yankovic, Tom Waits, Max Weinberg (of the E Street Band) and Rob Halford of Judas Priest. Green Day appeared in The Simpsons Movie.
Sadly, the Crosby clip has disappeared from YouTube for the time being.
Here's a clip of one of our favorite Simpsons rock band guest appearances, with Tom Petty

Latest posts by Best Classic Bands Staff
(see all)