Genesis' Path to Success: Atlantic President Tells How
by Greg Brodsky
In 1974, Jerry Greenberg was named the President of Atlantic Records. At 32, he was the youngest president of a major U.S. record label.
Greenberg oversaw Atlantic's day-to-day operations during what many will define as the bulls-eye of what we now call the classic rock era … the 1970s period that spearheaded the development of superstar rock bands on FM radio that led to huge album sales and arena and stadium tours.
He has a documentary in the works, tentatively titled Man Behind the Music, which devotes much of its time to many of the acts that he signed and with which he had a huge hand in their development as well as dozens of others that he worked closely with.
Best Classic Bands is giving its readers exclusive, regular updates on the progress of Greenberg's film, like our story about his hand in establishing Led Zeppelin's career, the inside story of AC/DC's Back in Black, and the launching of Foreigner's debut album.
In the early '70s, after heading Atlantic's radio promotion department, Greenberg had been upped to the senior executive staff. He identified an English band that appealed to him, despite never having heard them. It's a story of great talent and hard work all around.
Greenberg recalls: "Atlantic had the reputation, always, of finding English acts. [Atlantic's legendary producer] Jerry Wexler used to read a lot and he got all of the magazines all over the world. And when he'd go to throw them out, I would read them.
"I remember reading about Genesis and Peter Gabriel [in New Musical Express]. I knew I wanted to sign that band. I never heard one note of music. But just from what I read in the English papers about them, I said: 'I've gotta have this group.'
"Sure enough, I found out they were signed to Charisma, a record label in England. I called them and told them I was very interested in Genesis. They told me: 'The only way you're gonna get Genesis is to take the whole label. So I did.'"
By that time, the band's lineup had solidified with original members Gabriel, bassist Mike Rutherford, and keyboardist Tony Banks, plus guitarist Steve Hackett and drummer Phil Collins.
In 1973, Greenberg made the deal with Charisma owner Tony Stratton-Smith. "I fly to England to meet the band," he says. "The first thing I always try to do is let an act know I'm one of them."
Greenberg had started his career as a drummer for his own band and recorded singles for several labels, including Atlantic. "I said: 'C'mon, let's play some blues.' I go to Phil's drum set but he's left-handed. Everything is in reverse. But we still jammed," he laughs.
The first album under the new agreement, Selling England by the Pound, was released that October and included such progressive FM radio favorites as "The Cinema Show," "I Know What I Like" and "Firth of Fifth."
Danny Markus, an Atlantic Records promotion VP recalls: "They were the first thing that I saw that was so theatrical, and so theatrical that I don't know if I got it all. But Peter Gabriel and they got it all."
Watch Genesis's mesmerizing performance of "The Musical Box" from 1971's Nursery Cryme
The album became the band's first to reach the Top 10 in the U.K. (as did every subsequent release). However, it would be years before they earned the kind of mainstream success in the U.S. that they ultimately achieved.
Selling England by the Pound reached #70 on the Billboard Albums Chart. The ambitious follow-up, 1974's double-LP, The Lamb Lies Down on Broadway, got to #41, earning FM radio airplay for the title track and "The Carpet Crawlers," among others.
Related: Our Album Rewind of The Lamb Lies Down…
The album was Gabriel's final one with the band he co-founded; he departed on August 16, 1975. (Greenberg, promoted to president of Atlantic, signed him to a solo deal. "We made two albums—the first was produced by the great Bob Ezrin—but they didn't happen. His option came due and he was free to leave." Years later on another label, Gabriel soared with So and its worldwide smash, "Sledgehammer.")
After the band tried out hundreds of new singers, they looked inward: Collins was chosen and became Genesis' new lead vocalist. The resulting album from the now-quartet, 1976's A Trick of the Tail, continued their commercial growth. By now, FM radio had embraced them: the album includes many fan favorites such as "Ripples," "Dance on a Volcano" and the title cut. But Top 40 radio still ignored them.
A follow-up album, Wind and Wuthering, arrived quickly, in December 1976.
Greenberg is asked if he's surprised how seamless the transition was from Gabriel to Collins as the band's frontman. "Phil obviously knew all the songs," says Greenberg. "On the one hand, it's amazing that he was able to fill Peter's shoes. But Phil has such a distinctive voice and the public felt the same way."
They also achieved another landmark: their first appearance on the Hot 100 as the ballad, "Your Own Special Way," reached #62. Still, they lacked a breakthrough pop song. "FM radio controlled that whole rock era, especially with the English groups. And they [Genesis] still didn't have their 'Whole Lotta Love' or 'Roundabout,'" hit singles from two prominent Atlantic acts.
Their touring delayed the release of the next album, which also marked the beginning of Genesis as a trio, following the departure of Steve Hackett. 1978's …And Then There Were Three… reached #14 thanks to the radio success of "Follow You Follow Me."
Greenberg has nothing but praise for the band's longtime manager, Tony Smith (no relation to the Charisma Records owner). "He is a great, great manager. He loves that band and always looked out for their best interests."
By the late '70s, the group had vaulted to playing arenas. On July 29, 1978, they headlined New York's Madison Square Garden for just the second time. And who showed up on the MSG stage that night? None other than Peter Gabriel, who joined his former bandmates for their encore, "I Know What I Like."
Listen to Genesis with Peter Gabriel on July 29, 1978
"Once the Atlantic staff saw the band in person, everyone knew we had a huge band," says Greenberg. "We had pounded and pounded radio. When I saw them at the Garden, I was blown away by their incredible light show. They were innovators. No one… not the Stones, not Led Zeppelin… had that light show."
Over the next 15 years, Genesis achieved remarkable, sustained excellence, becoming one of the biggest bands in the world, selling out stadiums and dominating the Albums and Singles charts around the world. And Gabriel, Collins and Rutherford—via his Mike and the Mechanics—have, of course, also enjoyed huge success with their solo work.
Watch a triumphant concert at London's Wembley Stadium in 1987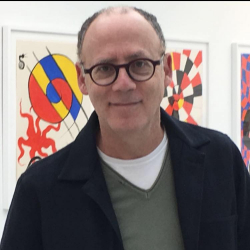 Latest posts by Greg Brodsky
(see all)