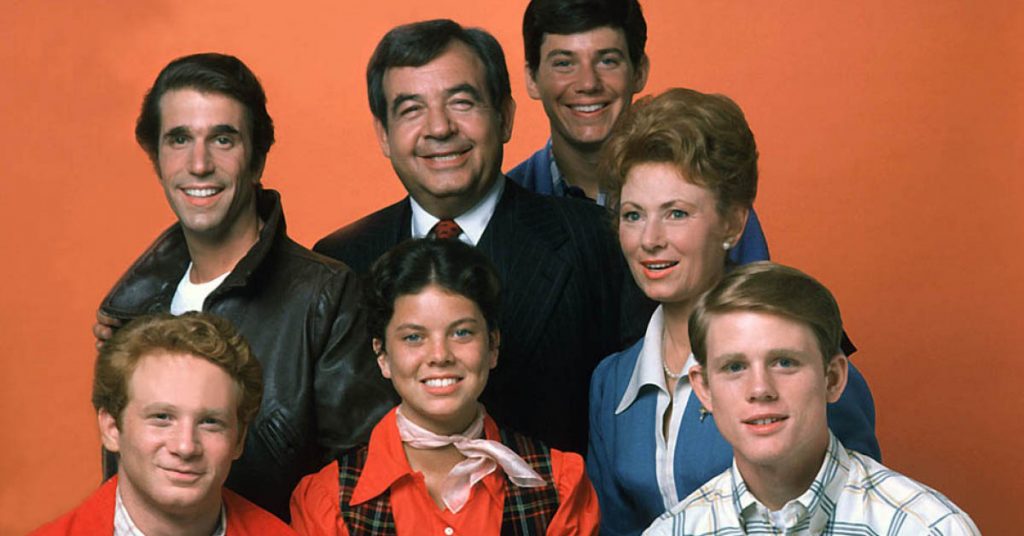 Garry Marshall, one of the biggest creators of classic 1970s TV sitcoms – and the director of a much-beloved film comedy – died July 19, 2016, at a Burbank, Calif. hospital due to complications of pneumonia. Marshall, 81, was the creator of some of the most popular comedy series in television history including Happy Days, Laverne & Shirley, The Odd Couple and Mork and Mindy, where he launched the careers of such stars as Henry Winkler, Robin Williams and his own sister, Penny Marshall. He transitioned smoothly to the big screen as the director of the 1990 romantic comedy Pretty Woman which starred Julia Roberts and Richard Gere.
In the four network TV era that was still in place in the 1970s, Marshall's series dominated the broadcast airwaves, all for ABC Television. Happy Days was created from one of the episodes within ABC's powerhouse Love, American Style and famously captured the Cunningham family, a midwestern family with simple family values who housed a leather-clad, motorcycle-riding greaser (Winkler) who became the series' breakout star. The program also starred Ron Howard, who successfully transitioned from a boy actor in The Andy Griffith Show a decade earlier.
RIP #GarryMarshall whose humor & humanity inspired. He was a world class boss & mentor whose creativity and leadership meant a ton to me.

— Ron Howard (@RealRonHoward) July 20, 2016
If you're a new Best Classic Bands reader, we'd be grateful if you would Like our Facebook page and/or bookmark our Home page.
GARRY MARSHALL Rest In Peace .. Thank you for my professional life. Thank you for your loyalty , friendship and generosity .

— Henry Winkler (@hwinkler4real) July 20, 2016
Happy Days became a cultural touchstone and ran for a decade, covering 255 episodes. It was TV's #1 series in its fourth season and spun off several other series: Laverne & Shirley, Mork and Mindy and Joanie Loves Chachi.
Although it was set in the 1950s and 1960s, Happy Days had its impact on Top 40 radio in the 1970s. The show's original theme song – Bill Haley and the Comets' 1954 classic "Rock Around The Clock" – enjoyed a resurgence. The series replaced it for its third season with the "(Theme From) Happy Days" which reached #5 on the singles chart in 1976.
Williams' Mork character first appeared in 1978 on Happy Days during its fifth season. The TV alien Mork – or was it then-unknown Williams? – proved so popular that Marshall and ABC brass created an entire series around him, rushing it into production for that fall. It was an immediate hit, finishing at #3 overall, but the premise couldn't sustain itself and after a consistent fall in the ratings, it was canceled after four seasons.
Williams' daughter tweeted a heartfelt note…
RIP Garry Marshall. You forever changed my father's life, and thus, mine. Thank you for capturing so much joy on film, over and over.

— Zelda Williams (@zeldawilliams) July 20, 2016
Laverne & Shirley, about two Milwaukee brewery employees, ran for eight seasons and was TV's top series from 1977-79. Marshall's first series, The Odd Couple, is one of TV's most beloved comedies. It debuted in 1970 and ran for just five seasons. Though it never reached the Top 25 it earned Tonys for its two leads – Jack Klugman and Tony Randall – for Best Actor.
Garry Marshall gave me one of the best experiences I ever had in my career. Thanks pal. RIP

— jason alexander (@IJasonAlexander) July 20, 2016
Garry Marshall was a wonderful man, hilarious, gifted in the ways of humanity and storytelling. He launched and nur… https://t.co/N1raCJkzQM

— Tom Hanks (@tomhanks) July 20, 2016
Marshall received just five Emmy nominations for his work and never won.
Marshall's 18 feature film directing credits are led by Pretty Woman, which made a star of Julia Roberts. Roberts and co-star Richard Gere reunited for the Marshall-directed Runaway Bride in 1999. Gere told People: "Everyone loved Garry. He was a mentor and a cheerleader and one of the funniest men who ever lived. He had a heart of the purest gold and a soul full of mischief."
Marshall's other film credits include The Princess Diaries (and its sequel); Anne Hathaway made her feature film debut in the original. His last film, Mother's Day, was released on April 29, 2016.
The re-booted version of TV's The Odd Couple, starring Matthew Perry, paid tribute to Marshall with an all-star cast of guest appearances.
Among the list of actors that appeared in the Nov. 7, 2016, episode were Happy Days cast members Ron Howard, Marion Ross, Anson Williams and Donny Most; Laverne & Shirley stars Penny Marshall and Cindy Williams; and Pam Dawber of Mork & Mindy.
Marshall appeared in an episode of the series earlier that year portraying Oscar Madison's father, in what is believed to be his final TV appearance.

Latest posts by Best Classic Bands Staff
(see all)