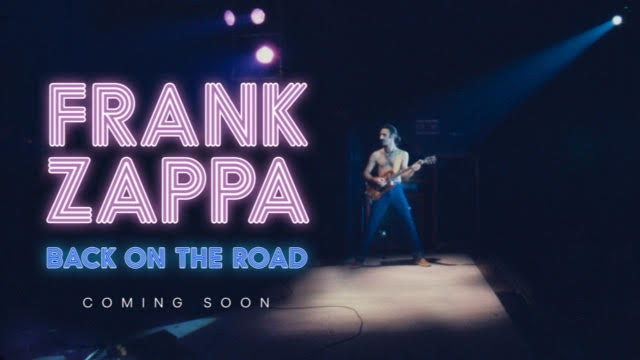 Update (Sept. 27): Guitarist Adrian Belew has now stated that he will not participate in the Frank Zappa hologram "tour" described below. On his Facebook page he wrote:
"Here are my final thoughts on the entire Zappa affair: respectfully count me out. I will not be playing Zappa music in the foreseeable future in any situation. This whole thing is far too caustic and divisive. I will say I have always admired Dweezil for playing his father's music and playing it so damn perfectly. I remember time spent with young Moon and how much I really liked her. Recently I met Diva for the first time (she works on Billy Bob Thornton's tour) and she was very nice to me. though I have yet to meet Ahmet in person, he too has been nice to me. Earlier this year he asked me to write liner notes for the upcoming Zappa Halloween box set and he treated me respectfully. I do know one thing: Frank loved his family. I have many positive creative things to do. I hope you all will enjoy them. none of them will have anything to do with the current Zappa universe, but I will always revere and love Frank."
Here is the original item…
It's been done before—with Elvis Presley, Ronnie James Dio and Tupac Shakur—artists being sent out on tour after they're deceased. Now it's Frank Zappa's turn: A company called Eyellusion has announced that it will "work closely with the Zappa Family Trust to produce hologram performances of Frank Zappa, who died in 1993, giving fans an opportunity to experience the prolific, eclectic and critically acclaimed music legend live in concert again."
Production for the "Back on the Road" Zappa shows will kick off in late 2017, with performances announced later in 2018, according to a press release from Eyellusion, which previously produced the Dio events.
"I'm thrilled that Frank Zappa will finally be going back out on tour playing his most well-known music as well as some rare and unheard material," said Ahmet Zappa, one of Frank Zappa's two sons and co-trustee of the Zappa Family Trust. "We can't wait to bring his creative work back to the stage with the musicians he loved to play with, such as Steve Vai, Ian Underwood, Adrian Belew, Arthur Barrow, Vinnie Colaiuta, Scott Thunes, Mike Keneally, Denny Walley, Warren Cuccurullo and Napoleon Murphy Brock among others who are committed to being part of this epic endeavor. When I spoke with them, they were excited at the prospect of performing alongside Frank once again and can't wait to give fans an unforgettable experience."
Related: The expanded edition of Frank Zappa and the Mothers' Absolutely Free is out Sept. 29
According to the press release, Ahmet Zappa added, "Also, how radical would it be to have [Frank's oldest daughter] Moon singing 'Valley Girl' onstage with Frank? Or to see [Ahmet's brother] Dweezil side by side with our father playing dueling guitar solos? That would be my greatest wish and I look forward to bringing this special celebration of Frank's legacy to a town near you. But if that wasn't enough Zappa coolness, we're also planning on staging Joe's Garage The Musical with none other than Frank Zappa himself starring as the Central Scrutinizer."
The Zappa offspring have been embroiled in a publicly aired dispute since it was revealed that Dweezil had been asked by Ahmet and sister Diva, the fourth Zappa child and co-trustee, to license his own last name in order to continue touring with a show he calls Zappa Plays Zappa. Dweezil has not yet issued a comment on the hologram concert.
Watch the non-holographic Frank Zappa jamming with Steve Vai in 1982

Latest posts by Best Classic Bands Staff
(see all)