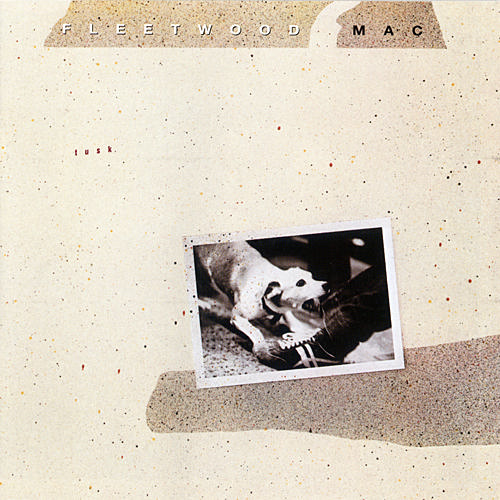 How does a band follow-up an album that sold tens of millions of copies, earned a Grammy Award for Album of the Year, yielded four hit singles and essentially cemented their classic rock legacy? In the case of Fleetwood Mac, they chose to record a more experimental album.
1977's Rumours achieved every band's goal imaginable. It was the #1 album in the U.S. for a whopping 31 weeks and in three years it had sold 13 million copies. Today, that number is reported to be north of 40 million. It yielded four Top 10 singles: "Go Your Own Way," "Dreams" "Don't Stop" and "You Make Loving Fun."
In 1979, the band released its eagerly awaited follow-up, Tusk, a two-record set. Its budget is said to have been $1 million, at the time the highest ever. The band's lineup again featured Mick Fleetwood, John McVie, Christine McVie, Lindsay Buckingham and Stevie Nicks.
There are 20 tracks on the collection and Warner Bros. released six as singles, only two of which went Top 10: "Tusk" and "Sara." Two didn't even chart. While Tusk ultimately sold four million copies worldwide, it peaked at only #4 on the U.S. album chart and is considered a commercial failure, given the phenomenal success of Rumours. Reasons (and blame) abound: its list price was extremely high for the time… $15.98; a radio chain had played the album in its entirety before its release and encouraged home taping; it was too "experimental," and so on.
The band recorded the title track (and video) at an empty Dodger Stadium with the help of the USC Marching Band. In our Classic Video, yes, that's Stevie Nicks twirling a baton at 1:14. Our heart melts…
Fleetwood Mac kicks off a North American tour in October that will travel through 50-plus cities, ending in Spring of 2019. The tour will feature the line-up of Mick Fleetwood, John McVie, Stevie Nicks, and Christine McVie along with newcomers Mike Campbell and Neil Finn. Tickets can be purchased here and here.
In 2015, Rhino released a super deluxe edition of the album. And for Record Store Day 2016, a limited edition Alternative Tusk vinyl version was issued.
Related: Fleetwood Mac, Lindsey Buckingham part ways… again

The BCB team brings you the latest Breaking News, Contests, On This Day rock history stories, Classic Videos, retro-Charts and more.

Latest posts by Best Classic Bands Staff (see all)