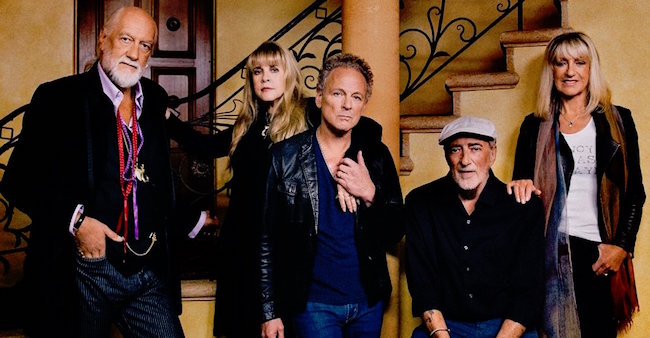 Stevie Nicks has closed the door on a Fleetwood Mac reunion tour, saying in an interview published on October 2, 2023, that, "Without [Christine McVie], what is it?" In the interview, with Vulture, Nicks was asked if she could "envision a scenario where the band can ever tour again." Nicks' answer was clear: "When Christine died, I felt like you can't replace her," later adding, "Her songs, you take out all of those songs. Christine was the pop star. She wrote all those really super pop hits. None of the rest of us could write those songs. What would happen is we'd have to take the songs, out, like we did when she actually retired for 18 years. We couldn't re-create those songs. So we became a much more hard-rock band."
Earlier this year, Mick Fleetwood had stated publicly what has been painfully obvious for a while. Fleetwood Mac is no longer. The band's co-founder offered a similar insight in an interview that he gave to the Los Angeles Times on the red carpet at the Grammy Awards on Feb. 5, 2023. Fleetwood performed on the Grammy Awards broadcast as part of a tribute to his longtime bandmate, Christine McVie. "I think right now, I truly think the line in the sand has been drawn with the loss of Chris," he said. "I'd say we're done, but then we've all said that before. It's sort of unthinkable right now."
The news of McVie's passing at age 79 stunned the music world when it was announced on November 30, 2022. There had been no public announcement of an illness. Earlier that year, she had issued Songbird, a collection of songs from her solo career, and after a lengthy period of no interaction on her social media platforms she had had a burst of activity there and done several interviews to promote its release. The orchestral version of the title song earned the Grammy for Best Arrangements, Instruments and Vocals.
In his interview, Fleetwood mentioned that Nicks and Lindsey Buckingham were busy with touring and other projects, while politely ignoring Buckingham's surprise forced departure in 2018. The drummer said he'll do the same, "but not as Fleetwood Mac. They all get out and play, so I'm gonna be doing the same thing, finding people to play with," he told the Times.
Once inside, Fleetwood was joined by Bonnie Raitt and Sheryl Crow as they performed a tribute to McVie.
About last night… 🕊️ #GRAMMYs pic.twitter.com/kLtEa6MgkV

— Sheryl Crow (@SherylCrow) February 6, 2023
Fleetwood was one of the speakers at the Celebration of Life for Christine McVie, held on Jan. 9 in Malibu. "When we first learned that we might be losing Christine, there was an immediate coming together of everyone in the band and the Fleetwood Mac family with the hope and possibility that we would not lose Chris. And now since the loss of Christine, we all are still trying to come to terms with the fact she has really flown away.
"I've been blessed to be a part of a family that created a safe place for Chris and the band's music to unfold. I am extremely honored for her to have been in my family's life for over 55 years."
Buckingham turns 74 on October 3. Nicks turned 75 on May 26. John McVie, who turns 78 in November, has previously announced his retirement. And Fleetwood turned 76 on June 24, and is now dealing with the devastation of the loss of his restaurant from the Lahaina fires.

Latest posts by Best Classic Bands Staff
(see all)