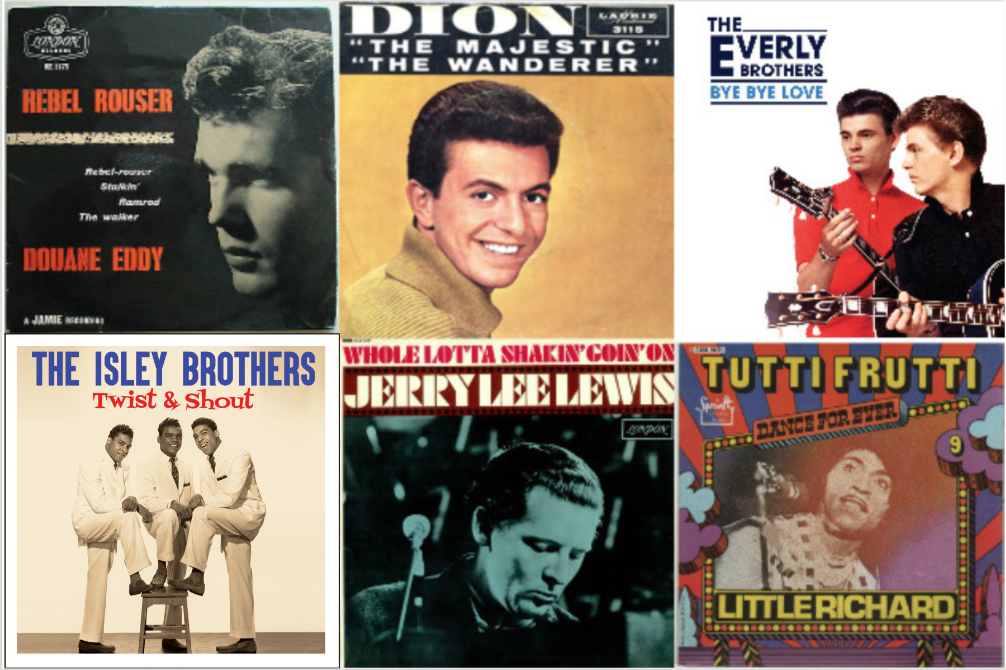 With the death of Chuck Berry on March 18, 2017, we lost one of the greatest inventors of the 20th century—he didn't just give us memorable songs and killer guitar licks; he helped shape who we've become. And on Oct. 24, 2017, Fats Domino died at 89. Their passing got us thinking: How many of the first-generation rock 'n' rollers are still with us? Certainly, a scroll through the list of Rock and Roll Hall of Fame inductees—particularly those who made it into the first few classes—is sobering. We lost Buddy Holly all the way back in 1959, of course, and since then, Elvis, James Brown, Ray Charles, Carl Perkins, Bo Diddley, Roy Orbison and so many others. Each of them left so much behind that future generations will savor.
But the good news is that more than a few of the founders of the music still walk this Earth in 2017. They're all getting up there in the years, so let's honor them now. After all, they gave us rock 'n' roll!
Here are nine who shaped the music (actually 10, since we have two Isleys). A few criteria: We restricted the list to individuals who made their mark as recording artists under their own names. Hence, folks who are chiefly songwriters, producers, studio musicians, etc.—albeit all-important behind-the-scenes movers and shakers—are not being considered for this mini-survey. Secondly, each artist has to have recorded his/her first hit in the 1950s. And finally, we kept it to artists who have been inducted into the Rock and Roll Hall of Fame; there are, thankfully, quite a few other worthy elders who qualified for the list but we rounded it off to an even 10.
Here's our salute to the survivors, in alphabetical order…
Dion (July 18, 1939): If you ask a youngish listener today their favorite song by Dion, chances are they'll think you're talking about Celine Dion. No, silly. We're talking about the single-named guy from Da Bronx (no one ever called him by his last name, DiMucci) who, whether working with his group the Belmonts or on his own, was the picture of cool. He's even cooler now, mostly playing the blues, his first love. Hits: "Runaround Sue," "The Wanderer," "A Teenager in Love," "Ruby Baby," "Abraham, Martin and John"
Related: Our feature on "Abraham, Martin and John"
Duane Eddy (April 26, 1938): Like Chuck Berry, he virtually invented a guitar technique. In Eddy's case, it was the "twang," an echoey, bottom-heavy, country-influenced sound that sent many a wannabe heading to guitar shops. Hits: "Rebel Rouser," "Forty Miles of Bad Road," "Because They're Young"
Don Everly (Feb. 1, 1937): He was, of course, half of something bigger: the Everly Brothers. He and his younger sibling Phil (who died in 2014) took the close harmonies of bluegrass and Appalachian folk music and brought it to teen-centric tales of puppy love and heartbreak. Both their uptempo rockers and weepy ballads remain potent today. Hits: "Bye Bye Love," "Wake Up Little Susie," "All I Have to Do Is Dream," "Cathy's Clown"
Related: The Everly Brothers get their Hollywood Walk of Fame star
Rudolph and Ronald Isley ("Rudy": April 1, 1939; Ronald: May 21, 1941): Along with third founding sibling O'Kelly Isley, who died in 1986, they were among the most malleable of R&B teams, adapting to the changes in the music as the decades rolled on. There's still a version of the group in action today, too. Hits: "Shout—Part 1," "Twist and Shout," "It's Your Thing," "That Lady (Part 1)"
Wanda Jackson (October 20, 1937): Even today, we still tend to think of the early rockers as guys. And for the most part that's true. But there were plenty of young women cutting raw, nothing-held-back rockabilly tunes and this Oklahoman was one of the finest. She was actually successful in Japan before she hit here, and when she finally got noticed in her home country in 1960 it was with a two-year old track. She later had much more success in the country field, but those early Wanda Jackson rock 'n' roll sides for Capitol Records were the real deal. "Hits: "Fujiyama Mama," "Let's Have a Party," "Mean Mean Man," "Hot Dog! That Made Him Mad," "Honey Bop"
Brenda Lee (December 11, 1944): Like fellow Southerner Wanda Jackson, Brenda Lee had to work just a little bit harder to find her way into the male-dominated rock 'n' roll world. And she, too, later had much greater success in country music. But for several years, she was all over the best-seller charts, with both stone rockers and emotional ballads. Hits: "Sweet Nothin's," "I'm Sorry," "I Want to Be Wanted," "All Alone Am I"
Jerry Lee Lewis (Sept. 29, 1935): The Killer, plain and simple, was one of the great rock 'n' roll bad boys of all time, and one of its defining personalities. With his wild blond mane and wilder ways, and his manic pumping piano—which even detractors had to admit he could play like a mutha—he was exactly what parents meant when they said rock 'n' roll was a threat to the youth of the day. Hits: "Whole Lot of Shakin' Going On," "Great Balls of Fire," "Breathless," "High School Confidential"
Little Richard (Dec. 5, 1932): And then there's Richard Penniman. The older folks may have feared Jerry Lee, but they just didn't know what to make of Little Richard! There was something almost alien-like about him; no one dared to look, act or sound like he did in the 1950s. That he created some of the most incendiary, primitive tunes of the early rock 'n' roll era made him even more of an MVP. Hits: "Tutti-Frutti," "Long Tall Sally," "Lucille," "Rip It Up," "Good Golly, Miss Molly"
Lloyd Price (March 9, 1933): Like Fats Domino, Lloyd Price represented the great state of Louisiana, and was a relatively unassuming star. A multi-talented artist who not only sang but wrote and produced and started his own record label, Price was a craftsman who wasn't flamboyant and let the songs sell themselves. They did, and we still cherish many of them today. Hits: "Lawdy Miss Clawdy," "Stagger Lee," "Personality," "I'm Gonna Get Married"

Best Classic Bands Editor Jeff Tamarkin has been a prolific music journalist for more than four decades. He is formerly the editor of Goldmine, CMJ andRelix magazines, has written for dozens of other publications and has authored liner notes for more than 80 CDs. Jeff has also served on the Nominating Committee of the Rock and Roll Hall of Fame and as a consultant to the Grammys. His first book was 'Got a Revolution! The Turbulent Flight of Jefferson Airplane.' He is also the co-author of 'Shell Shocked: My Life with the Turtles, Flo and Eddie, and Frank Zappa, etc.,' with Howard Kaylan.

Latest posts by Jeff Tamarkin (see all)