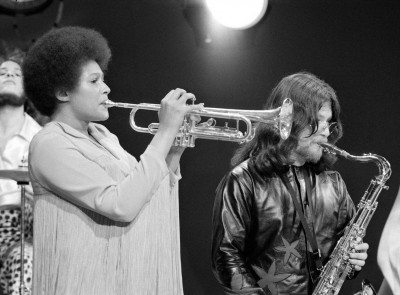 Cynthia Robinson, singer, trumpet player extraordinaire and member of funk band Sly and the Family Stone died on November 23, 2015 at the age of 71. The news came just a month after she disclosed that she was suffering from cancer via an online fundraiser to help cover her medical bills.
Sly and the Family Stone were known for being not just musical but social pioneers as one of the first major multi-gender interracial American rock groups with lyrics typically calling for peace, love and understanding. Robinson was an original member of the group 1966, at a time when being a female African-American trumpet player was an achievement in and of itself. She and Rosie Stone played instruments onstage rather than simply singing backup or providing a visual counterpart to their male bandmates, and the Family Stone endeared themselves to a wide variety of subcultures with their gospel-styled singing and psychedelic costumes. Over the course of her nearly 50-year career, Robinson went on to collaborate with artists like Larry Graham, George Clinton, Prince and others.
Robinson was inducted into the Rock and Roll Hall of Fame with Sly & the Family Stone in 1993.
When news of her passing broke, friends and colleagues took to social media to share tributes to the talented musician. "She wasn't just a screaming cheerleading foil to Sly and Freddie [Stone]'s gospel vocals," wrote Questlove (Ahmir Khalib Thompson), drummer for the Roots, on Instagram. "A crucial intricate part of Sly Stone's utopian vision of MLK's America: Sly and the Family Stone were brothers and cousins, friends and enemies, black and white, male and female, saint and sinner… Cynthia's role in music history isn't celebrated enough."
From the great "Dance to the Music":
If I could hear the horns blow
Cynthia on the throne, yeah!
Cynthia and Jerry got a message that's sayin'
All the squares, go home!
Related: Our tribute to "Dance to the Music"

Latest posts by Best Classic Bands Staff
(see all)