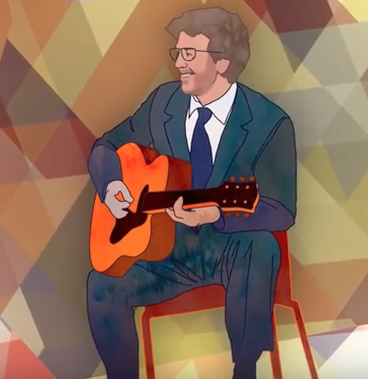 The latest release from Eric Clapton's new studio album, I Still Do – which arrives this Friday, May 20 – is a blues number, "Spiral." The video uses animated versions of Clapton from throughout his career (see below). I Still Do reunites the classic rock legend with equally legendary producer Glyn Johns, who previously worked with him on his 1977 album, Slowhand.
The LP includes covers of songs from Bob Dylan ("I Dreamed I Saw St. Augustine"), J.J. Cale ("Somebody's Knockin'") and Robert Johnson ("Stones in My Passway").
Related: Watch Clapton perform "I Dreamed I Saw St. Augustine" in Tokyo in April
Johns has produced or co-produced albums for The Rolling Stones (Get Yer Ya-Ya's Out!), The Who (Who's Next, Who Are You, It's Hard) and The Eagles (Eagles, Desperado) among many others.
Don't miss a post! Sign up for Best Classic Bands' Newsletter; form is on every page.
I Still Do personnel includes:
Eric Clapton: Guitars, Tambourine & Vocals
Henry Spinetti: Drums & Percussion
Dave Bronze: Double Bass & Electric Bass
Andy Fairweather Low: Electric & Acoustic Guitar, Backing Vocals
Paul Carrack: Hammond Organ & Backing Vocals
Chris Stainton: Keyboards
Simon Climie: Keyboards, Electric & Acoustic Guitar
Dirk Powell: Accordion, Mandolin & Backing Vocals
Walt Richmond: Keyboards
Ethan Johns: Percussion
Michelle John – Background Vocals
Sharon White: Background Vocals
Angelo Mysterioso: Acoustic Guitar & Vocals on "I Will Be There"
The identity of the guest musician Angelo Mysterioso (above) remains a, well, mystery. It's the pseudonym that former Beatle George Harrison used for contractual reasons when he co-authored the Cream song "Badge," for instance. It was initially thought that his pal Clapton had merely used long-ago recorded vocals for the song but Clapton has repeatedly denied that.
Here's a terrific interview with Clapton and Johns…
Now we just need a Clapton world tour.
(If you're a new Best Classic Bands reader, we'd be grateful if you would Like our Facebook page and/or bookmark our Home page.)

Latest posts by Best Classic Bands Staff
(see all)