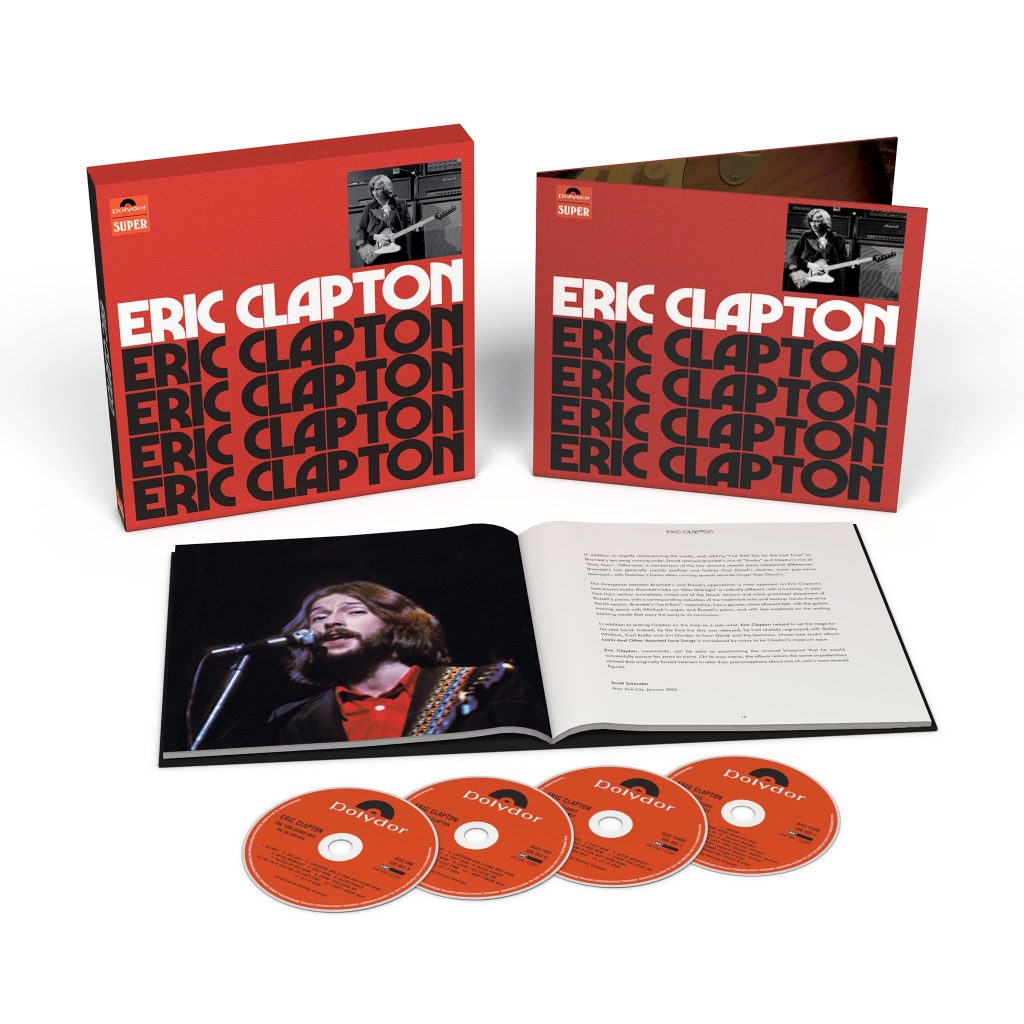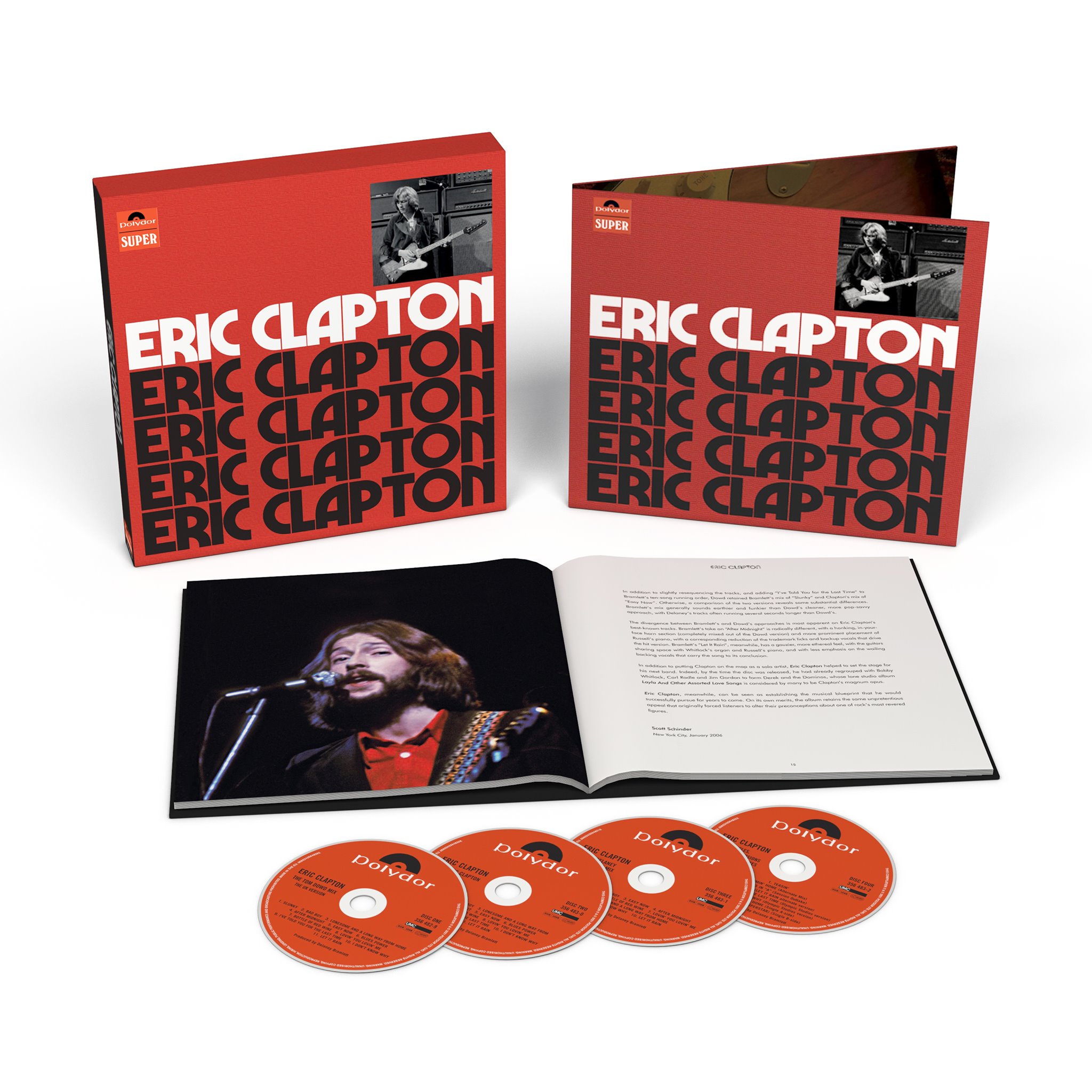 A new 4-CD deluxe anniversary edition of Eric Clapton's first solo album was released on August 20, 2021, by Polydor Records. The self-titled album, originally issued on Aug. 16, 1970, is presented in three separate mixes: "The Delaney Bramlett Mix," "The Tom Dowd Mix (The UK Version)," plus "The Eric Clapton Mix," which has been released in full for the first time. This anniversary collection also includes singles and session outtakes.
Listen to several of the new mixes below.
From the June 9 announcement: Recorded between November 1969 and March 1970, the album was produced by Bramlett—half of the beloved Delaney and Bonnie duo—and released on Polydor Records in the U.K. and Atco in the U.S. It includes such now-classic tracks as Clapton's cover of J.J. Cale's "After Midnight," and the artist's own compositions "Let It Rain" (co-written with Bramlett) and "Blues Power" (co-written with Leon Russell).
Listen to "She Rides," an alternate version of "Let It Rain"
Listen to "Let it Rain" (Eric Clapton Mix) also included in the collection
The album reached #13 in Billboard in the U.S. and both the Bramlett and Dowd mixes have been reissued before, in 2006. A "Rarities Edition" followed in 2010.
Listen to "After Midnight (Delaney Bramlett Mix)"
Beside Clapton, Bramlett and Russell, the personnel includes the other members of Clapton's 1970 band Derek and the Dominos as well as guest spots from Stephen Stills, Rita Coolidge, Bonnie Bramlett, Sonny Curtis and others.
Listen to "Blues Power (Eric Clapton Mix)"
Related: Our Album Rewind of Clapton's solo debut
See the complete track listing and listen to more songs below the links.
Eric Clapton Deluxe Edition Track Listing
CD1
(The Tom Dowd Mix – The UK Version)
Slunky 3.40
Bad Boy 3.59
Lonesome And A Long Way From Home 3.50
After Midnight 3.14
Easy Now 3.03
Blues Power 3.15
Bottle Of Red Wine 3.12
Lovin' You Lovin' Me 3.39
I've Told You For The Last Time 2.36
I Don't Know Why 3.23
Let It Rain 5.06
CD2
(The Eric Clapton Mix, previously unreleased)
Slunky 3.34 unreleased mix
Bad Boy 4.20 unreleased mix
Lonesome And A Long Way From Home 3.58 unreleased mix
After Midnight 3.19 released on Life in 12 Bars Soundtrack
Easy Now 2.57 released – this was the only EC mix inserted into the original 1970 Tom Dowd mix LP
Blues Power 3.53 unreleased mix
Bottle Of Red Wine 2.58 unreleased mix
Lovin' You Lovin' Me 3.44 unreleased mix
I've Told You For The Last Time 2.32 unreleased mix
I Don't Know Why 3.35 unreleased mix
Let It Rain 5.18 released on Life in 12 Bars Soundtrack
CD3
(The Delaney Bramlett Mix, all mixes released on 2005 Deluxe Edition CD)
Slunky 3.35
Bad Boy 3.44
Easy Now 3.00
After Midnight 3.19
Blues Power 3.20
Bottle Of Red Wine 3.09
Lovin' You Lovin' Me 4.07
Lonesome And A Long Way From Home 3.52
I Don't Know Why 3.45
Let It Rain 5.02
CD4
(Singles, Alternate Versions & Session Outtakes, all titles released on 2005 Deluxe Edition CD except "Comin' Home (Alternate Mix)" which is a previously unreleased mix)
Teasin' 2.17 (Performed by King Curtis with Delaney Bramlett, Eric Clapton & Friends)
Comin' Home (Alternate Mix) 3.44 (Performed by Delaney & Bonnie & Friends featuring Eric Clapton unreleased mix)
Blues In "A" (Session Outtake) 10.28
She Rides (Let It Rain alternate version) 5.08
I've Told You For The Last Time (Olympic Studios version) 6.49
I Don't Know Why (Olympic Studios version) 5.14
Comin' Home (single a-side) 3.15 (Performed by Delaney & Bonnie & Friends featuring Eric Clapton)
Groupie (Superstar) (single b-side) 2.50 (Performed by Delaney & Bonnie & Friends featuring Eric Clapton)

Latest posts by Best Classic Bands Staff
(see all)