June 4, 1992: Public Selects Elvis Presley Stamp
by Rob Patterson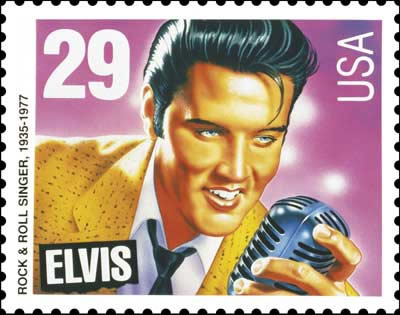 For the first time ever, the United States Postal Service (USPS) asked Americans to choose the art for a stamp. To commemorate the late rock icon Elvis Presley, should the image be the young rockabilly singer or the older Vegas entertainer in a jumpsuit?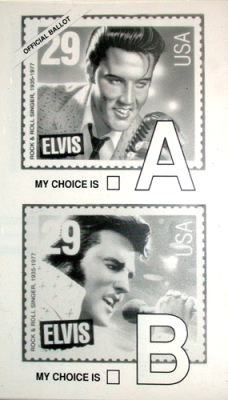 Ballots were distributed to post offices and in the April 13, 1992 issue of People magazine. On this day, June 4, 1992, Presley's ex-wife Priscilla announced the results. More than 75 percent of the 1.2 million ballots returned favored the painting of the youthful Elvis by Howard Stutzman. Among those publicly voicing support for it during the polling was then-presidential aspirant Bill Clinton.
On January 8 the following year – Presley's 58th birthday – the 29-cent stamp was issued. It went on to become the best-selling collectible U.S. stamp with a reported 124 million sold but never used to mail a letter.
Related: The story of Presley's '68 Comeback Special
In 1992, the public wanted to see this Elvis commemorated on a stamp…
On August 12, 2015, Elvis got a second stamp: a "Forever" stamp as part of the USPS's music icon series.
Related: Our coverage of the 2018 USPS ceremony honoring John Lennon

Latest posts by Rob Patterson
(see all)