'Elvis on Tour,' a New Box Set, Offers an In-Depth Look at a 1972 Concert Series
by Jeff Burger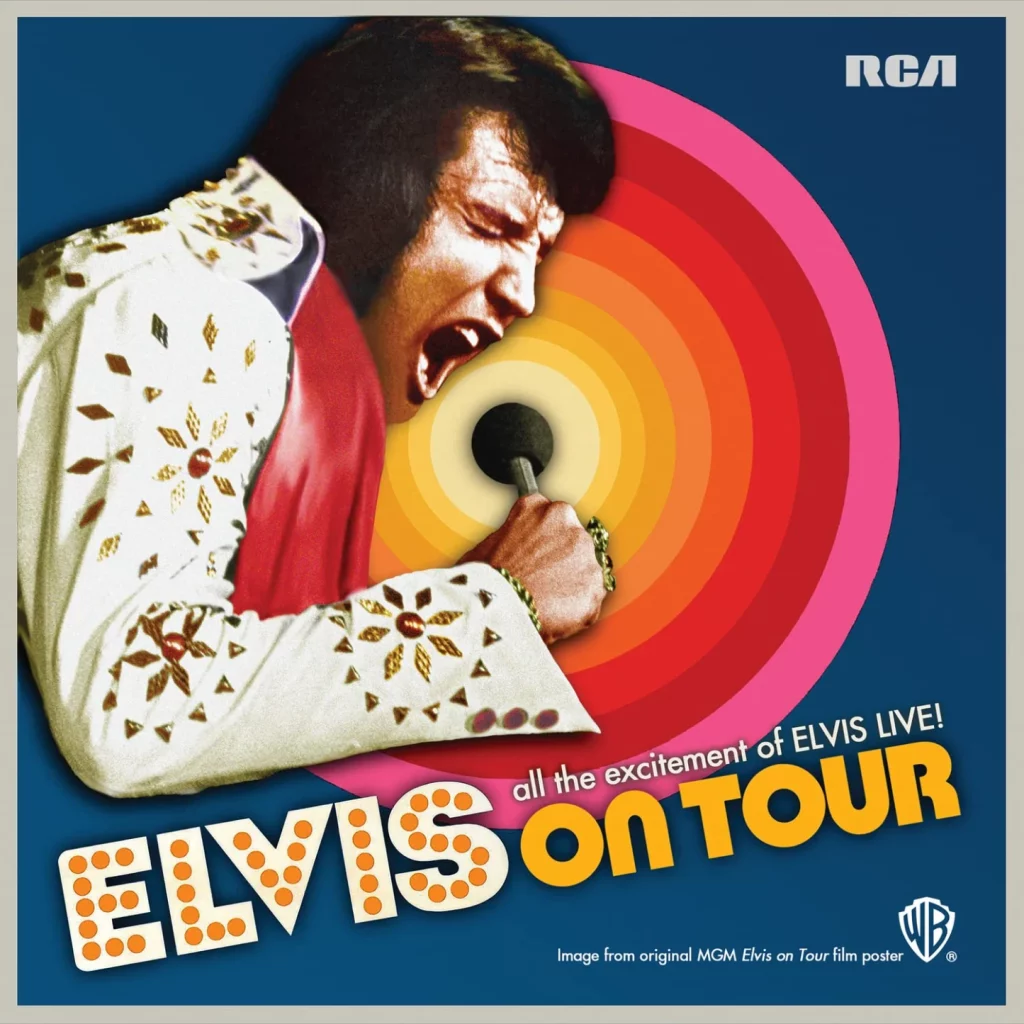 Elvis Presley's precipitous decline, which led to his death in August 1977, appears to have begun about four years earlier. He did perform a hugely popular TV special in January of 1973 (Aloha from Hawaii), but that's the year when his divorce was finalized, the hit singles stopped coming, his drug use was rising and his health was sinking.
In 1972, though, Presley was still in relatively good shape. That's when he delivered his last big pop hit ("Burning Love"), as well as a concert series that resulted in the bestselling album Elvis: As Recorded at Madison Square Garden and a Golden Globe-winning film, Elvis on Tour. A new seven-disc, 145-track boxed set that shares that film's title offers a closer look at the concert series.
A follow-up to 2019's gargantuan Elvis Live 1969, the 2023 release features four complete April 1972 shows, three of which are previously unreleased. (The fourth, which has been remixed for this box, also appeared in a 2003 collection.) The anthology, which includes a 32-page booklet with essays and photos, also incorporates two discs' worth of material from Presley's rehearsal sessions for the tour.
Finally, the set embraces a Blu-ray edition of the hour-and-a-half-long Elvis on Tour film, which includes excellent footage of Presley's early years in the music business but focuses mostly on the spring 1972 concert series with performance clips and offstage material.
The documentary—which is well-done, aside from the overuse of split screens—shows Presley enjoying himself and mostly performing well, though at times he appears to be just going through the motions. He seems particularly engrossed with the music when he's offstage and singing just for fun, during which times he largely sticks to gospel material. (In fact, he won a Grammy in 1972 for a gospel album called He Touched Me.)
Related: What fellow music greats said about the King
Presley deemphasizes his hit singles in these concerts, preferring to concentrate more on an ostensible attempt to update his image with covers of material by songwriters such as Paul Simon ("Bridge Over Troubled Water"), Mickey Newbury ("An American Trilogy"), Buffy Sainte-Marie ("Until It's Time for You to Go") and Kris Kristofferson ("For the Good Times").
He does run through some of his early hits, but any concertgoer who made a brief trip to the lobby for popcorn might have missed most of them. In the Hampton, Virginia, show that fills the first disc of this box, for example, he features "Love Me," "All Shook Up," "(Let Me Be Your) Teddy Bear," "Don't Be Cruel," "Are You Lonesome Tonight?," "I Can't Stop Loving You," "Hound Dog," "Love Me Tender," "A Big Hunk of Love" and "Can't Help Falling in Love"—10 songs in a combined total of less than 18 minutes.
More recent chart successes also garner little attention. Though Presley didn't capture top positions on the Billboard singles charts nearly as often in the late '60s and early '70s as he did in earlier years, he did score some big hits during this period: "Crying in the Chapel" (#3 in 1965), "Suspicious Minds," "In the Ghetto" and "Don't Cry, Daddy" (#1, 3 and 6, respectively, in 1969), "The Wonder of You," "You Don't Have to Say You Love Me, and "Kentucky Rain" (#9, 11 and 16, respectively, in 1970), and the aforementioned "Burning Love" (#2 in 1972). The shows in this boxed set, though, include only two of these eight songs: "Suspicious Minds" and "Burning Love," the latter a song, originally performed by Arthur Alexander, that Presley's label released about four months after the tour.
Even casual fans will likely find the film absorbing. The backstage material gives a good sense of what life on the road was like for Presley in 1972, and on many of the songs, his voice remains powerful, and his stage presence is still strong. The two discs of rehearsal material, which include candid moments and some songs that did not make it into the shows, are particularly interesting. That said, it would be difficult to argue that Presley's glitzy, Las Vegas-styled, big-band act ever equals the electrifying nature of his 1950s and early 1960s work on Sun and RCA—or even the best parts of his famous 1969 TV "comeback special."
Unless you're an Elvis completist, moreover, you'll likely find too much redundancy in these concert recordings, especially if you already own the Madison Square Garden release. Unlike, say, Bob Dylan, Presley rarely varied either his setlists or his approach to particular tunes. So, what we have here, at least on discs one through four, is mostly just four indistinguishable renditions of each of a couple dozen songs. In fact, some of these numbers also appear on the rehearsal recordings, so Elvis on Tour includes, for example, five performances of "Polk Salad Annie," six of "See See Rider" and a whopping 14 of "For the Good Times." It's probably safe to say that, for most listeners, the good times will be over by the third or fourth version.
Latest posts by Jeff Burger
(see all)