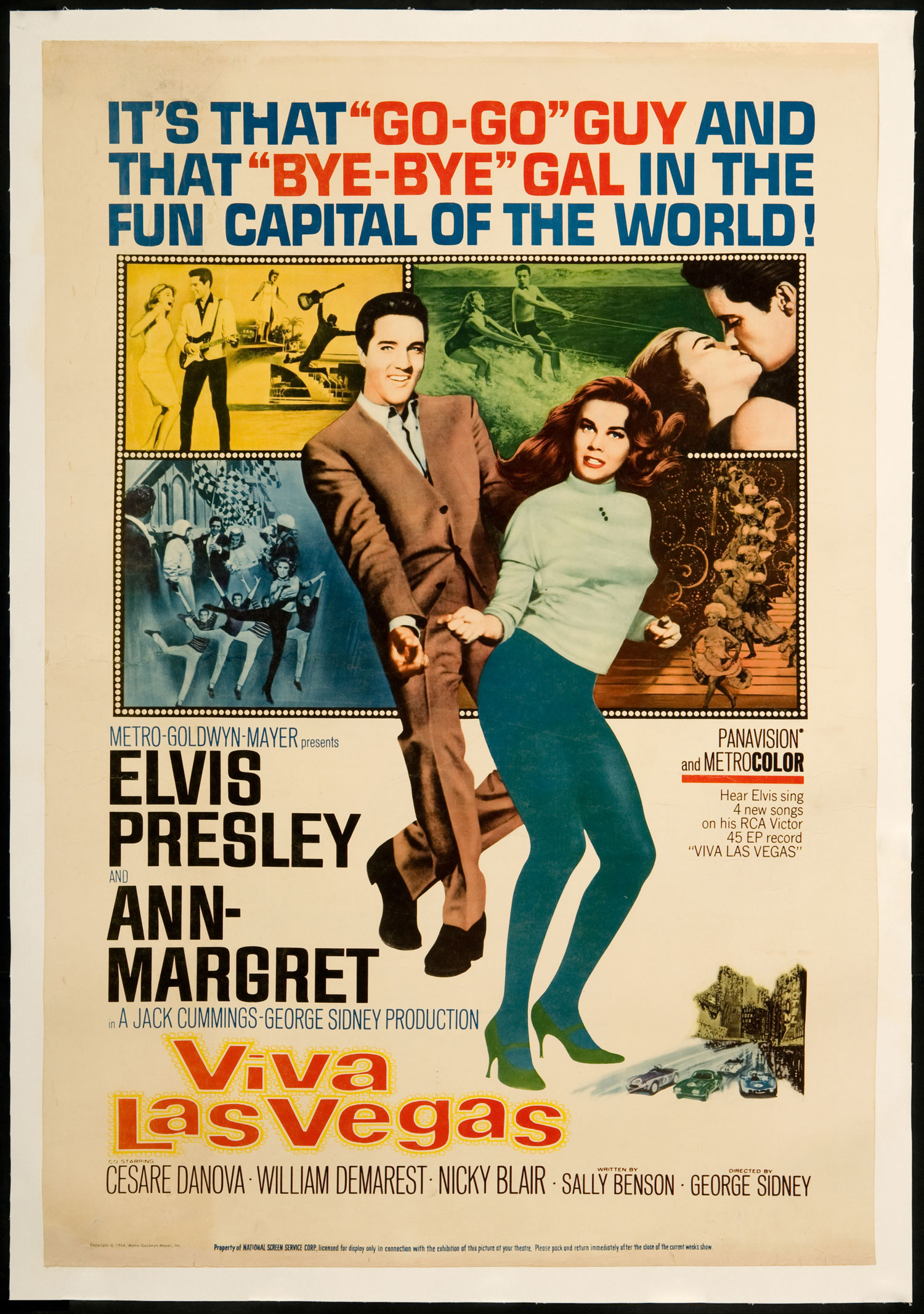 By spring 1964, Elvis Presley was making roughly two movies a year. But the King was getting caught in a trap of not choosing his roles properly. For every gem like 1957's Jailhouse Rock, there were stinkers like 1963's It Happened at the World's Fair and Kissin' Cousins, released in March of 1964.
[There was a two-year break, from mid-1958 through late 1960 when he served in the U.S. Army.]
So when Viva Las Vegas arrived on May 20, 1964, fans didn't know which category the new Presley feature would fall in. But the movie trailer and the tempo of the toe-tappin', Doc Pomus-Mort Shuman-penned title track, released as a single on April 28, should have been a clue.
In Viva Las Vegas, Presley was cast as Lucky Jackson, a race car driver hoping to compete in Sin City's Grand Prix. As fate would have it, he meets Rusty Martin, a hotel swimming instructor played by Ann-Margret, just 22-years old when the film was made.
Watch the trailer for the "swingin'est, singing'est, grooviest, lovin'est entertainment sensation it has ever been your luck to enjoy"
The Swedish-American actress was fresh off her role as Kim McAfee in the 1963 hit musical comedy film, Bye Bye Birdie. (That film–and its original stage production–was inspired by Presley being drafted into the Army.)
So, with Ann-Margret's "triple threat" of acting, singing and dancing–she was actually hyped as the female Elvis early in her career–she and the King were a match made in film heaven.
When "Rusty" shoves "Lucky" into the hotel pool, he loses his money needed to fund some repairs to his car. He works as a waiter and enters the hotel talent contest to raise the cash.
The pair fall in love–and reportedly had a real-life fling while the movie was being made–yet found time to entertain the Vegas crowd.
Watch the duo in the great production number for the film's "C'mon Everybody"
[The great dance scenes were choreographed by David Winters, who was one of the featured performers in West Side Story. Winters died in April 2019 at age 80.]
Ann-Margret was born Ann-Margret Olsson on April 28, 1941, in Valsjobyn, Sweden. She wed fellow actor Roger Smith, who starred in such TV series as 77 Sunset Strip and Mister Roberts. He then became her manager. They were married for 50 years until he died in 2017.
Ann-Margret was nominated for a Grammy Award for Best New Artist in 1962 and earned several Golden Globe awards for her TV and film career. She received a star on the Hollywood Walk of Fame in 1973. In 2023, she released a new album, Born To Be Wild.
Related: Our feature on Elvis' '68 comeback
Presley, of course, would return to Vegas many times, with residencies at the International Hotel and later at the Hilton.

Latest posts by Best Classic Bands Staff
(see all)